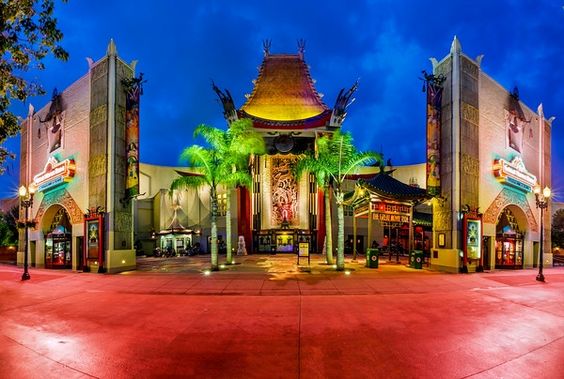 Being raised by parents who grew up in the middle of the golden age of movie-making, I think Disney-MGM Studios on a whole had an instant familiar feel to it, though I had never stepped foot west of the Mississippi. As I've mentioned before, California seemed like a distant other country to me.
I was 15 in 1989 when the park opened; raised on a steady diet of old movie lines and songs sung by my father, who had over the years made me watch a few of his favorites. I say "made" because at that age and prior, I had no real appreciation or interest in anything black and white that wasn't an A-Ha music video.
But this time in my life, 6 years after I'd met and fallen in love with EPCOT Center, was filled with quite a few trials and tribulations, so it was easy to find solace here and take an immediate interest. I'm not exactly sure of the date the first time I walked down Hollywood Blvd, enveloped by the motion picture soundtracks that swirled in the air, but I do know I was instantly in love once again, this time with the Hollywood that never was, and always will be.
Just as with EPCOT Center's opening, I had gotten my news about what to expect from my trusty Birnbaum's: Walt Disney World guidebook. I was fascinated and oh-so excited to experience all of the interactive and behind-the-scenes attractions that Disney-MGM Studios promised, all of which I now miss dearly as they have faded away over the years. It was a different time of course, even the then-modern television showcasing and state-of-the-art production studios were from a time when there was no reality tv. The magic and glamour of movie and tv production was still a palpable, undiscovered mystery to most.
Today, anyone with a phone can be a star or be famous, even if only in viral form, and kids know that. So for many that grew up with me or before, Disney-MGM Studios was a romantic interpretation of the real, live movie and tv-making processes and history. Now, the park seems like a fantasy that exists nowhere and those that appreciate the history and nods to the past are, as with EPCOT's history, few and far between (though we do tend to find each other and stick together online and off).
As the years have passed, the park changed its moniker to Disney's Hollywood Studios, but slowly cannibalized itself from any real connection to a studio park. What we were left with was a front section still in tribute to Hollywood's past, in both architecture, landmarks, and overall feel, but the rest of the park became almost a question mark as to how things related to the original theme (as has also happened with much of EPCOT). So we were left with a just a few highlights to the transitory feeling of being a part of Hollywood past, and indeed a part OF the movies. How long these places and theming will remain is unknown.
Rather than walking through an Ewok village "set" or a backlot restaurant with props, we will now roam through a galaxy's edge where you are expected to be part of the landscape and population. How will the park explain those anomalies? I guess they don't have to, as we have learned. Guests' tastes change, kids' interests change, and as is evidenced by crowd levels at all of the attractions that have been on the chopping block recently (Maelstrom, Universe of Energy, etc.), the things that made us fall in love with a particular park or area, are not the most popular in today's time.
Disney's Hollywood Studios is certainly a park in flux, and many of the experiences we knew and loved, and maybe took for granted, are now a part of history. We are no longer entering a park that is a tribute to Hollywood and movie making, but mostly tilted toward the actual movies themselves. Which is fine, but we are also allowed to mourn what once was, when it was (for a while), done so well.
Even those not bothered by the closing of The Great Movie Ride will admit it was a great ride, but proclaim "it needed more love" or "it needed updating." And while I agree that every ride that features animatronics needs a lot more updating than it currently receives within Disney parks, on the Great Movie Ride specifically, how does one keep updating a field which changes daily? Sure, they could keep adding movies to the montage at the end, but at which movies' expense? Do you take out Singin' in the Rain's show scene and add Tom Hanks as Forrest Gump sitting on a bench? Or John Travolta and Uma Thurman dancing from Pulp Fiction? Movies are for the most part, so subjective, it's impossible to please everyone.
For example, I love the Great Movie Ride as it is. For what it is. I would love to have the latest model animatronics in it, but other than that, I would've left it how it was pre-TCM/Robert Osborne additions. But that's just me. I know there are countless others like me who have the entire ride sequence memorized, down to the music cues and the original montage ending, both music and clips. It's provided endless quote opportunities within my family and friend groups.
One of my favorite memories of The Great Movie Ride was when two cast members were acting out the scene from The Searchers that played in front of us in the queue, one of them shouting "No you don't, Ethan! Ethan, no you don't!" The entire ride experience is forever ingrained in my brain, as I'm sure it is for many other guests and cast members. It is, in a word, iconic.
The Great Movie Ride combines so many parts that make its whole a classic Disney attraction. First, you have the show building itself, an exact replica of Grauman's Chinese Theatre in Hollywood (now the TCL Theatre). Seeing that at the end of the street when you first pass the Crossroads of the World instantly transports you to Hollywood. The detail in the building itself is impeccable. If you can before it closes, walk around and really pay attention to the workmanship (or if you can't, watch Martin Smith's Ultimate Tribute, which I watched in the background while typing this, for inspiration – and hopefully, the building itself will remain for Mickey and Minnie's Runaway Railway…).
Next, you have the queue area, with again, ridiculously insane details from the original theatre, movie props and costumes, and the film trailers as you approach the ride. The ride vehicle system has always fascinated me (a smaller version of the theatre system from Universe of Energy, which I'll discuss my thoughts on later).
Any attraction that has theatre style moving vehicles is just amazing to me. It is a shame that both of these types of attractions will soon be no more. I really think the technology has stood up to time and the fact that they hold so many guests at once is always a good thing.
Finally, you have the ride experience itself, which showcases both iconic scenes from famous movies or genres, as well as interactive "surprise" elements and of course, a happy ending. The level and attention to detail within the movie scene sections is mind blowing.
I've been lucky enough to have full access to walk the ride, and been able to see into the "trash" in the gangster scenes – with cigarette butts inside tin cans that are never visible from the ride vehicle, but there because it makes the scene authentic. The signs in the western scene are written as if you just happened upon a town in Deadwood or some other village of the old west. It's truly Imagineering at its finest. You are transported to another location, where anything could happen, but within the safety of a Disney park. The finale with the movie montage lifts you up and shows you the power of movies to endure through generations and inspire our daily lives.
I always walked off The Great Movie Ride with a smile on my face, filled with a love of movies and their history. I will miss that experience, and that feeling, but I am very, very grateful for the many memories I have had over the years; with my late father, with my mom, with my children, with my husband (the first place we held hands), and many friends. To me, it was one of the truly "Disney-at-its-best" rides, and I hope that it isn't the last of its kind. This particular ride closing is perhaps the first "park icon" attraction to close. 27 Oh, one more thing. When I yell "Action!", don't forget the thunderous applause for your tour guide. Places, everybody! And…Action!
Thanks for the memories, Great Movie Ride, and thunderous applause to all who were a part of its design, creation, and running for the past 28 years.
If you need a pick-me-up to remember this wonderful attraction, head over to my good friend Glenn's fan site that he created long ago in tribute to the Great Movie Ride – Pretty Good Movie Ride.
To see the latest photos and videos from Zannaland's adventures,
follow, like, and subscribe here: