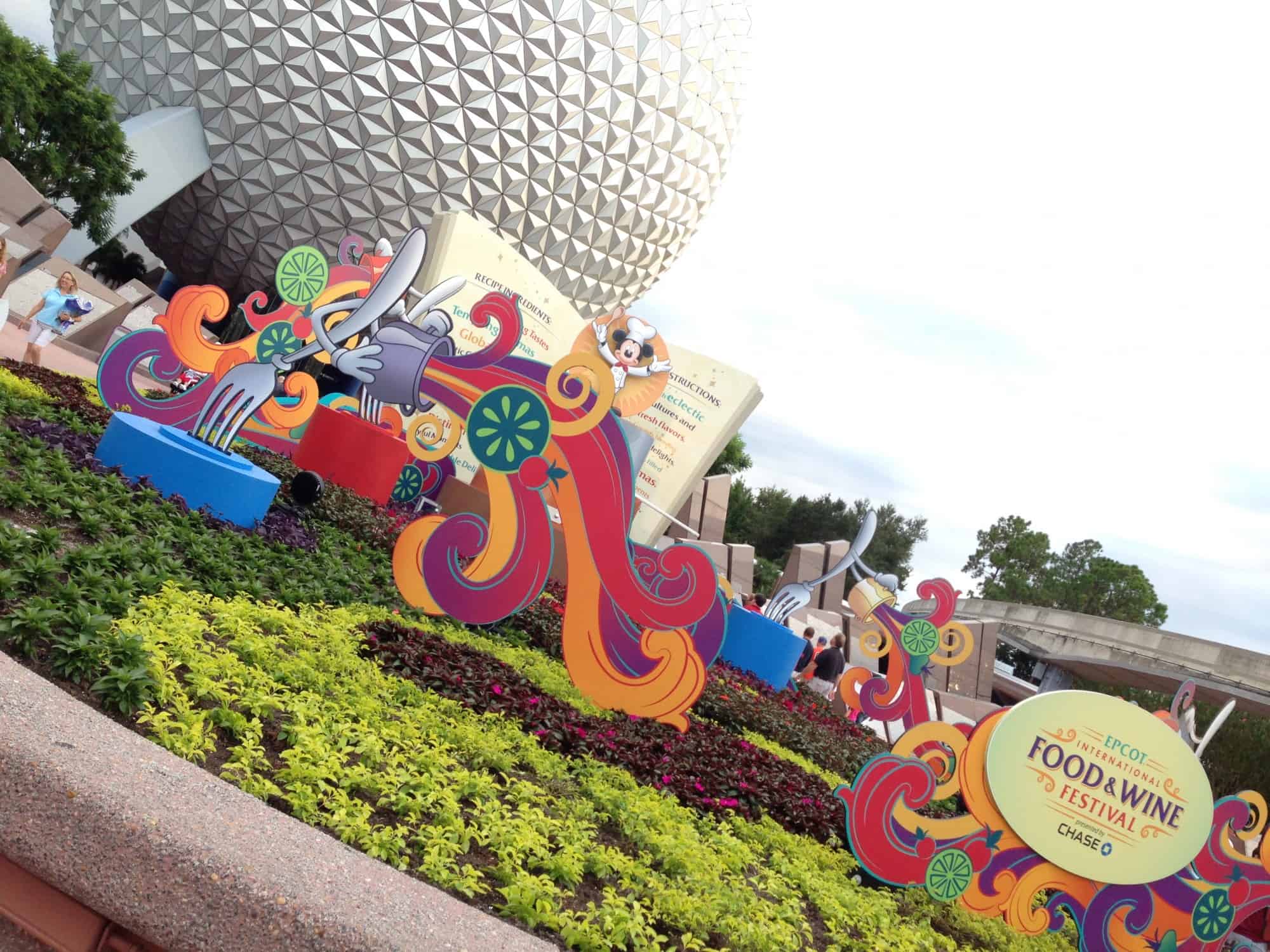 Being from Massachusetts, I grew up knowing about cranberry bogs, even visiting the Ocean Spray factory when I was little. But many folks in our country have never even heard of a cranberry bog and have no idea how cranberries are harvested in the five growing states of Massachusetts, New Jersey, Oregon, Washington, and Wisconsin. For this reason (and I just love cranberries) I get excited when Ocean Spray sets up their mini bog right inside Epcot each Food & Wine Festival. The bog has been a focal point of the Festival for the past few years now, taking up a portion of the walkway from Future World to World Showcase, where all the countries and their food booths reside.
It makes perfect sense that a food item which has such a rich American history, harvested in the Fall – the time when Epcot's Food & Wine Festival takes place, would be featured prominently at the park. Ocean Spray is a great partner, similar to many Disney partnerships in the past up to present day, like Carnation and Coca-Cola, so it's wonderful to see their presence in the park and in various food items throughout the Food & Wine Festival. In addition to its bright red splash of color as you walk by, the bog is also staffed with actual Cranberry farmers, there to  answer any questions you may have about the cranberry and its harvesting process. Plus you get free Craisins for visiting the information area next to the bog!
I recently got to experience the Ocean Spray Cranberry Bog first hand and try out some truly unique recipes using cranberries and Craisins. Below are some photos from that night, as well as some recipes from the dishes we got to try. You can also find Ocean Spray cranberries and Craisins at the Hops & Barley booth at the Food & Wine Festival, in the bread pudding dessert with Grand Marnier Anglaise. Also at the Cheese booth where an Artisan Cheese Selection is served with Craisin bread. Yum.
Here are two recipes from our special dinner:
Craisin Vegetable Fried Rice
Ingredients
3 eggs, beaten lightly
1 tablespoon sesame oil
2 tablespoons finely chopped garlic
2 tablespoons finely chopped fresh ginger
1 bunch scallions, white and green parts sliced thinly, separated
¼ cup diced carrots
5 cups day old cooked rice
2/3 cup chopped dried Craisins
¼ cup green peas
2 tablespoons soy sauce
1/2 teaspoon white pepper
Kosher salt, to taste
Vegetable oil, for cooking
Preparation
Heat a wok or large nonstick skillet over high heat.  Add oil followed by eggs when hot.  Move eggs around the pan, scrambling them.  With a spatula break into pieces and remove from heat when almost cooked.  Set aside.
Heat sesame oil in same pan and add the garlic and ginger cooking until soft, about 2 minutes.  Add the white parts of the scallions and carrots and cook for a few minutes. Add the rice and cranberries and toss thoroughly until heated through.  Add the soy sauce, white pepper and reserved eggs, green peas and toss until heated thru.  Remove from heat and garnish with the scallion greens.  Serve immediately.
Serves 10-12
Mole Shrimp Quesadilla
Ingredients
¼ cup chili powder

2 tablespoons cocoa powder

¾ teaspoon kosher salt

¾ teaspoon ground black pepper

½ teaspoon cayenne pepper

½ teaspoon cinnamon

½ teaspoon allspice

2 teaspoons vegetable oil

1 pound uncooked medium shrimp, peeled and deveined

1 jalapeno pepper, seeded and minced

1 lime, juiced

6 large flour tortillas

3 cups shredded Mexican cheese blend, divided
Preparation
Combine chili, cocoa, salt, peppers, cinnamon and allspice, mixing well.  Pat dry shrimp and toss into seasoning.  Let shrimp marinate in refrigerator for at least 1 hour.

Heat 2 tablespoons vegetable oil in a large skillet over medium-high heat.

Add shrimp into hot skillet and cook until shrimp are opaque and no longer pink in the center, 3 to 5 minutes.

Remove skillet from heat; stir jalapeno pepper and lime juice into shrimp mixture.  Cool shrimp off in refrigerator before assembling quesadillas.

To make quesadillas place half cup of cheese into each tortilla followed by the cooked mole shrimp.  Fold the tortilla shell in half creating a semi circle.

Place a large nonstick skillet over medium heat and place the quesadilla, slowly browning and melting the cheese.

Cut into portions and serve immediately.
Serves 6-8
Be sure to look for Ocean Spray Cranberries and Craisins during Epcot's Food & Wine Festival, running now through November 11, 2013. Can't make it to the Epcot International Food & Wine Festival? Visit www.oceanspray.com for delicious everyday ideas and seasonal inspirations from around the world. Cranberry lovers eager to share their stories and recipes are encouraged to tweet @OceanSprayInc (they tweet back!) or post on Ocean Spray's Pinterest, Facebook or Instagram pages.