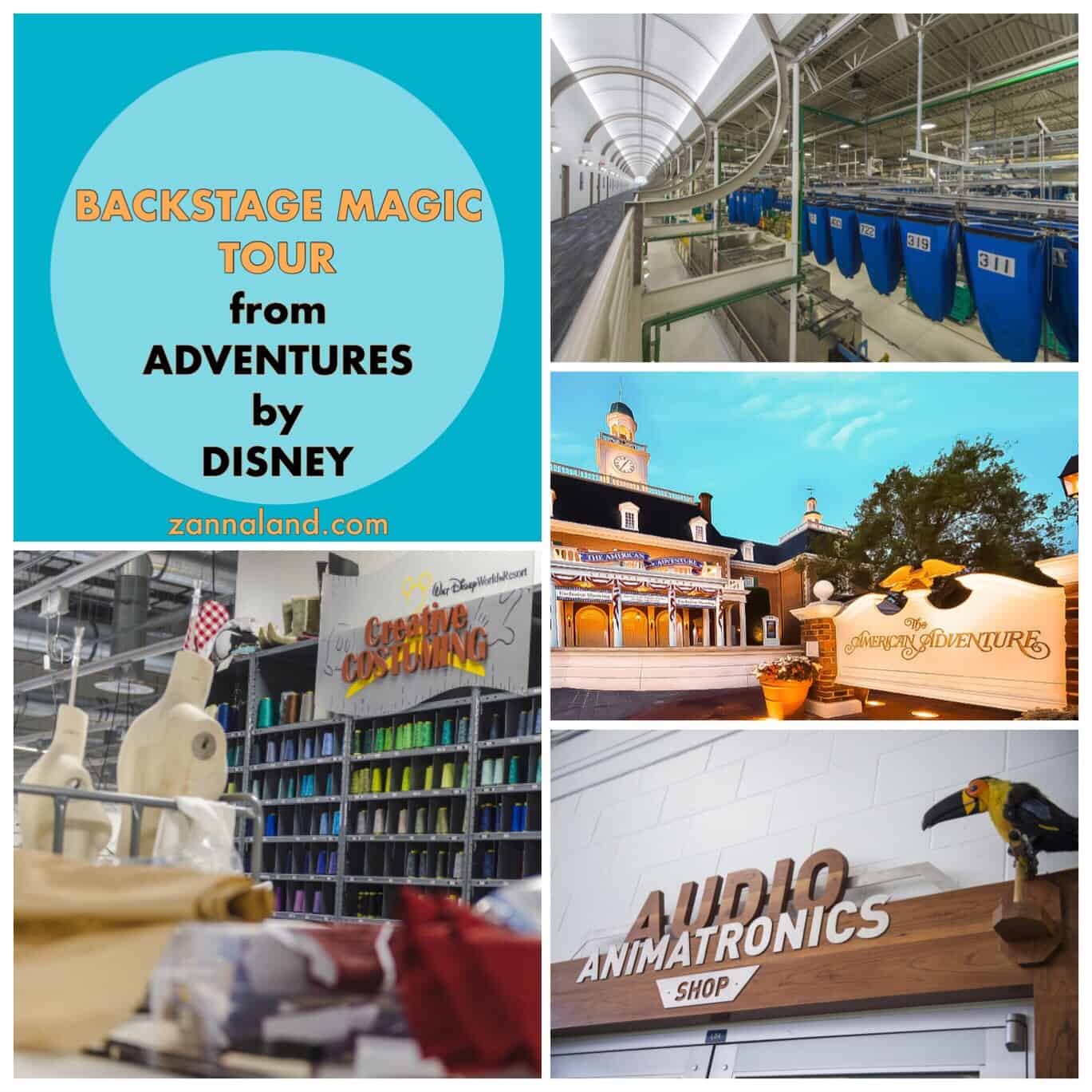 As a former cast member now married to a cast member of almost 30 years, we have between us amassed quite a bit of parks knowledge and history. I've been backstage at Walt Disney World more times than I can count, as a cast member, a guest of one, or during special events and tours. As excited as I was for the backstage tour I was about to experience, I was also a little jaded that it was probably "stuff I already knew."
NOT JUST ANOTHER TOUR…
Within minutes of starting the Backstage Magic Tour, all of that (and any potential internal feelings of superiority) was thrown out the window. I took careful steps down the cement stairs, protective eye wear on my face, and looked to my right to see Mark Twain and Benjamin Franklin sitting together, mere inches from where I stood. I assure you, my safety glasses were not rose-colored!
Yes, I was now standing backstage at the American Adventure, something 8 year-old me would've sold her entire Barbie collection to experience. I even began to tear up a little thinking of my original, beloved EPCOT Center. I told one of our guides, Amber, that I thought I might cry. Without hesitation, she said "go ahead and cry, we understand, it's really cool!" And it was then that I knew, I was going to love this tour. And I did.
Many of you may know that my day job is working at MEI & Mouse Fan Travel. I've been there for over 6 years, and along with many other fun hats I get to wear, I occasionally get to experience some amazing events. It's a fun crossover from my blogging life where I've been sharing adventures like this for the past 10 years. This week I did just that as our agency got an invite to enjoy the 7 hour Backstage Magic Tour at Walt Disney World.
You've no doubt heard of the Keys to the Kingdom Tour at the Magic Kingdom, which is another 7 hour tour, but based solely within the Magic Kingdom. Keys to the Kingdom does go backstage but the Backstage Magic Tour is entirely facilitated by the Adventures by Disney team, and takes you out of the parks. You book the tour the same way, thru 407-WDW-TOUR (or having your Mouse Fan Travel agent book it for you when you book your next vacation package!).
In addition to walking through the famed Utilidor, the Backstage Magic Tour provides unprecedented access to areas of the Walt Disney World Resort usually reserved for Cast Members only.
Here are the highlights of the Backstage Magic Tour:
Epcot
Explore the inner workings of The American Adventure as we reveal the feats of engineering and artistry behind this inspiring Audio-Animatronics stage show.

Magic Kingdom Park
Become immersed in the story that started with Walt himself on Main Street, U.S.A.—navigate the "utilidor" tunnels, a network of underground passageways constructed beneath the theme park so Disney Cast Members and delivery vehicles can move around undetected.

Creative Costuming
Observe the talented professionals who design costumes for Character, show and parade performers.

Central Shops
Get up close with the artisans whose skill and craftsmanship make dreams come true all around the park—from the tiniest details to elaborate stage sets.

Disney's Wilderness Lodge
Settle in for a delicious family-style barbeque lunch at Whispering Canyon Café—included with your tour.

Textile Services
Unfold an experience like no other within one of the world's largest laundry facilities—complete with a unique photo opportunity!
TOUR DETAILS:
Disney was kind enough to invite MEI & Mouse Fan Travel out to experience this tour first hand. Not to sound dramatic, but it was life-changing. The 1970's technology used to run the American Adventure show has aged well in its 37 years. In fact, they still use the same computers to run the show. I don't want to give away too much of the process, since it was so impressive to me. I hope everyone can have that same jaw-dropping experience. Suffice it to say, the entire American Adventure portion of the tour was full of fun facts and history that any EPCOT Center fan will appreciate. Even I learned a new fact or two!
CREATIVE COSTUMING:
I thought the American Adventure section was my favorite, but then we arrived at Creative Costuming. I was again blown away by what goes on while we are riding rides and eating popcorn down the road. This location creates and updates costumes for all 12 Disney parks, Disney's Aulani Resort, and Disney Cruise Line. We saw the entire costuming process from sketch and CAD design, to pattern, to construction and embellishment.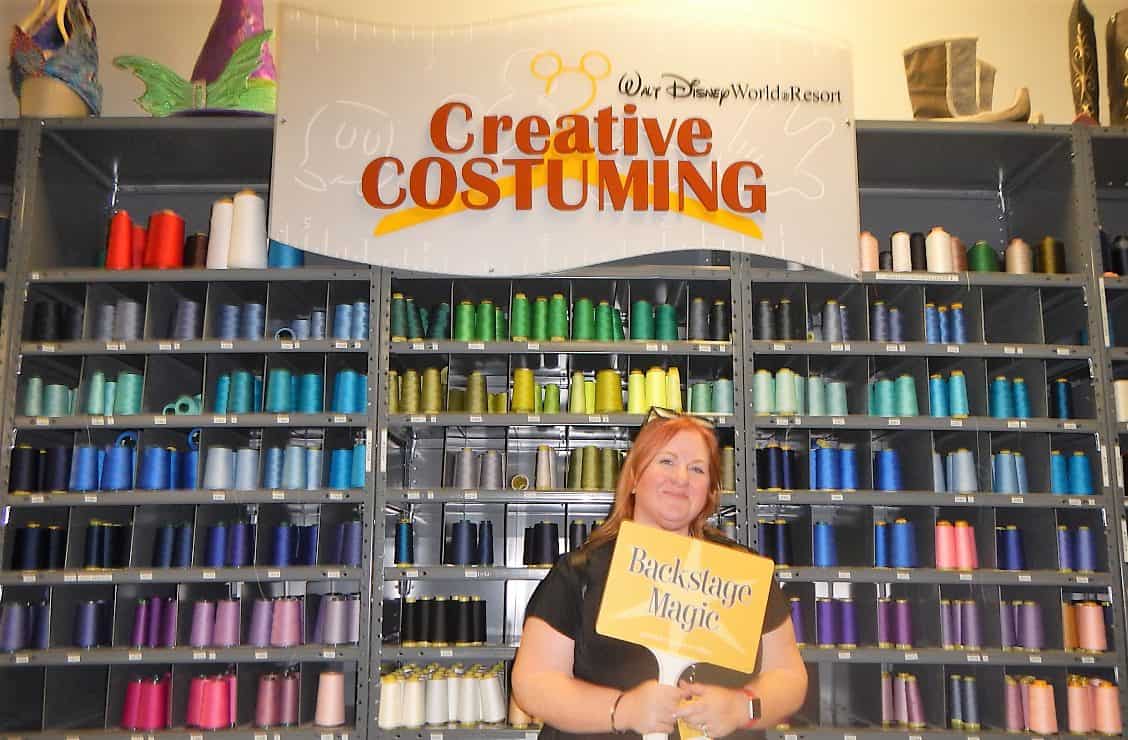 There are quite a few surprises within the Costuming building too. I'll just say fans of the Great Movie Ride and the original Red Head will be very happy. There is so much history there – you'll see a lot of old favorites and new designs. Creative Costuming did not disappoint.
TEXTILE SERVICES:
Another surprise winner on the tour was the Textile Services building. One of four on property, they are the 4 largest facilities of their kind in the nation. You might be thinking, "what could possibly be exciting about laundry?!" but just you wait…
When you see the largest track system in any theme park (think a laundry bag roller coaster) – machines washing 150lbs and drying 300lbs at a time – other machines pressing and folding. The end result of which is 2.5 million pounds of laundry washed and folded a week – you may change your mind! It is an impressive and efficient assembly line. You may not think about it, but it's an extremely important part of the Walt Disney World Resort experience!
CENTRAL SHOPS:
The next part of our tour took us to Central Shops; the favorite of many guides for a reason. You just never know what you're going to see when you step inside! Here at this backstage location is where ride vehicles, animatronics, props, and even trash cans receive maintenance, updates and refreshing. Sometimes it's a quick fix or a coat of paint, but everything undergoes "cyclical maintenance" at certain intervals of time. This is when each ride vehicle, animatronic, etc, gets stripped down to its frame. Hardware is replaced, new paint or skins are applied. Whatever is required to appear as fresh as when it first appeared in the park, happens here.
Our guides shared (and we got to touch!) the different types of animatronic skins:
realistic silicone, which was really realistic feeling!
hot melt molds (which you see in older animatronics)
tougher plastisol – for animatronics exposed to harsh Florida weather conditions (blazing sun, daily rain, even hurricanes). Think Jungle Cruise animals.
We also saw several ride vehicles and parks items in various stages of maintenance, including:
Expedition Everest
Big Thunder Mountain Railroad
Space Mountain
Primeval Whirl
Pandora's Flight of Passage "banshees"
Several animals from Jungle Cruise
Quite an eye-opening portion of the tour! Before we left, we were treated to an epic photo-op. The now-retired giant polar bear from the Maelstrom attraction in Epcot's Norway pavilion was pretty exciting for this Maelstrom fangirl.
THE UTILIDOR:
We ended our day with a tour of parts of the underground (well, it's at ground-level really) Utilidor beneath the streets of the Magic Kingdom. As a former Main Street, U.S.A. cast member, this was like going back home for me. It's always exciting to see the bustling activity and efficiency under the kingdom. There have definitely been improvements since I walked to work this way back in 1995!
WHAT ABOUT FOOD?!
The halfway point of the tour is marked by lunch at Whispering Canyon Cafe. We enjoyed an all you care to eat skillet (any food allergies or special dietary needs are met as well). Lunch is a nice break, and a great way to get to know your fellow tour members and guides a little better. Snacks and water are available on the coach as you travel to each destination.
IS IT WORTH IT??
Our fabulous Adventures By Disney guides share stories, trivia, and tales of Walt Disney World history throughout the tour. Amber (mentioned at the start of this post) felt like an old friend by the time our tour was over. Part of the charm and enjoyment of this tour is hearing accurate stories of Disney past and present. Hearing the stories from cast members who clearly love their roles, and embody the ideals Walt would be proud of. It is a very full 7 hours, but the content makes the time fly by.
Unlike Keys to the Kingdom tour, guests aged 12 and up can experience Backstage Magic with a guardian 18+present. So if you have a budding Imagineer or Cast Member, you'll be able to enjoy this tour with them too! I know when my youngest turns 12 in 2 years, we'll definitely be going on this tour again.
Photos are not allowed backstage, but as you can see above, the guides take several fun photos along the way. You have instant access to download these photos at the end of the tour. You can then share your amazing experiences with your friends and family as soon as you get home!
TOUR UPDATE NEWS:
At the end of our tour, we were given some insider info, which Disney will be announcing this week. Starting June 1, the Backstage Magic Tour will experience two new changes! Lunch will now no longer be at Whispering Canyon, but rather Tiffins restaurant inside Disney's Animal Kingdom park. Tiffins will make more sense, since the Textile Services tour will be replaced by a Rivers of Light backstage experience! We love the Rivers of Light show, so this is an exciting update! Now you have a choice! Book this tour in the next 3 months to see the mind-boggling Textile Services building (which will be inaccessible after June 1)…Or wait and experience the new parts of the tour? A tough choice – maybe both?!
HOW TO BOOK:
Contact your MEI & Mouse Fan Travel directly, to book the amazing Backstage Magic Tour with your next vacation package. Or, call 407-WDW-TOUR to book directly with Disney. The cost is $275 per person, but in my opinion, worth every cent! In addition to the 5-days-a-week Backstage Magic Tour, three more ABD-run tours are available to book:
Gardens of the World – during the Epcot International Flower & Garden Festival, in partnership with the Epcot Horticultural Department.
Yuletide Fantasy – behind the scenes of all it takes to create and display the holidays at Walt Disney World
Holiday D-Lights – an enchanting evening reveals some of the secrets behind the most special traditions at Walt Disney World
Have you experienced an Adventures by Disney or any Disney parks tour? We'd love to hear your thoughts in the comments below!
Disclaimer: Disney invited MEI-Travel to experience this tour at no cost, but my thoughts and opinions are our own.