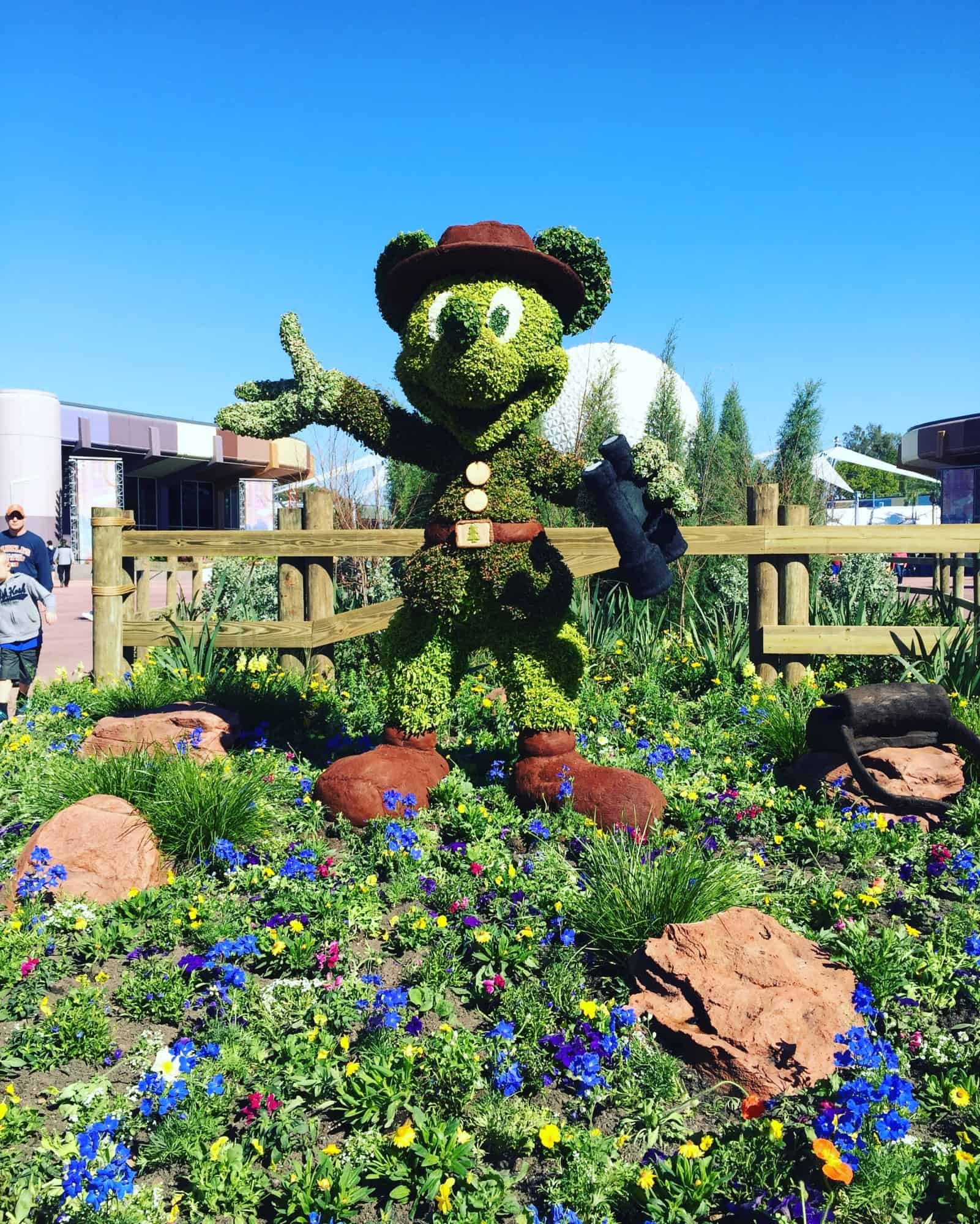 As much as I enjoy the unique foods offered at the Epcot International Food & Wine Festival each year, it's no secret that I actually prefer the Flower & Garden Festival by leaves and mounds (see what I did there? horticultural puns!). In all seriousness, it really is my favorite Festival, especially with the addition of the outdoor kitchens. Seeing new topiary creations each year, in addition to the old favorites always makes for great visits to Epcot, and fun photo ops, ensuring you explore and visit even some forgotten areas. Additionally, with the spring season at hand, the food options at the outdoor kitchens (now in their 4th year at the Festival), are lighter, more focused on vegetables and organic and locally sourced ingredients. The menus are fresh (there's a reason they use #FreshEpcot as the hashtag for the Festival) and not too heavy, just perfect for strolling the park in the springtime.
This year, the Flower & Garden Festival runs from March 2 – May 30, expanding from 75 days last year, to a full 90 this year. Festival Horticultural Manager Eric Darden explained that they are prepared and excited for the challenge of a 90-day festival. With the previous length, they had 2 separate plantings to keep the gardens looking bright and full. This year, they may have to do 3 sets of plantings for some of the displays, ensuring no matter when you visit, the flowers will look as wonderful as day 1. Also new this year, is a new topiary character, Ranger Mickey, who, along with Chip n' Dale, help celebrate the National Park Service's 100th Anniversary. I loved these new topiaries and of course, awareness of our amazing National Parks is always a good thing.
We were treated to a preview of some of the menu options as well as some of the areas which were still under construction. Set to open tomorrow, March 2nd, everything will be revealed and ready to go at park opening. Until then, enjoy some photos and further information on 23rd annual Epcot International Flower & Garden Festival!
(Hover over photos to read captions)
Of the samples we tried, I was most in love with the Shrimp and Grits and the Burnt Ends – so, so good and the flavors are ridiculous. I also really liked the Currywurst, which I guess used to be at Sommerfest, but I never tried it there. The Jerk Chicken was also a winner. I thought I had tried gin in my past and not been a fan, but mixed with the Cucumber Watermelon Slush, I really loved it. I would totally get this when I go back to the Festival. Of course the Festival Passport is back, and you can get stamps at every kiosk around the World Showcase. You can view all the menus, topiary checklist, Garden Rocks performers, and all the Festival info online before you go.
Here are some of the topiary and garden photos from our sneak peek. We'll have more throughout the run of the Festival on Instagram, Twitter, Facebook, and in future posts here.
Will you be visiting during the Epcot Flower and Garden Festival? What are you most looking forward to seeing and trying? We can't wait to get back for more!