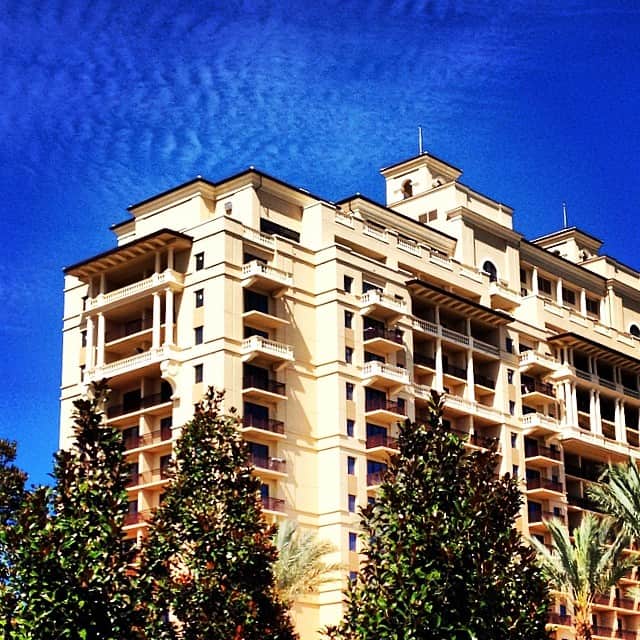 If you've driven down Bonnet Creek Parkway or Vista Boulevard lately, you've seen the luxurious monolith rising in the sky – for the future home of the Four Seasons Orlando. Nestled within Disney's ultra-exclusive multi-million dollar residential community, Golden Oak, the Four Seasons Orlando will be unlike any other resort property at Walt Disney World. On Disney property, but not owned by Disney, the Four Seasons is a completely unique resort experience, offering many amenities that Disney Resorts offer, as well as some of their own. I was recently given two different tours, two weeks apart, of the property while it is under construction.  Despite the incomplete state of the hotel, its beautiful future shone through.
The Four Seasons Orlando will soon be a glittering gem for those wanting to experience the ultimate in resort luxury. We were unable to take photos while construction is ongoing, but the resort was kind enough to let us use their photos of completed rooms and suites. On my second tour, we were permitted to take photos from the top floor of the pool areas.
Before we move on to the description of the amenities and all that the Four Seasons Orlando has to offer, I want to go over the overall feel of the resort. As mentioned above, even with construction taking place all around us, the elegance and impeccable design choices were already apparent. As you enter the resort, the gorgeous tile is all around you, and you are immediately drawn to the "fireworks chandelier" as you walk through the lobby. This sparkling multi-floor chandelier pays homage to the fireworks which will be such an integral part of the resort's views. Designed in Czech Republic by Jozef Baca and Veronika Kopecna, the inspiration was a dark sky illuminated by a spectacular firework display – in much the same way, this magnificent chandelier lights up the entire grand entry of Four Seasons Resort Orlando.  More than 30,912 crystal components in radiant hues of light topaz, light smoke, amber and honey are featured. The chandelier weighs more than 1,223 pounds (555 kilograms) and requires 250 sleeves of LED lighting.
I was consistently impressed throughout the guest room and finished public areas with the attention to lighting and design details. The overall feel is one of timeless but contemporary elegance. Graphic shapes and a color palette that will stand the test of time. Relaxation and luxury envelop you with every glance around your guest room. The hallways are in pleasing yellow and grey tones, while the rooms are completed in either aqua blues or light oranges – it was hard to pick a favorite. The rooms feature state-of-the-art features including iPads in each room, flat screen TVs and in-mirror TV in bathroom, as well as digital touch buttons by the bed and the front door to request service, privacy, and more.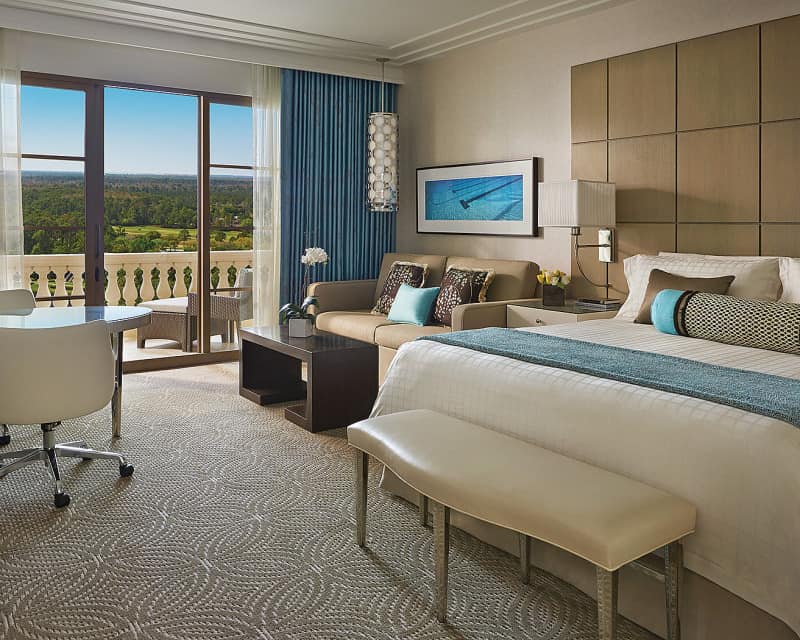 Here are all the facts about the property:
444-rooms, with standard guest rooms offering the largest square footage in Orlando, open for reservations for stays beginning this August
King guestrooms all have a queen-size sleeper sofa bed in room (perfect for families) and the resort also offers many connecting rooms via an interior hallway and suites
Many accommodations offer spectacular vistas over the Magic Kingdom® Park's nightly fireworks display from the comfort of one's furnished balcony
Gallery of guest rooms at the Four Seasons Orlando – click to enlarge. All photos in this section courtesy Four Seasons Orlando:
Enjoy world-class dining experiences, including:
Ravello

: a culinary trip to the Amalfi coast – colourful, lively, and rich with the aromas and flavours wafting from the open kitchen.  

 

Capa

: named for the matador's red cape, sets the stage for tapas and steaks with rooftop fireworks views.  (Opening later this September)

PB+G

: stands for pool, bar and grill, where guests can choose creative salads and poolside fare coupled with smokehouse BBQ specialties and hang out in the lounge with its central bar, dine on floating pavilions, or simply grab and go.   

Plancha: in the golf clubhouse, all guests can savour Cuban American cuisine in a lakeside setting.

 

Lickety Split: a fast-casual, grab-and-go spot on the lobby level, Lickety Split will offer fresh juices, smoothies, lattes, cappuccinos, gelato, baked goods, sandwiches and more.
Additional Fun: Three Har-Tru tennis courts, a 24-hour fitness centre, Spa with 18 treatment rooms, Tom Fazio-designed golf course and an adults only pool surrounded by private cabanas.
I will admit, when I first learned of the Four Seasons building on Disney property, I wondered if they would even try to cater to kids or families. I was more than pleasantly surprised by what they have to offer at the resort:
Can have as much or as little Disney as you'd like as part of your vacation – can have the Four Seasons experience with Disney, or the Disney Experience, with Four Seasons

 

Complimentary transportation is provided to the main Disney theme parks (Magic Kingdom, Epcot, Animal Kingdom, Hollywood Studios) in plush motor coaches

 

This new property can accommodate large families  – the 16th floor features the Royal Suite that can be configured with up to three separate living rooms and nine – yes, nine – bedrooms

 

We have our own amusement area for kids – Explorer Island. A five acre (two hectare) playground packed with fun for all ages, Explorer Island includes a 7,590 square foot (705 square metre) family pool with a lazy river winding around a "ruined" mansion, climbing wall, waterslides, and more.  Look forward to beach volleyball, basketball, a video gaming centre, outdoor movie nights on the Starstruck screen, and more

 

Twice weekly on-site Disney Character Breakfast with Goofy and Pals, plus on-site Disney Planning Center

 

Complimentary Child Care: (Yes, you read that correctly.) Younger guests enjoy Kids For All Seasons, located on Explorer Island in the Mansion, where kids ages 5-12 will be entertained and supervised by our staff.  Complimentary child care is unique in this market.

 

Just for Kids Amenity: A welcome amenity is provided, as well as child-size bathrobes and complimentary baby and children's toiletries, as well as cribs, high chair, playpen, bottles, and toys at no extra charge
Views of the (still under construction) recreation areas:
So as you can see, the Four Seasons Orlando will be a resort for everyone; the single traveler or couple, the family traveling together or with a nanny, or a group who need more space that the Royal Suite and additional rooms can offer. Another plus to this resort is the elegant and technologically advanced ballrooms. They can be separated into three smaller rooms or left as one large space, as well as making use of the outdoor terraces. The chandeliers outside the ballroom are just gorgeous, looking like twinkling crystal flowers intertwined. I instantly wanted to have an event in this space, and I'm sure it will be a popular choice for weddings and more once open.
As you can tell, I'm already passionate about this wonderful new addition to the Orlando resort line up – which is unlike any other resort, on Disney property or otherwise. I cannot wait to see the finished product and experience a resort stay myself. I know with the combination of luxurious accommodations, the views, the amenities, and what promises to be first class dining, I will not want to leave. I'll be featuring more about the Four Seasons Orlando in the weeks to come, so keep checking back! Special thanks to the Four Seasons PR and travel sales team for the tours and special glimpse into this work of art .
Follow along with the Four Seasons Orlando team at: