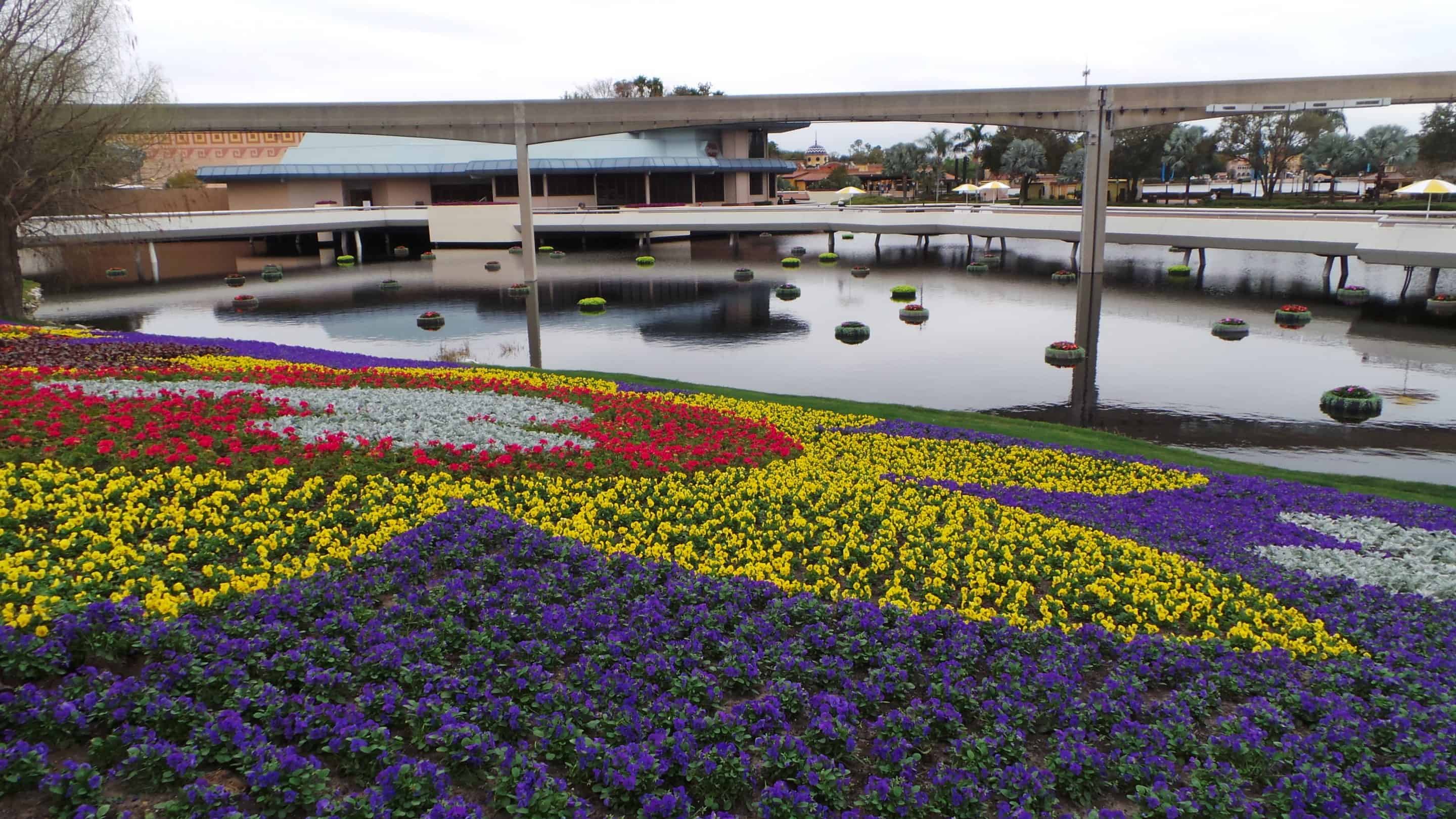 The Epcot Flower and Garden Festival is entering its 22nd season at the Walt Disney World Resort. I've been attending from the start, and it's always held a lovely place in my heart as a fun way for Epcot to show its colors in a unique way. When the rest of the world is craving spring in all its glory, even those of us in Florida are ready for some color, butterflies, and all that spring promises with each new year. Growing up, I used to love going to the New England Flower Show each year (now called the Boston Flower & Garden Show). We'd drive into downtown Boston from our suburb of Sharon, Mass, usually with snow still on the ground. Seeing the displays, the exotic flowers, plants and trees that you didn't normally get to see in New England, along with the accompanying scents, was a highlight for me as a child.
Epcot's Flower & Garden Festival, while not very similar to what I grew up with, showcased what Walt Disney World was known for, topiaries, beautiful flowers and animated characters brought to life. Originally, the Festival had a special Mother's Day Brunch, and on that day you would receive a carnation at the turnstiles (still a tradition as of last year, although the turnstiles are no more) as well as a free "Mother's Day Photo" taken in a different location each year. That was an annual tradition for my mom and I, and we usually continue it, although the free photo is no more. We still dine in Epcot each Mother's Day and enjoy the various flower displays and gardening showcases Epcot puts together, now in partnership with HGTV and many other sponsors.
The extensive topiary displays have grown, as well as adding many DIY examples of home gardening ideas and inspiration to take back home, whether that is local, or in a completely different climate zone. The Festival Center, housed in the former Wonders of Life pavilion, offers gardening demonstrations and classes for those wanting to learn how the experts make it happen.
The Flower & Garden Festival has changed quite a bit over the years, with one of the biggest changes coming two years ago, with the addition of Epcot Kitchens around the World Showcase promenade. These kitchens highlight different fresh grown menu items, drinks and desserts, some of which have become instant hits. I've really come to love these options even more than the Food & Wine Festival that rolls around in the Fall. There are a lot less "drinking around the world" groups during the Flower & Garden Festival, and the focus on the foods is really specific to locally grown flavors and fresh, unique items. And while you can still get something like bbq brisket, you can also enjoy items that almost leave you refreshed and not weighed down by sauces and ingredients we have come to associate with the Food & Wine Festival. Most things at the Flower & Garden Festival (aptly given the hashtag #FreshEpcot this season), are made with spring vegetables, fruits and lighter items to match the season. It's a kind of "Food & Wine Light" Festival, which, when paired with the other displays and demonstrations, makes it a perfect way to ring in spring at Epcot.
This year, I was again treated to a preview of the Flower & Garden Festival with some other local media. We met with Festival horticulture manager Eric Darden and Carla Shuman, a Disney World landscape architect. Some gardens seemed to be a little less far along than last year's tour, but then we have been dealing with several cold snaps and yes, even freezes here in the central Florida area. I know, it's nothing compared to what I left back home in Boston, but then again, I left all of that behind for a reason! While some of the old favorites are back again at the Festival, there are some new topiaries as well as new plants being used this year which I'm very excited to see in full bloom.
One of the newest additions this year is the use of succulents to many of the displays. Heather told us that in the past, they'd been afraid to use succulents, because they don't do well in Florida summers, but since the Festival won't be on display in the summer, they decided they could use them. I'm a little obsessed with succulents, I think they are so unique-looking and can really make a fun landscape of textures and colors, so I was thrilled to see these little babies out on display. Carla said that some of the displays they already had out were affected by the freezes, but that they had already been replaced and everything looked great. I can't wait to check out the entirety of Epcot and look for the various succulents on display. They are used quite a bit in the Cars area, with a newly themed section called Cactus Road Rally, which really fits into the theme of the original Cars film.
Speaking of films, you may have heard of Disney's little indie release called Frozen, which is of course featured prominently in topiary form at the entrance to World Showcase from Future World. I'm wondering if a little Olaf won't appear before the end of the Festival. I do hope they end up lighting the topiaries once the Festival officially opens on March 4. I recently saw the new Frozen short in front of Disney's Cinderella, out March 13, and it actually is pretty cute. The new dress colors of the sisters in Frozen Fever make me happy (for now…).
Also new this year is an area called 
Botanas Botánico
Outdoor Kitchen, located between the France and Morocco pavilions, which will showcase treats like
Cachapas with Farmer's Cheese
, a sweet yellow corn pancake, and
Seafood Ceviche
with shrimp, scallops and grouper with mango and avocado. Also, a new drink called
La Tizana
, a non-alcoholic punch finished with fresh fruit that can become an adult beverage with a splash of Santa Teresa RHUM Orange Liqueur. We were able to sample the Cachapas and the La Tizana, and I think they will both be great hits. The Cachapas were mild and comforting; a snack you could enjoy any time, and not feel as bad, because, hey, corn. To counteract all of that…healthy stuff…be sure to try the
Coconut Tres Leches
dessert. Holy wow that was ridiculous. I had to stop myself at two (okay, four) bites because I could feel my pants getting tighter with each one. SO. GOOD.
Other items we were able to try were the new Beef Brisket Burnt Ends Hash with White Cheddar Fondue and Pickled Jalapenos, from the Smokehouse. This had a great flavor, but in my opinion not as good as the pepper bacon hash from last year's Food & Wine Festival. Also new from the Smokehouse is the Smoked Debreziner Sausage with House Made Kraut and Mustard. I'm not a huge sausage and kraut fan, so this was nothing to write home about to me. We also sampled the returning Shrimp and Grits from Florida Fresh, which was heavenly. For some reason, in my recent "better eating" lifestyle, I've been craving Shrimp and Grits like nobody's business. I should probably avoid this booth for fear of ordering breakfast lunch and dinner there.
At the Urban Farm Eats kitchen, new this year is the "Naanwich" with Quinoa Patty, Arugula Pesto and Roasted Tomatoes. I loved this. Any time I can eat vegetarian and know it's going to taste amazing is a must-do for me, and this did not disappoint. Honestly, I would order this over the Burnt Ends Hash, but maybe that's healthy me talking. I did feel guilty eating naan, but good bread will always be my weakness! We also tried the new Kale Salad, with Dried Cherries, Almonds, and Goat Cheese with White Balsamic Vinaigrette which was nice and refreshing, depending on the price, I would totally order this again for a healthier option.
Also sampled was the Macaron Guimauve à la Fraise, a Strawberry Marshmallow Macaron from France. It's almost too pretty to eat. Almost. Finally, the Florida Blueberry and Lemon Curd Tart. This was so refreshing. The blueberries were gigantic and so juicy.
I can't wait to head back and try the rest of the new and returning items and stroll around the World Showcase lagoon with some delicious eats. I'll be updating as I try more foods and drinks during the festival. I'm also excited to view the completed garden and topiary displays, including the Healing & Health Garden near The Land pavilion, featuring ancient medicinal plants including garlic, aloe, chamomile, fennel, mint and others. Plants used to develop modern prescriptions will be papaya, periwinkle, turmeric, yew, thyme and valerian. And the new Shakespeare Garden at the United Kingdom pavilion will feature roses to represent Romeo and Juliet. Also in the garden: rosemary from Hamlet, lavender from The Winter's Tale, plus representations featuring poppy, lily, honeysuckle and willow. A literary fan's dream garden.
I'm sure I'll have more coverage as the Festival runs from March 4 – May 17, 2015. Until then, follow along on twitter, instagram and facebook for more photos and updates.
Thank you to Disney for inviting me to the hard hat preview tour I attended, and the food and drink samples provided. Opinions and thoughts are my own.