One of the things that separates amusement parks from theme parks, is just that, the theme. Theming takes you out of the real world and puts you into the environment that the creators want you to experience and be a part of. In the realm of theme parks, Disney has been the leader for quite some time. Part of what helps Disney achieve that status, is "story" or backstory if you will, and the layer upon layer of detail used to create that story.
On this week's Up the Waterfall show, we focus on Magic Kingdom and some of its many hidden details. All of these details pull you into the story, if you take the time to notice them. We list our favorites, but because we didn't want a 3 hour show, we don't mention ALL of the details, as there really are stories behind everything.
We start right at the front of the Magic Kingdom and go clockwise through the lands: Main Street, U.S.A., Adventureland, Frontierland, Liberty Square, Fantasyland, and Tomorrowland. The list below will serve as a guide along with the podcast, leaving out any we didn't mention, and room for more we may add!
Main Street, U.S.A.  
Walt Disney World Railroad Main Street Station: there are quite a few timetables with references to other Disney parks, movies, and characters.
Main Street Windows: most everyone knows that the names on the windows of Main Street, U.S.A. reference Imagineers and folks involved in the creation and legacy of Walt Disney World and Disney Parks in general. We reference the Windows on Main Street book from 2009, which is a great guide to the stories behind these windows. There's also an updated version from 2014, Main Street Windows: A Complete Guide to Disney's Whimsical Tributes.
The Chapeau Telephone: this is an old favorite, you used to be able to listen to several full conversations on there. According to our friends at the RoadSideTrippers instagram account, they checked it out about a week ago, and sadly the line kept cutting out a lot, so it wasn't up to its old performance. Hopefully when times are better, Disney can spare some love for this little detail.
Adventureland
Jungle Cruise: most of us remember the half a plane used in the Casablanca scene of the Great Movie Ride (rest in peace), well the other half of that plane is right in the Jungle Cruise!
Jungle Navigation Co. LTD Skipper Canteen: This relatively new (by Magic Kingdom standards) restaurant is chock full of references to the Jungle Cruise itself and other Disney attractions and names. Right as you enter you are greeting with a painting of Dr. Albert Falls, and an abstract of his wife Alberta, who opened up the restaurant. Once inside, the doors on the second floor are nods to original Imagineers and legends, including Marc Davis, Harper Goff, and Bill Evans, landscape designer for Disneyland and the Jungle Cruise itself.
The real magic (and hidden details), however, lies in the bookcases which lead to the "hidden" rooms of the restaurant. Almost every book in the shelves is some reference or pun, including author names like "Cap Size" and "Sid Truss" along with nods to created characters like Merriweather Pleasure of Pleasure Island lore, and even "Vagnini" a nod to former archivist, Disney Imagineer (and friend!) Steven Vagnini. We won't list all the titles and names here, but be sure to check them out next visit. We didn't even touch on all of the S.E.A. references in this spot, so stay tuned for a future discussion on that very topic.
Tortuga Tavern: Scott gives us the rundown on the rich backstory of this spot, with lots more than just the book with some characters' names written in it! Be sure to look around next time you visit.
Frontierland
Pecos Bill's: yes, another restaurant – but it's really a great way to insert lots of details that you don't have to worry about being missed as you ride by in an attraction! Funny thing, I actually missed most of the ones Scott mentioned in Pecos Bill's! Sounds like I need to get back there right quick! We touched briefly on the redux of the Big Thunder Mountain Railroad queue area, but again, this is a spot that we feel needs more attention than just a part of a podcast. If you have a favorite, let us know (I am very partial to the Barnabus T. Bullion painting that looks eerily like my beloved Tony Baxter – the Imagineer responsible for Big Thunder Mountain of course).
Liberty Square
The enjoyable part about Liberty Square is that so much of its detail can be traced back to actual history. In all cases of Disney parks planning, Imagineers go above and beyond to have authentic details, pay homage to actual places or events, or at the very least expand upon the references we know and love. Liberty Square is no exception. With homages to "2 if by sea" lanterns, use of the original Liberty Bell mold to cast the Disney version, and architecture that looks like you are walking through historic Boston or Philadelphia, it's a wonderful place to explore.
Fantasyland
Cinderella's Fountain: or La Fountaine de Cindrillon in French, is a beautiful little detail. I recently discussed it on my zannaland instagram page as well, which was actually the impetus for this episode!
Sir Mickey's: a very fun shop with lots of great visuals to see right off the bat (giant vines from a beanstalk and the face of a giant peeking in from the eaves), to minute details referencing two original Mickey shorts.
Under The Sea – Journey of the Little Mermaid: As we know, this was once the spot of 20,000 Leagues Under the Sea. We show you all the hidden references to this original ride in the Fantasyland area, and a special hidden Steamboat Willie as well.
Tomorrowland
Robotic Palm Trees: this is a favorite "fun fact" that gets thrown around, but we couldn't not mention it. The backstory is that the Tomorrowland Power Company uses these metal palm trees to harvest the suns rays, and the "coconuts" that grow are "energy balls" to harvest and provide power for the citizens of Tomorrowland.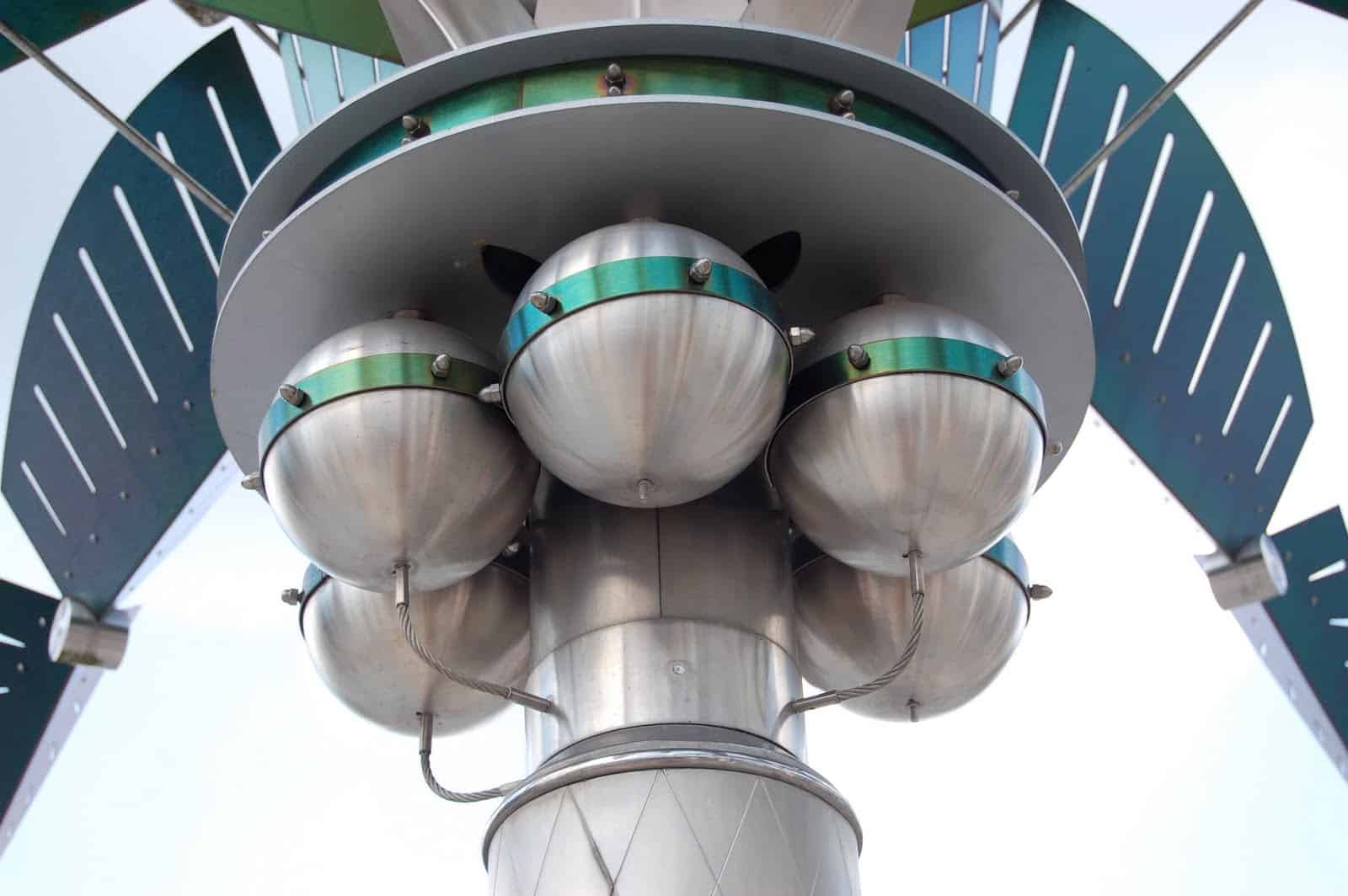 Space Mountain Queue: There is a rich rundown of hidden details within the queue, including references to other Disney theme parks and their Space Mountains, as well as former "futuristic" attractions. We mention our favorites on the show.
We had to end our episode there, but we know there are so many more we didn't mention. Listen or watch below and let us know your favorite details or what we missed. We'd love to hear from you. And make sure you look up, look down, and look all around next time you're in the Magic Kingdom! Scroll down to see where to listen and connect with us, but before that, as mentioned on this episode, we'd like to share some places to help displaced Cast Members, many of whom are Imagineers or directly responsible for the details we know and love. If you can, please help. Thank you.
---
As always, we thank you for watching and listening! If you enjoyed, please share with a friend so more folks can learn about our growing podcast! Thank you!
Listen to Up the Waterfall:
You can listen anywhere you download and listen to podcasts, including: 
(If there's a podcast service where you can't find our show, let us know and we'll get it added there!)
Watch Up the Waterfall:
Head to our Up the Waterfall YouTube Playlist – where you can see our opening sequence and see some unique images during some episodes.
Feel free to comment below with your opinions on ANY of these movie choices, any questions or info you'd like to add, or if it's easier, head to the Zannaland Facebook page and join the discussion there with fellow Disney Parks fans!
Zannaland and Up the Waterfall Community – Let's Connect!
FOLLOW THE ZANNALAND FAMILY ON SOCIAL MEDIA, WATCH OUR VIDEOS, VLOGS AND PODCAST TOO: 
We thank you for your support and for sharing the love!