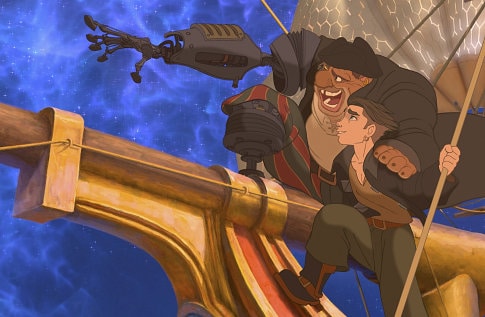 I'm always thrilled when Disney releases more of its feature animated films on Blu-ray, because I know it means the best quality picture, and I usually get to introduce my children to a film they either hadn't seen or have forgotten about. In this case, Treasure Planet was one of my oldest son's favorites back when it came out. It was one of the first Disney films he wanted to watch on repeat daily. He just loved the characters and was at the perfect age to get attached to them. Home on the Range was actually one of my daughter's favorites when it was released as well. She loved the yodeling scene and the horse, played by Cuba Gooding Jr. While neither movie may have received critical acclaim and they aren't my personal favorites, they represent a part of Disney history and certainly, like my children, built fans with their release.
That said, both films look spectacular on Blu-ray. There are some scenes that seem to just be made for this technology and the backgrounds and colors are just fantastic. The Bonus Features for Home on the Range are: Audio Commentary; animated short "A Dairy Tale:  The Three Little Pigs;" 4 Deleted Scenes; Music Video; Trailblazers: The Making-of "Home on the Range;" Art Review; YodelMentary; Joke Corral: Herd of Jokes. On Treasure Planet the Bonus Features are: Deleted Scenes; RLS Legacy: Virtual 3D Tour & Treasure Hunt; DisneyPedia: The Life of a Pirate Revealed; Visual Commentary and More!
If you are looking to complete your Disney film library, of course these are must-haves, I think Home on the Range is worth it for the yodeling scene alone and Treasure Planet for the amazing space special effects scenes. They are available July 10 on Blu-ray:
Add them to your collection today!