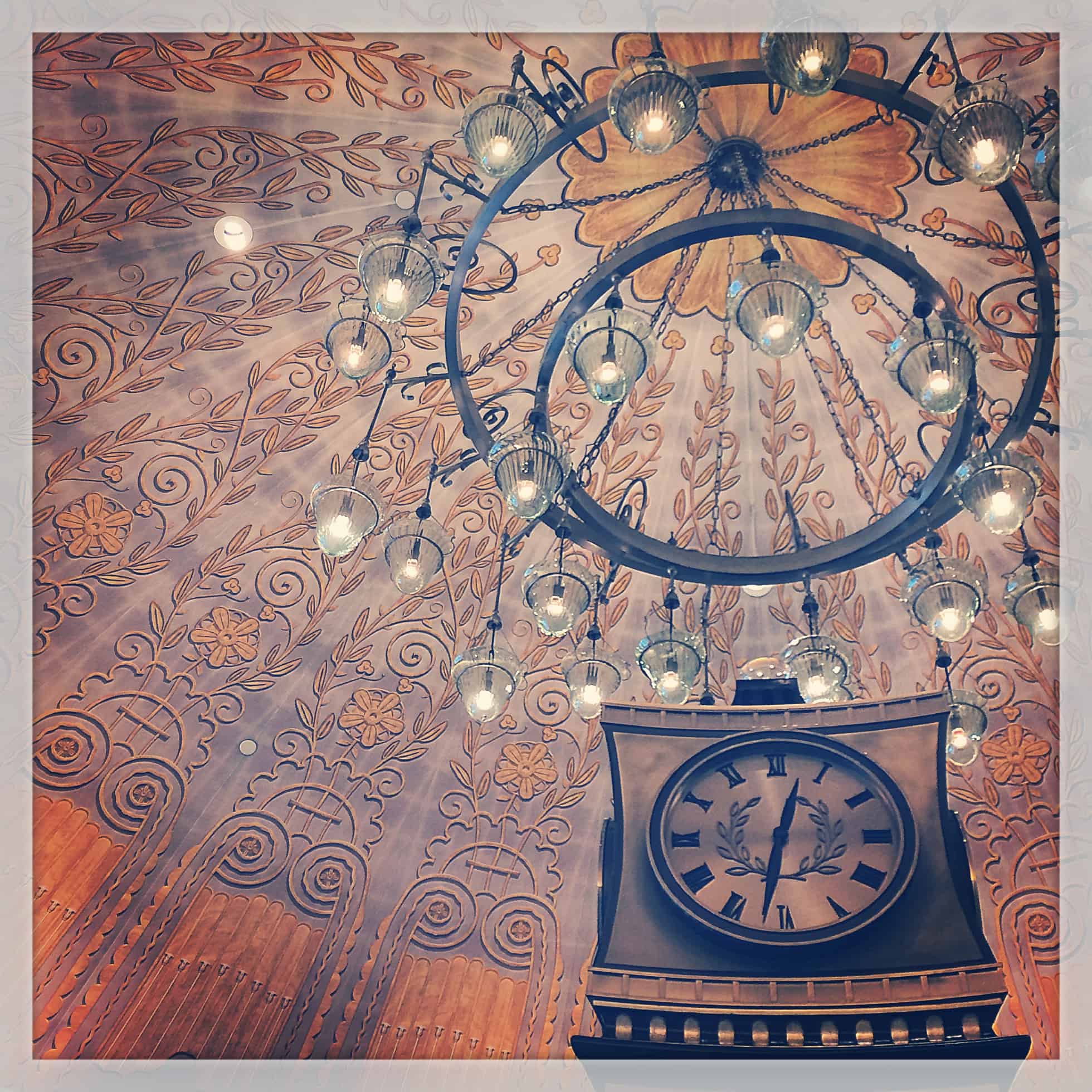 I've been lucky enough to stay at, tour, and even just visit more than my fair share of hotels and resorts, especially in the last 6 years with this site. While staying at an official Disney resort has its perks, I must say [whispers so Mickey doesn't hear], there are some resorts nearby to give Disney a run for the money. Now before you die-hard Disney resort fans start protesting, please just keep reading and see if you agree when all is said and done. This should be of special interest to all of you runDisney racers out there, because in addition to being a relaxing, amenity-filled, comfiest-beds-ever resort, the Hilton Bonnet Creek has completely ridiculous Marathon Weekends packages that will blow your mind. In the best possible way. I promise.
So I first heard about the Hilton Bonnet Creek through my wonderful friend and fabulous blogger, Amanda Tinney. Amanda had been going to Hilton Bonnet Creek both as an invited guest and on her own time and dime for a while when she invited me over for a girls weekend over the last summer. We had such a great time (despite my getting sunburnt to a crisp because I seem to always forget that people with skin like Merida from Brave need SPF 500) lounging by the pool, being wined and dined at the Bull & Bear, and sleeping in. And it was $99 a night for our room at a special End of Summer rate. That's Disney Value Resort pricing, people, and this is NOT a value resort in terms of anything BUT price. I still have to write about the exquisite dinner we had at Bull & Bear…I can close my eyes and still taste it, even months later.
What I want to tell you about now, however, is
Marathon Weekends at Hilton Bonnet Creek and the Waldorf Astoria
. While I don't consider myself a "runner" (yet…) though Amanda would argue that I am, I have been cheering and attending Disney races for the last 4 years or so. I've done 4 5k's and just completed my first 10k during the Walt Disney World Marathon 2015 weekend. I've recently lost 50lbs (and still going), so this last race weekend was really my first serious foray into the world of Disney races. While I may not have been running a half or full marathon (or all 4 races for the Dopey medal), I've been around enough runners to know what they appreciate and the ins and outs of runDisney races. Hilton Bonnet Creek impressed me from check-in to check-out. If you are a local looking for a great place to lay your head and be close to the action, or flying in just to race, the Hilton Bonnet Creek will treat you like royalty. I know just posting the photos that I did on my social media accounts, I was getting people right and left that said they were going to book their next race weekend there. Which made me SO happy, because we had such a wonderful time there, and I want everyone to experience it first hand!
Here is the run-down of the Bonnet Creek Marathon Weekends amenities:
A Special Experience For Runners
As our guest during Marathon Weekends at Hilton Orlando Bonnet Creek, you'll receive the following:
Complimentary bus transportation to and from the race venue
Carb-Load Pasta Dinner options
Personalized assistance from our Runner's Concierge … and even dip into their Runners' Survival Kit!
Complimentary snacks and beverages before the races!
Encouragement & recognition from our Marathon cheerleaders … even at 2:30 am!
A Special Marathon Rate For Runners
To get the most out of your weekend, we recommend the Marathon Weekend rate, which includes:
Special rate on accommodations exclusive to marathon runners
Complimentary bus transportation to and from the race venue
10% food & beverage savings card to be used during your stay
A Welcome Runner's Amenity
I'm just going to put this question here…what do the Walt Disney World Resorts do for runDisney racers staying on property? Well…if you stay at one the hotels they tell you to…they'll send a bus for you before the races. That's…pretty much it. The rest of the benefits to running a runDisney race are associated with the race itself and available to everyone running, no matter where you stay. So deciding whether or not to stay at the Bonnet Creek Resort is really a no-brainer, yes? Yes.
ADD to all of the above, the absolutely incredible guest rooms both at the Hilton and the Waldorf Astoria. Since I'd stayed at the Hilton Bonnet Creek over the summer, I was excited to experience all the Waldorf Astoria had to offer after hearing only good things from Amanda. Well, let me tell you, it did not disappoint. I pretty much wanted to move in and never leave. The beds were SO comfy, that is really the only downside…any wee hours of the morning 3am wake-up calls will seem like cruel and unusual punishment after basically being wrapped in a cloud all night in your Waldorf bed. We were lucky enough to be treated to a King suite at the Waldorf for our stay, and as a result I'm pretty much spoiled for life and only want to stay here from now on.
The Waldorf Astoria Orlando is actually, like all Waldorf properties, more of a boutique style hotel, which means excellent service for you, and the intimate feeling of a boutique hotel, with the benefits of the award-winning Bull & Bear, Peacock Alley lounge (which is gorgeous and I want to live there too), the other Waldorf amenities and pool – PLUS, all of the amenities at the Hilton Bonnet Creek, which is right next door, and connected by the convention center so you can walk in comfort inside between the properties. And of course guests staying at the Hilton can also enjoy the restaurants and bars of the Waldorf Astoria too. It really does have it all.
Checking in at the Waldorf was seamless. I was asked for my cell so the concierge could text me with any information and I could ask them for anything, at ANY time! I have to say, that was the coolest feature of all. Being able to ask a question by text (which is my preferred method of communication for the record), and get an instant answer, was heaven I tell ya. We felt so welcomed and at home, it really was an amazing weekend. I know it will be the first of many stays at the Waldorf. The level of guest service we experienced in every corner of both resorts was unparalleled.
In addition to the wonderful Marathon Weekends, the resort offers several special events throughout the year, including one of Amanda's favorites, Cupcake Lovers Weekend in June, which I feel like I must experience first-hand, for research purposes. They also have spa packages, romance, tea for two, and so many more special experiences. Hopefully I've convinced you to look into the Bonnet Creek Resort and stay at the Hilton Orlando Bonnet Creek and the Waldorf Astoria Orlando (I mean, you have to stay at both to get the full experience, I think). Did I mention how convenient it is to all the Walt Disney World parks, Downtown Disney, and I-4 if you're headed to other Orlando destinations? It's pretty much perfect. I think I need to check out some dates for a weekend getaway…how about you?
Rates for the Hilton Orlando Bonnet Creek's Marathon Weekends start at just $149/night. A little more and you get the added luxury of the Waldorf Astoria. There are constantly specials and offers going on, and if you're a Hilton Honors member, there are double points weekends too. Click the links above to check on availability.
Disclaimer: I was an invited guest at the Waldorf Astoria Orlando for Marathon Weekends and was provided with a complimentary Deluxe Suite, daily breakfast buffet at Oscars, and a $100 room credit. That said, all of the opinions above are my own, and if we had a bad time, I'd have told you that too. But we didn't. It was amazing. In fact, I need to tell you more things about our stay, and I haven't even mentioned the lazy river at the Hilton Bonnet Creek or the spa or the brand new Myth Bar that just opened, but I'll save that for future posts. So come back and check for those!