It's been far too long since I've visited LEGOLAND Florida, one of my favorite parks in central Florida. I love the low-key, relaxing atmosphere and how there is something adorable or surprising at every turn. The park recently announced a new Star Wars area of their Minilands opening in November 2012 and crafted entirely from 1.5 million LEGO bricks. The interactive area will include scenes and characters from the iconic movie series.  The LEGO Star Wars Miniland Cluster will become the eighth interactive area in the park's Miniland USA, a walk-through, interactive attraction that uses LEGO brick to recreate famous American cities such as Washington DC, New York and San Francisco.
Another reason LEGOLAND Florida is so special is it retained the unique "old Florida" feel of its former resident, Cypress Gardens. I absolutely love seeing the huge trees, waterfalls and other lush landscaping throughout the park. LEGOLAND Florida also keeps the fun going all year long with themed events like the upcoming Brick or Treat Saturdays.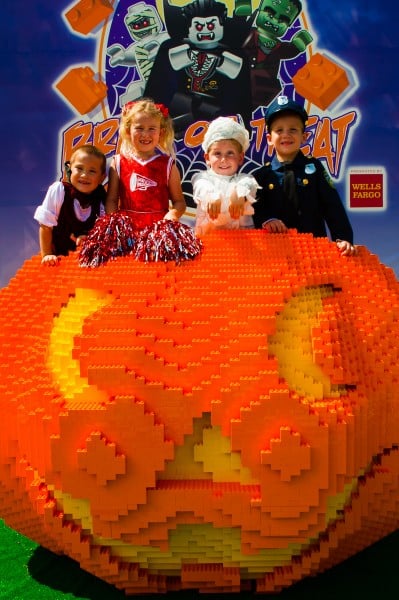 Pirates, witches, dracula and even Mr. Potato Head made appearances at LEGOLAND Florida this weekend during its first kid-friendly Halloween celebration of Brick-or-Treat presented by Wells Fargo. This month-long spooky, kooky event takes place on Saturdays in October from 10am-9pm and Sundays in October from 10am to 5pm.
During Brick-or-Treat, presented by Wells Fargo, Miniland USA has been transformed into a fun, haunted scavenger hunt for the whole family with the invasion of LEGO Monster Fighters and their enemies. With extended hours on Saturdays, Miniland USA gets a bit more spooky when the sun goes down and the fog rolls in on these LEGO cities.
This thrilling family event also features trick-or-treating along the brick-or-treat trail, a kids' four category costume contest with brick-tastic prizes and a build your own Halloween themed LEGO pumpkin model activity station.  Only found at LEGOLAND Florida, families can also check out the world's largest LEGO Jack-O-Lantern made of 26,500 LEGO bricks and capture a great photo memory.
Activities Include:
LEGO® Pumpkin Build: Build your own LEGO Pumpkin at the model activity station in the Wells Fargo Fun Town 4D Theatre Plaza
LEGO® Monster Fighters Haunted Scavenger Hunt: Help the LEGO Monster Fighters capture monsters haunting the cities of Miniland USA in this haunted scavenger hunt. The whole family can enjoy searching for these creatures found in the over 30 million LEGO bricks that make up Miniland USA. With extended hours on Saturdays, Miniland USA gets a bit more spooky when the sun goes down and the fog rolls in on these LEGO cities.
Brick-or-Treat Trail: Trick-or-Treat along the Brick-or-Treat trail near the Pirates South Stadium for goodies, tasty treats and other fun surprises
Dance Party: Join us for our spooky Dance Party in the Haunted Miniland USA with a live DJ and dance games (Saturday only)
Kids Costume Contest: Show off your BOO-tiful costumes in the Kids Costume Contest in the Wells Fargo Fun Town 4D Theatre Plaza to win brick-tastic prizes like LEGO product and tickets to LEGOLAND Florida. Children may enter one of 4 specialized categories: Heroes & Villains, LEGO Monster Fighters, LEGO Themed, and most Creative.
I know this is something my whole family would love as we always have such a great time, even my 13 year-old, who is technically older than the demographic, loves it there. Will you be heading to LEGOLAND Florida for Brick or Treat? You can find more information on tickets and park hours at LEGOLAND.com