I realized I hadn't really posted about the Walt Disney Resort's newest Value resort, Disney's Art of Animation Resort and thought I would remedy that. While Value resorts aren't usually my first choice, they have always been a great go-to choice for economy with Disney's famous amenities and service. Additionally, as a family of five whose youngest member is no longer an infant, we have officially outgrown most of the room options at Disney resorts. The Art of Animation Resort offers a great alternative to booking two rooms or upgrading to a more costly DVC property with multiple bedrooms. The new resort will feature 112o Family Suites, accommodating up to 6 guests and featuring the following amenities:
3 separate sleeping areas, including a master bedroom with queen-size bed
A full-size sleeper sofa
A convertible table bed—a dining or work table that transforms into a comfortable bed
2 separate bathrooms
A kitchenette that includes a compact refrigerator, microwave and coffeemaker
A table and chairs
2 flat panel TVs
So that alone makes it a great choice for our family, and I'm sure many others as well. I'll be getting a chance to preview these suites and the resort later this month, and will provide a complete report at that time. Until then, here are some of the official releases on the Art of Animation resort to tide you over:
Opening in phases, each of the four wings celebrates rich storytelling, spirited characters and playfulness with colorful icons and whimsical theming inspired by each beloved film depicted. 
The wings dedicated to the popular films featured at Disney's Art of Animation Resort will now be opening than sooner than expected after the resort hotel's grand opening May 31.
"We are excited that the Cars, The Lion King, and The Little Mermaid wings at Disney's Art of Animation Resort will all open earlier than we originally planned, bringing more permanent resort jobs to Central Florida sooner," said Kevin Myers, vice president of resort operations for Walt Disney World Resort. "Demand for family suites exists in the marketplace today and the new opening dates reflect how optimistic we are about tourism in Central Florida."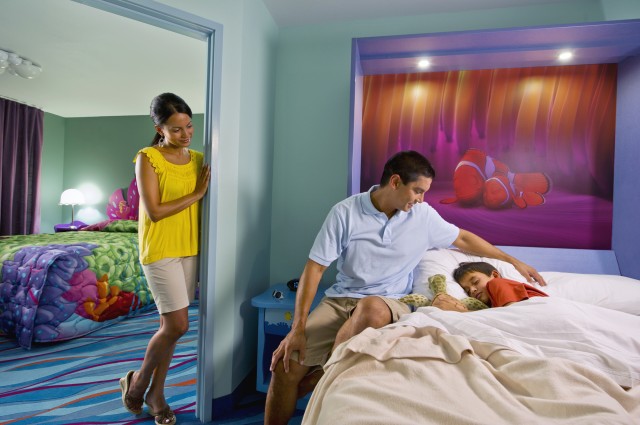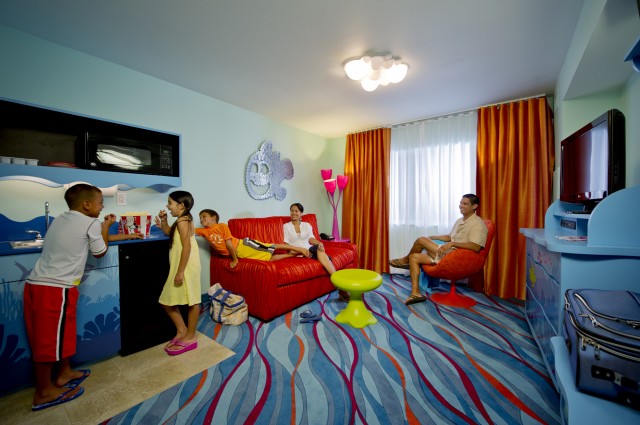 The Finding Nemo wings of the resort will open May 31; Cars will now open June 18 instead of July 31; The Lion King will open August 10 instead of September 30. The value rooms at The Little Mermaid wings on September 15 instead of at the end of this year.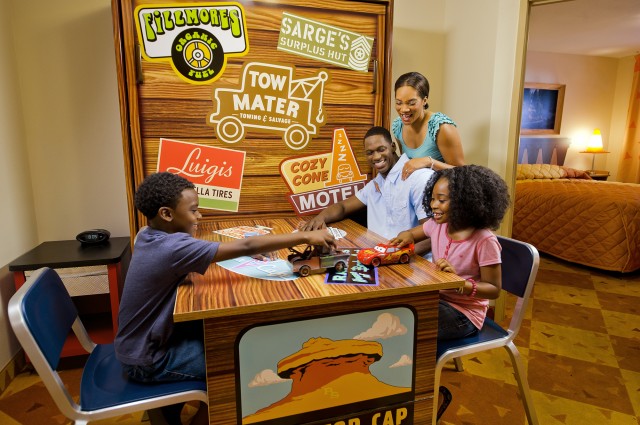 The three-story resort will immediately put guests into the worlds of favorite Disney characters and animated films beginning at check-in as pixilated patterns and wavy ribbons of color decorate the resort's exterior. Pencil drawings of Ariel, Lightning McQueen, Nemo and Simba adorn the entryway, and a cleverly created chandelier composed of animation storyboards enhance the lively and modern lobby.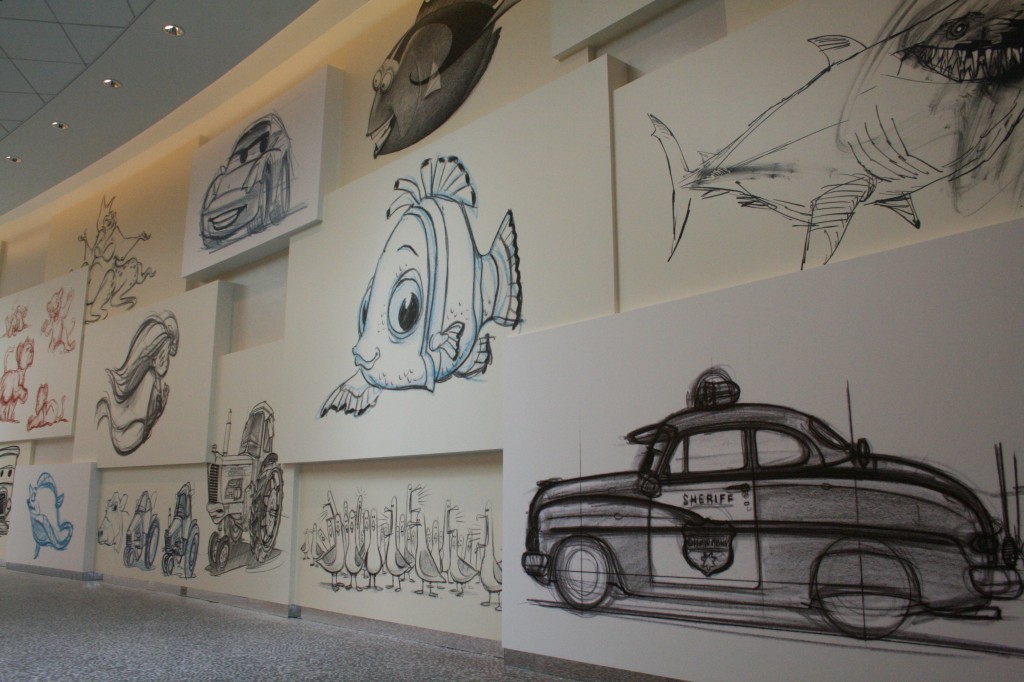 "Our goal is to make guests feel like they have been immersed in the artistry and enchantment of Walt Disney and Disney•Pixar animated classics," said Walt Disney Imagineer Frank Paris.
Giant sketchbooks filled with favorite characters seem to come to life as they pave the way to each storyline revealed. Scenic settings, icons—including a brightly-colored coral landscape, a 35-foot-tall model of King Triton, a towering Mufasa and more—immerse guests into the playful world of animation. At the Cars wing, a freshly paved road leads to the Cozy Cone Motel complete with a Cozy Cone pool and cone-shaped cabanas. It's a journey through an African landscape in The Lion King complete with an elephant graveyard play area that invites youngsters to seek hakuna matata time. Treasures from the human world fill Ariel's grotto in an under the sea kingdom in Little Mermaid courtyard.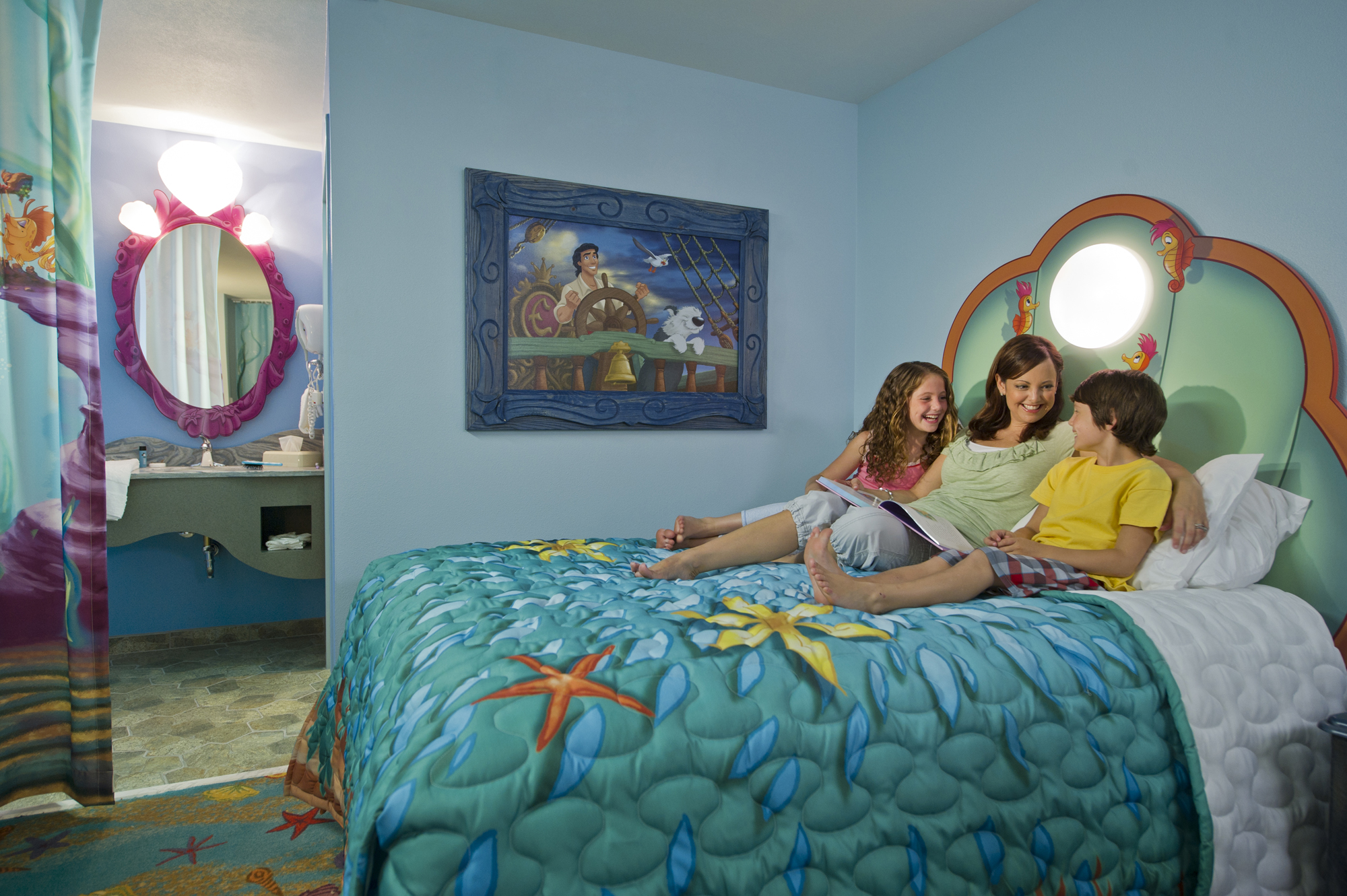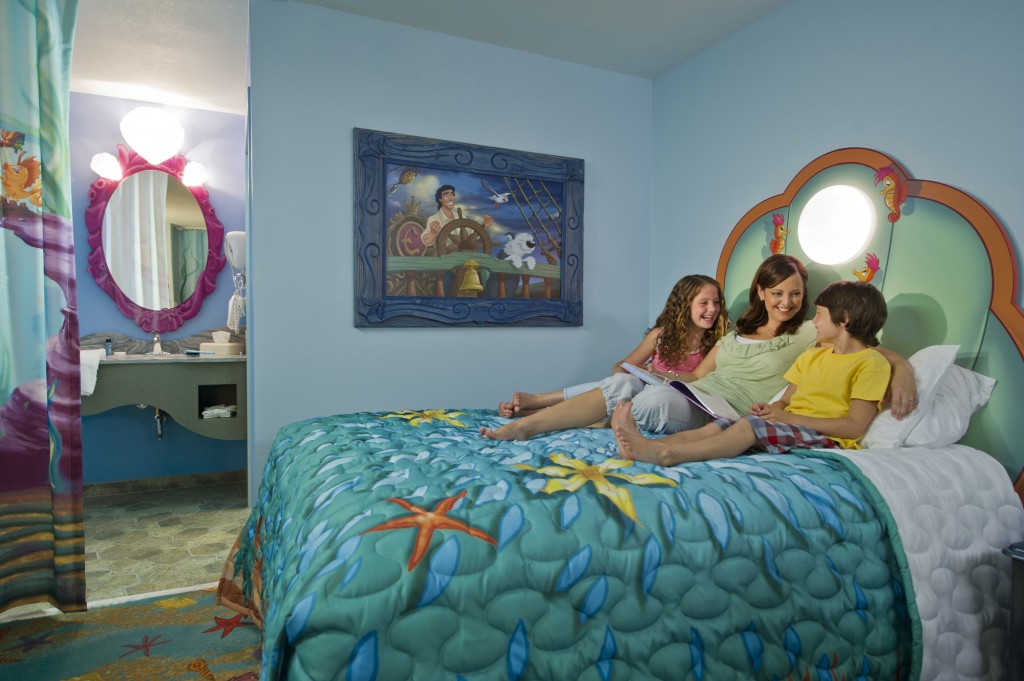 From linens and carpeting to fixtures and furniture, all details of the guestroom tie to the storyline. In Finding Nemo, there's coral-shaped chairs and bubble ceiling lights; Zazu takes center stage on the headboards in The Lion King, while Pumbaa and Timon decorate the shower curtain.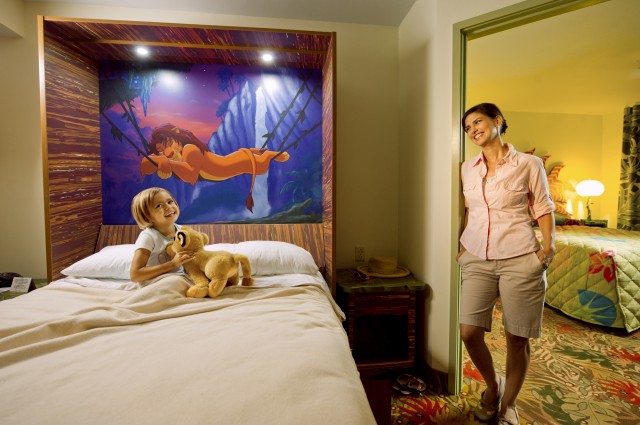 Kids of all ages can make a splash at the "Big Blue" pool, the largest resort swimming pool at Walt Disney World Resort measuring 11,859 square feet. Guests enter scenes from the animated world and can explore the colorful reef with a giant-sized Mr. Ray whose wings span 27 feet, pose for a picture with Crush or frolic with Squirt in the Righteous Reef, a children's play area. An arcade and two additional pools round out the fun.
In size and scope the construction of Disney's Art of Animation Resort is a major project at Walt Disney World Resort. The project has created 800 construction jobs and once open later this year, Disney's Art of Animation Resort will create 750 permanent resort hotel jobs.
The Lion King, Cars and Finding Nemo buildings will be entirely family suites, with 1,120 suites between them. The Little Mermaid buildings will feature 864 rooms in the "value" room category.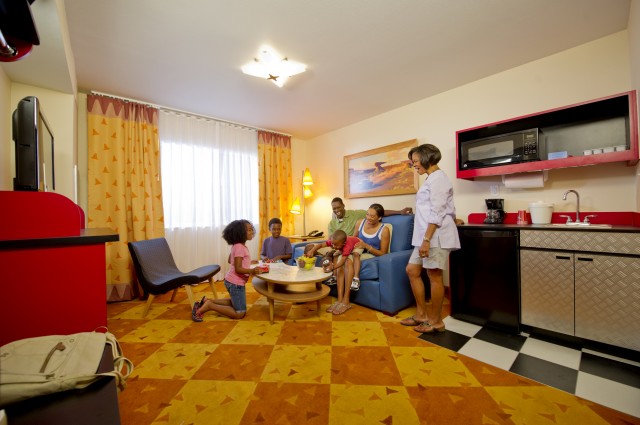 The construction of family suites at Disney's Art of Animation Resort is an innovative approach to a changing marketplace.  Today more and more multi-generational families are traveling together for various celebrations, including family reunions. These families not only want to play together, they want to stay together, which has created tremendous demand for family suites.
Disney also unveiled the look of new Cast Member costumes at Disney's Art of Animation Resort.
Each front desk Cast Member will wear a unique splattered-ink vest representing an animator's unique creative process as part of their costume.
Also, as Guests move from the check-in area to Merchandise and Food & Beverage locations, Cast Members in those locations will be wearing colorful costumes that represent the color being added to animation.
Dining options were revealed earlier this year from Disney food writer Pam Brandon:
"Better-for-you" options at five mini shops serving breakfast, lunch and dinner is the overarching theme of the new Landscape of Flavors food court still being tweaked for Disney's Art of Animation Resort, opening in May. The new restaurant will be adjacent to the lobby.
"The idea is that you customize your choice," says Chef Ed Wronski, Director, Food & Beverage Concept Development, Walt Disney Parks and Resorts. "From burgers to pasta, salads, ethnic flavors, omelets, even parfaits and gelatos, everything is made fresh as you order."
There's a big focus on beverages, too. Fresh fruit smoothies are made to order, ditto for lemonade and pomegranate limeade. They're stocking organic teas, beer (including gluten free), wine, coffee and juices. You can get a plain cup of coffee or a French vanilla or mocha iced. And half bottles of wine are paired with cuisine from the food shops.
We got a sneak peek at the menu, and here are some of the highlights:
The Soup-Salad-Sandwich Shop lets you create your own salad (with beef or chicken) and offers a caprese sandwich with fresh mozzarella and tomatoes on focaccia, or a Buffalo-style turkey sandwich with arugula and a blue cheese-Buffalo sauce-mayo spread. Both are served with delish house-made potato chips.
The World Flavors Shop adds Indian-African flair to breakfast, too, with scrambled eggs, tandoor potatoes, Portuguese sausage, slab bacon and a mini-naan; or a veggie flatbread sandwich on naan with cauliflower, spinach and paneer. Lunch and dinner is a choice of tandoori chicken or shrimp, Mongolian beef with vegetables, mahi mahi, Portuguese sausage or roasted acorn squash served with sides and naan bread.
The Pizza Shop features make-your-own pasta, cheese and pepperoni pizzas and meatballs on ciabatta bread. Room delivery is an option, too.
The Burger Shop includes a breakfast burger with chicken breakfast sausage, cheese and scrambled eggs on a multi-grain bun, and a steak-and-eggs breakfast burger with a burger topped with fried eggs, cheese and bacon. Besides the traditional burgers, lunch and dinner includes a surf and turf burger with crab cake and fried popcorn shrimp, and a pastrami cheeseburger topped with pepper jack cheese and a slice of fried green tomato.
The "grab 'n go" Market Shop offers drinks, yogurt, bagels, pastries, gourmet cupcakes, cookies and gelato.
The food court will be part of the Disney Dining Plan, details to follow.
I can't wait to see the finished Art of Animation Resort and share photos with you here.