Fans of Illumination's 2016 film Sing rejoice! Announced earlier this year, the sequel has received a brand new trailer out today, with some stylish new promo art to boot.
I know I personally was a fan of the original film – featuring performances from Matthew McConaughey, Taron Egerton, Scarlett Johansson, and more. The gang is back together for this sequel, and to celebrate, the studio has released a fun poster collection of the cast.
This holiday season, the new chapter in Illumination's smash animated franchise arrives with big dreams and spectacular hit songs as the ever-optimistic Buster Moon and his all-star cast of performers prepare to launch their most dazzling stage extravaganza yet …all in the glittering entertainment capital of the world. There's just one hitch: They first have to persuade the world's most reclusive rock star—played by global music icon Bono, in his animated film debut—to join them.
The cast of the original film returns for this exciting sequel. Joining them are a few fun new faces, and we were provided a set of posters to introduce them! Here are just some of the new members of this ensemble: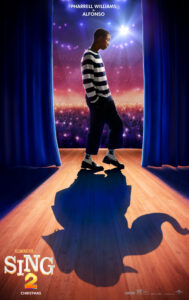 (From left to right, Halsey, Pharrell Williams, and Bono)
Advance tickets are now available for the film's official release – but those who can't wait can experience Sing 2 on Thanksgiving day. Tickets are available here for sneak preview screenings at more than 1000 theaters nationwide – get them while you can!
I know I'm excited for this one, so stay tuned here for my inevitable review of the film when it releases December 22!