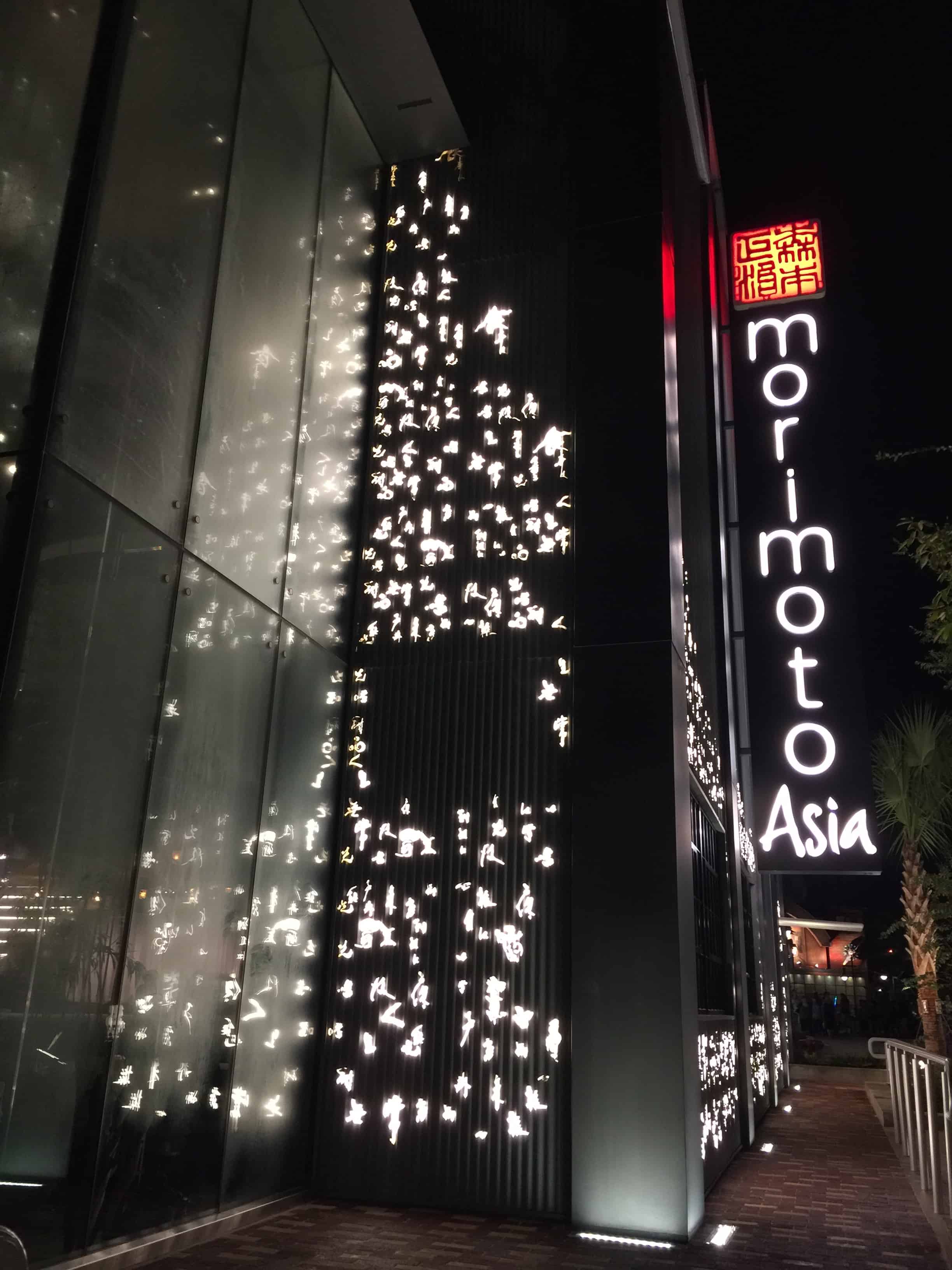 Last night I was treated to two opening celebrations – first the official renaming ceremony of Disney Springs from Downtown Disney. After enjoying some of the drinks and appetizers available at the new Indiana Jones-themed Jock Lindsay's Hangar Bar (post on that forthcoming), we headed over to the Amphicar landing area for the renaming. On hand were Disney Springs Vice President Keith Bradford, Disney Springs and ESPN Wide World of Sports Complex Senior Vice President Maribeth Bisienere, Walt Disney World Resort President George A. Kalogridis, to dedicate the in-progress renovation and additions to the dining and shopping district. Disney Springs will now consist of 4 four interconnected neighborhoods: The Landing (where the Boathouse, Jock Lindsay's Hangar Bar, and Morimoto Asia are located), Marketplace (home to most of the shopping like Co-Op, World of Disney, etc.), West Side (AMC Theatres, D-Street, etc.) and Town Center (currently under construction in the former parking lot areas). When Disney Springs is fully completed in 2016, the number of shopping, dining and entertainment venues will increase from the current 75 to more than 150.
We then headed across the way to Morimoto Asia – located in the former home of Mannequins Dance Club during the Pleasure Island years. The structure immediately stands out as a striking new vista and the beautiful design does not end when you walk through the doors. Making use of all the space the STUDIO V Architecture design features an extraordinary, 36-foot tall, two-story layout with open terraces, private dining rooms, a cocktail lounge, waterside seating and more. Chef Masaharu Morimoto's first pan-Asian restaurant provides flavors from across Asia with unique exhibition kitchens showcasing the continent's traditions. Included among them are street-food stalls, Peking duck carving and dim sum. We were treated to some samples last night, but I can't wait to go back with my family and enjoy the full menu.
Of what we tried last night, the Tempura Rock Shrimp appetizer and the L.A. BBQ Kalbi (boneless grilled short ribs) were my favorites. We were also treated to a tuna carving and sushi rolling demonstration by Morimoto himself, as he carved a 100lb tuna and then with the aid of his sushi chefs and even attendees, rolled the 60 foot sushi roll and sliced it up for guests. We were also able to try some of the signature drinks, and it seems like there will be a wide variety of cocktails for the Orlando locals and visitors alike. I can't wait to return to give a full review on more of the menu items. For now, I'll say the prices definitely seem on par with other area restaurants, and certainly no more than the P.F. Changs chain. Prices may be viewed on the attached menu photos. Most appetizers were in the $8 range with most entrees coming in around $20-30+ with a few specialty items bumping things up to $40+. (click to expand to full-size photos)
Honestly, the part I enjoyed the most about Morimoto last night was simply the atmosphere and the amazing restaurant design itself. It was dazzling and elegant without being stuffy, I just wanted to take it all in and didn't want to leave at the end of the night. I think it will be an absolutely perfect addition to the Disney Springs line-up, and Walt Disney World Resort in general.
–