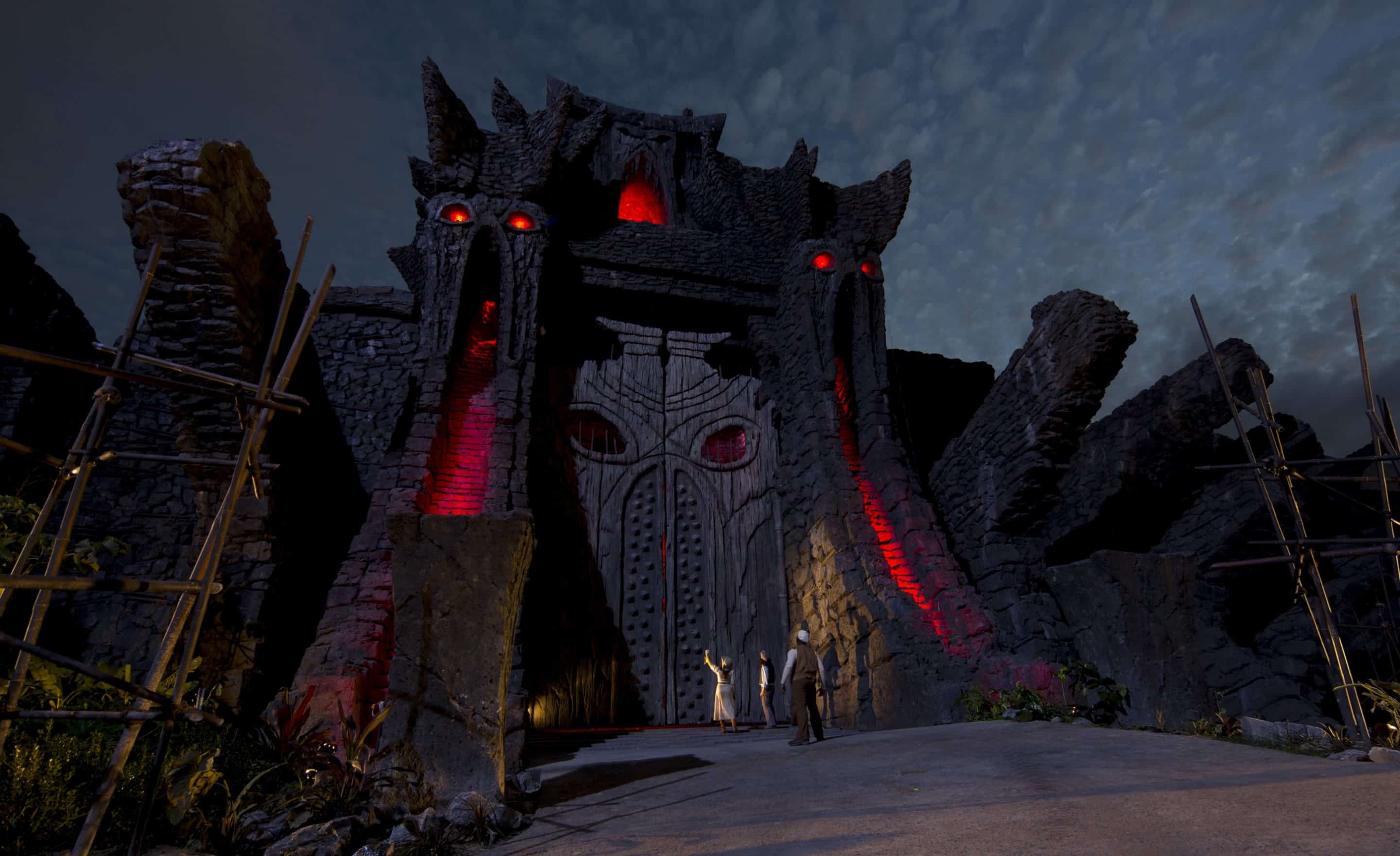 Locals have been watching the construction with great anticipation, and now Universal Orlando Resort has treated us to a photo and some more info about the upcoming King Kong attraction at Universal's Islands of Adventure. While I'm not *personally* a fan of giant things screaming in my face, I know many people are, and are excited about this upcoming attraction. (What can I say, I prefer my giant creatures to be magical dragons.)
I do love a good immersive attraction, however, and the Indiana Jones and the Temple of the Forbidden Eye attraction in Disneyland is one of my all-time favorites. I also am a mega-fan of the Wizarding World attractions in both Universal theme parks, so I'm willing to give this a try when the gates open this summer. Until then, here's the official release from Universal with the details they are willing to share today:
Soon, you will be transported to an island shrouded in mystery and legend.  It is a lost world where adventure – and the unimaginable – will challenge you in unforgettable ways.
When it opens this summer at Universal Orlando Resort's Islands of Adventure, Skull Island: Reign of Kong will bring the next generation of the King Kong legend to life.  You will be thrust into an exotic world filled with the menacing, the intense – and the wildly entertaining.  A powerful storyline, a stunning 3D experience, innovative technology – and the unexpected – will pull you into one of Universal Orlando's most massive adventures yet.  This is a multi-dimensional experience filled with surprise – all wrapped into what will be one of the longest Universal ride experiences ever created.
More first-ever details will be released soon.  But today, Universal Orlando unveils details about the incredible journey guests will experience.
The adventure begins as you set out to explore an island rife with prehistoric creatures of unknown origin –and the legend of a beast still undiscovered.  You find yourself at a campsite of the 8th Wonder Expedition Company, the research team leading your adventure.
Once beyond camp, the menacing terrain shows signs of a native presence; beating drums draw you toward an ancient temple. Moving deeper into the ruins reveals a lost shrine – and proof you are not alone. You ignore warnings to turn back.    
You board a specially designed expedition vehicle that will take you deeper into the island.  Mysterious sounds pierce the air and you hear chanting.  And then – you confront an enormous temple wall, complete with carvings and images that seem to pay homage to something you cannot quite comprehend.  The temple's massive wooden doors slowly open, revealing a labyrinth of caves.
Inside the caves, you meet your expedition leader – and suddenly find yourself in the midst of a raging struggle between creatures of incomprehensible size and ferocity.  Then, as those creatures turn on you, there is an even more enormous, earth-pounding presence – bigger, closer and more overwhelming than you can possibly imagine.  It is Kong.  But is he friend or foe?
More details about "Skull Island: Reign of Kong" will be revealed soon. To stay up-to-date on all the latest news, visit universalorlando.com/ReignofKong.
How does it sound? Mysterious? Menacing? Will you be willing to brave Skull Island this summer? What are you most looking forward to if so? I'll update more news here as it's released. Until then, let's all work on our Fay Wray screams, okay?