SeaWorld Orlando recently invited me to try out their Dine With Shamu (Now called Up Close Dining at Shamu Stadium) experience. I really didn't know anything about it, and had pictured having tables right next to the Shamu Stadium show or something, picturing us all getting splashed at the end of the meal. Well, I was right and wrong. No splashing, and it was a wonderful experience which I would gladly do again, in fact, I can't wait to go back.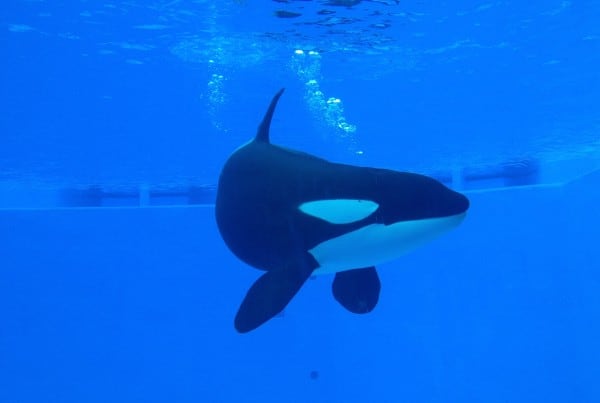 The Dine With Shamu experience is actually behind Shamu Stadium. Before heading in for your meal, you can check out the orca whales swimming in the viewing tanks, which provide some great photo opportunities. You are then checked in and escorted to your table. I was a bit surprised when we walked in, as I realized we were actually behind and to the right of the "stage" of the Shamu show. I thought, "well, this isn't going to be a very good view at all…" but I soon discovered it was the best view of all. (Click to enlarge all photos.)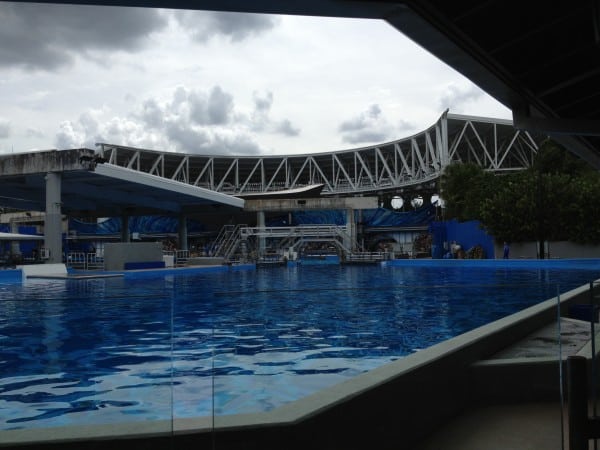 The Dine With Shamu times are before or after the Shamu show, One Ocean, so what you actually get is an almost private, interactive display from several whales and their trainers. It is truly an amazing experience and I didn't want to leave when our time was up. The 90-minute meal gives you plenty of time to enjoy the delicious buffet, watch the trainers and whales and get some one-of-a-kind photos.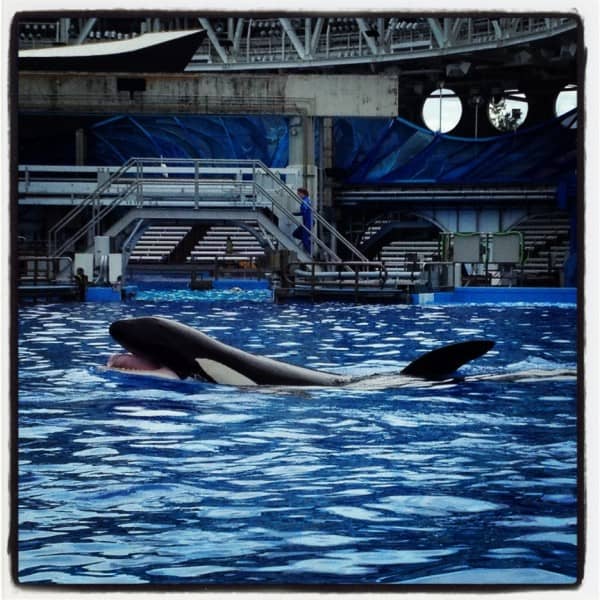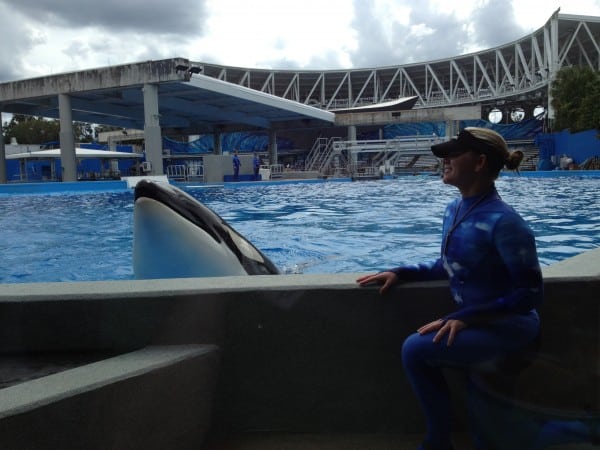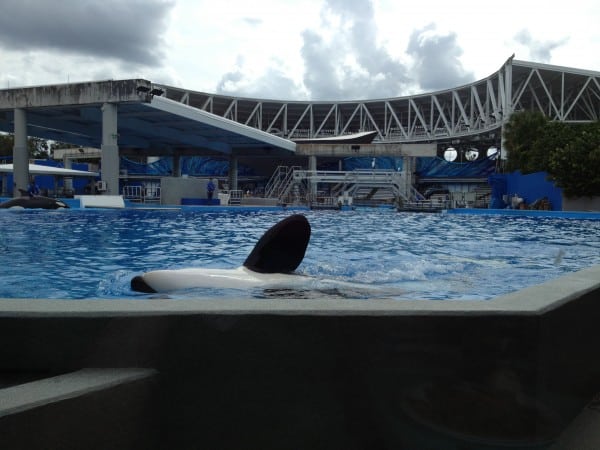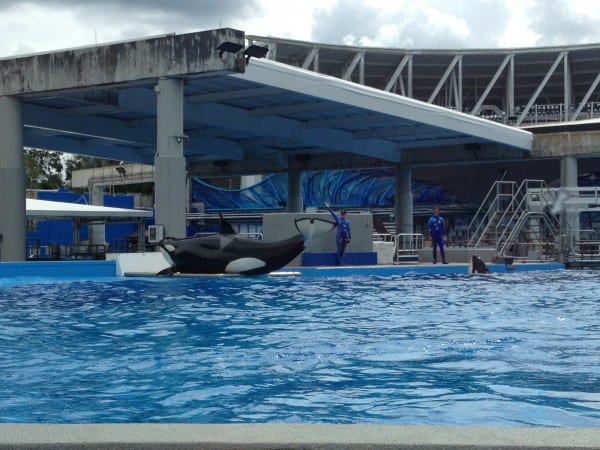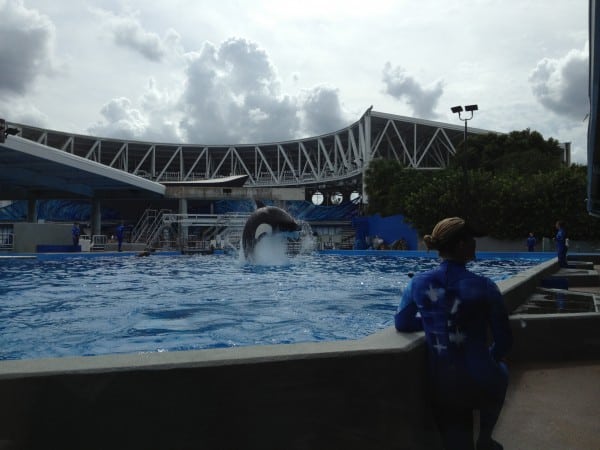 The buffet was another pleasant surprise. There were so many choices, even the pickiest eaters (or vegetarians like me) had plenty to try. Tons of breads, salads, pastas, seafood and meats using sustainable, organic, seasonal or locally grown ingredients that aim to minimize environmental impacts to animals and their habitats.. The kids section had mac and cheese, plain pasta, and hot dogs (my 3 year-old was in heaven). And there was what seemed like an endless array of delicious desserts too – and not just little bite-sized options, but giant pieces of cake! My entire group was really impressed with the options.  All-you-can-drink soft drinks were also included, as well as beer and wine.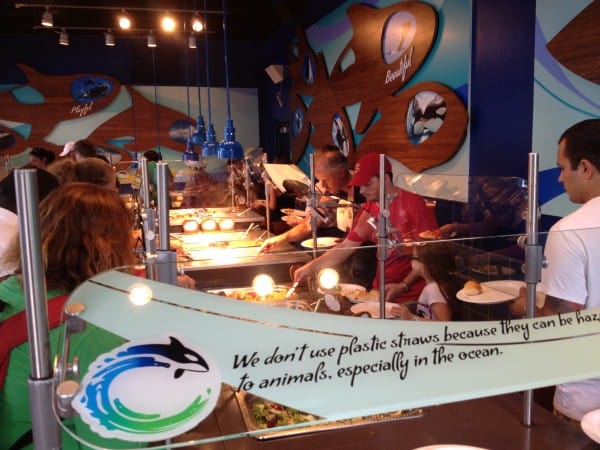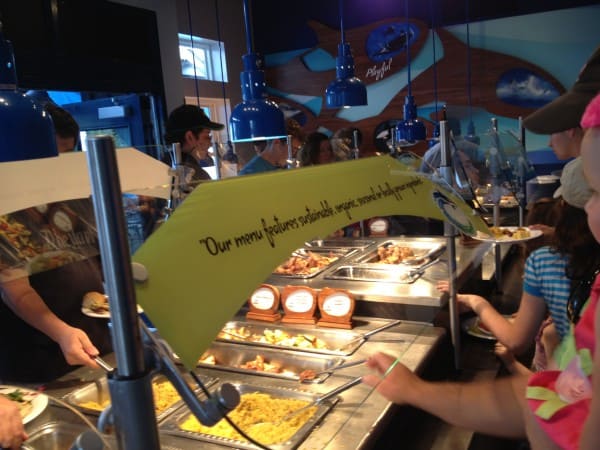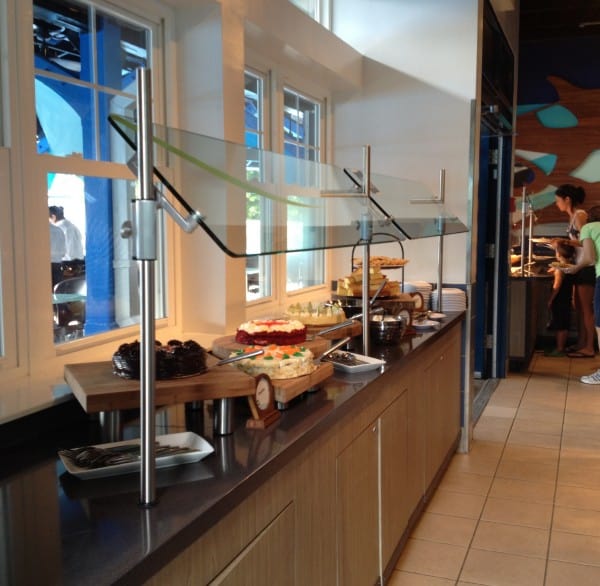 I just couldn't get over what a wonderful, relaxing, unique experience Dine With Shamu was. A great respite from the heat of the parks, and it's a small enough space that you don't feel crowded or rushed or like you are waiting in a huge line for the buffet. The price is only $29 for adults – you really cannot beat that deal.
I left feeling like this was how we had to dine every time we come to SeaWorld. It's almost silly not to book this experience! Each time I visit SeaWorld, I am continually impressed with how they do things. It is unlike any other area theme park and has quickly become one of my family's and my favorite places to visit. I urge you to visit SeaWorld Orlando, check out the all-new Turtle Trek (which I finally got to experience first-hand and LOVED) and other great shows, and book a Dine With Shamu meal – you won't regret it!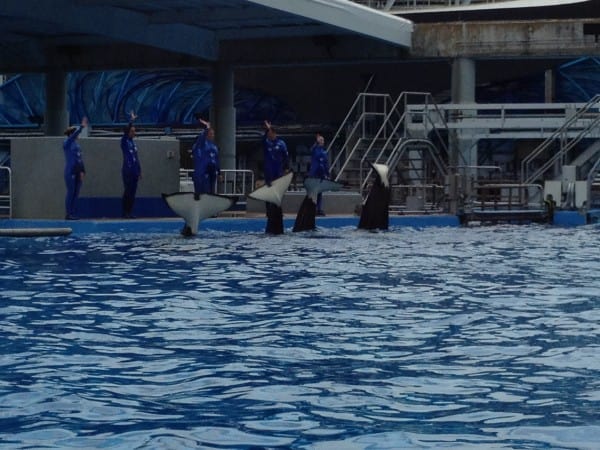 Disclosure: my family and I were provided with a complimentary Dine With Shamu meal, but my opinions and thoughts are my own.