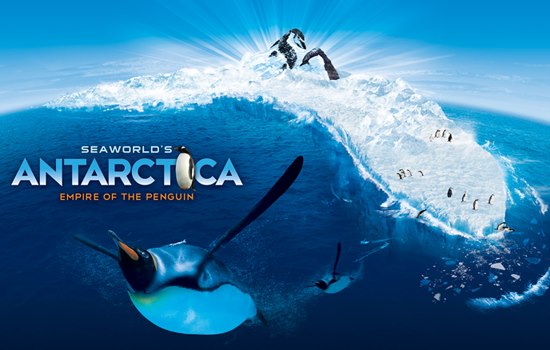 SeaWorld Orlando is working on an amazing new attraction called Antarctica: Empire of the Penguin, opening in 2013. If you haven't seen the construction in person or heard what it's all about, SeaWorld has released a series of YouTube videos with behind-the-scenes info on Antarctica.
The second Behind The Freeze focuses on the stars of our 2013 adventure — the penguins! SeaWorld's top animal expert, Mike Boos, showcases the species of birds that will make their home at Antarctica: Empire of the Penguin when it opens at SeaWorld Orlando next spring.
Get ready for an epic exploration into an icy world like you've never seen before. Antarctica: Empire of the Penguin, the most immersive mega-attraction ever created by SeaWorld – is coming in spring 2013. Set in the majestic grandeur of the icy South Pole, this exhilarating ride will glide, slide and transport your family to the penguins' surprising world where you can brave a blizzard. Be dazzled by ice and lights. Then it sets you free to explore a one-of-a-kind penguin colony in an expanse that brings you above and below their icy world. It's an awe-inspiring penguin attraction only SeaWorld could create.
The Antarctica Website provides a way to stay tuned to Behind-The-Freeze webisodes that will continually take fans behind the scenes with the designers and animal experts as they create Orlando's coolest, must-see 2013 experience, even revealing icy secrets along the way.
After having walked past construction of Antarctica a few times, I'm super excited to experience this attraction in person. It looks like it will be an unforgettable adventure!