It's hard to imagine a time when someone would mention "Michael Jackson" and hear that reply. However that's what I said to my mom, when I opened a special boxed album for my 9th birthday in 1982. That box set was a storybook version of the movie E.T. along with a song he recorded and a poster of him hugging E.T. I had no idea who Michael Jackson was at that point. My mom tried to explain who he was, talking about the Jackson 5 and the Wiz. I'm sure I must've seen the Jackson 5, but the boy in the poster I didn't recognize. Well…then came Thriller.
By the next year, I got the "Thriller" album from a friend at my birthday party in 1983. I had already been into him by then, MTV had been around for a bit, and we'd all been blown away by his dancing in videos and on the award shows. Who *wasn't* glued to the tv that night he performed the Moon Walk for the very first time? It was surreal. From that point on, he was my new obsession. As obsessed as a 10 year old in the suburbs of Boston could be anyway (it's not like I went to any of his concerts or anything). I had the poster of him in the yellow vest up above my desk. I had a painter's cap (they were SO in back then, trust me) and it was COVERED in Michael Jackson buttons. I wonder where that is…it might've been in the bag of stuff we lost on a move when I was 14. Anyway…it was my childhood – and many of my friends too. Quite a few people had "Michael Jackson zipper jackets" and wore one glove for a while. He affected so many.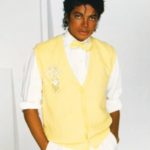 After that came "We Are the World", but by that time I had moved on to Prince (wasn't there a Prince/MJ rivalry for a while?), and had always preferred Band-Aid to Live Aid because I was branching out into Duran Duran and other British pop acts. Just when I thought he was in the past, he recorded those two singles with Paul McCartney ("Say, Say, Say" and "The Girl is Mine") which introduced a girl that was too young for the Beatles invasion to a whole 'new' band. I never really owned any other albums after that time, but always sang along to his songs and was mesmerized by his videos. You never knew how he could better his last video, but he always did (of course none of them could top Thriller).
In addition, after I moved to Ocala and went to EPCOT so often, the release of Captain EO at Journey into Imagination was a major event. The 3-D movie that was there before it, Magic Journeys, was a slow-moving fantasy dream-sequence type of thing where you thought the effects were cool, but didn't leave amazed. When Captain EO started, you were *blown.away.* it was loud, it was vibrant, it thrilled you and left you wanting to dance out of the theatre. In addition to the great 3-D special effects and the story line, we were treated to two Michael Jackson songs. It was such a perfect fit, and I was so sad when it was removed after the first allegations against him came to light. Here is the entire movie, in two parts, on YouTube: Captain EO part 1 of 2 and Captain EO part 2 of 2
At some point the rumors started and the tabloids took their stranglehold on his life. Can you imagine, even for a moment, what that was like? Can you imagine not taking a step without being tracked by cameras and endless people shouting? I'm not sure why, but I always, always felt like he was just a lonely, lonely boy. Yes, boy. He never got a childhood. He never got to grow up like any other child his age did. Did that lack of a childhood get taken too far with his obsessions and neuroses? I'm certain it did. Was he guilty of illegal actions? We simply may never know…I'm not going to get into any legal discussions here…but I think he was a very troubled soul that was forever a lost boy, forever looking for that childhood best friend…all the while creating amazing music, dance and performances to be remembered throughout history. I honestly cannot think of a song of his I *don't* like. And that's what I'll remember. I'll remember the amazing genius and art he chose to share with us all…Thank you, Michael. From a fan that still remembers being 9 and being in awe.
Rest in Peace.