I had the pleasure of first getting to know Ashley Eckstein, a year ago, when we spoke on the phone and it was like talking to an old friend I'd known forever. Ashley is the star of the animated series Star Wars: Clone Wars on Cartoon Network and design entrepeneur, owner and creative vision behind Her Universe clothing and accessories line for fangirls, young and old. She returns this year for the fourth time to Disney's Star Wars Weekends at Hollywood Studios, taking the reigns as Celebrity Host along with James Arnold Taylor for the second year in a row.
I was so impressed with Ashley when we had our first conversation, she is the ultimate Disney fan and Star Wars fangirl, and has inspired thousands of young girls, empowering them with wonderful ideals and strength. I was recently given the opportunity to sit down with Ashley in person, so she could tell us a little more about Star Wars Weekends and Her Universe:
Special thanks to Gary Buchanan and the Walt Disney World team for facilitating this interview and recording it for me as well! Of course thanks to Ashley for taking the time to share a little bit of her with all of us.
Ashley recently posted this photo on her Facebook page and I just loved it, not only does she share my love of Wookie hugs, she is just as excited by Disney magic as we all are. I hope she doesn't mind me sharing it here but it was too cute not to!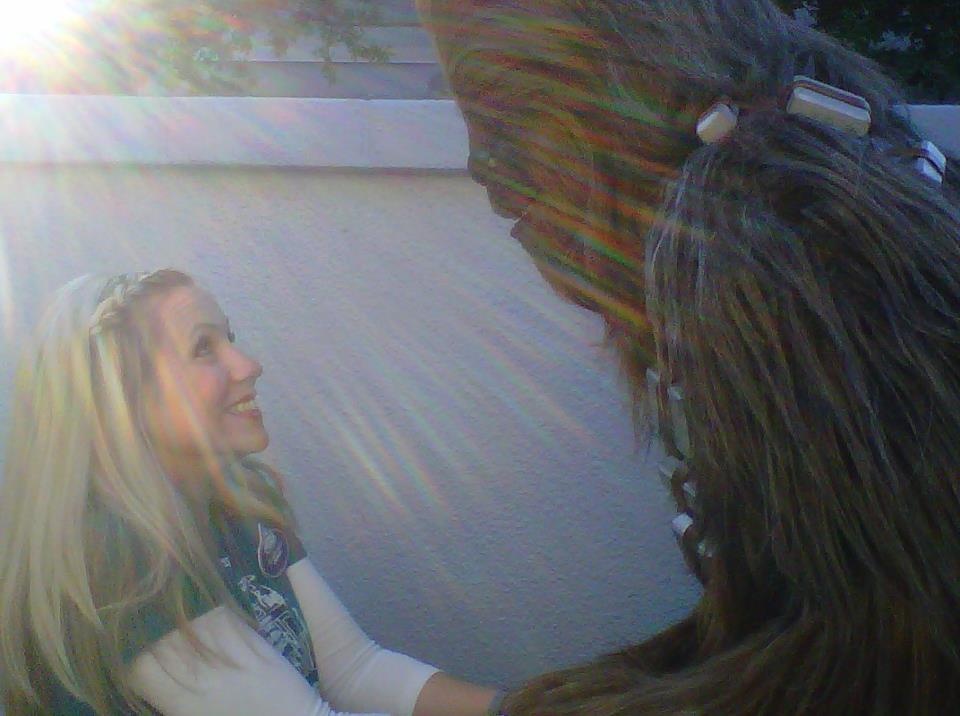 You can find Ashley signing autographs, speaking and just roaming the parks during Star Wars Weekends, which run May 18 – June 10, 2012. If you can't make it down, check out Ashley's designs at HerUniverse.com and follow along with Ashley on Twitter @HerUniverse and Facebook at facebook.com/HerUniverse. The official Ashley Eckstein site also has more news on Ashley's appearances and upcoming events.