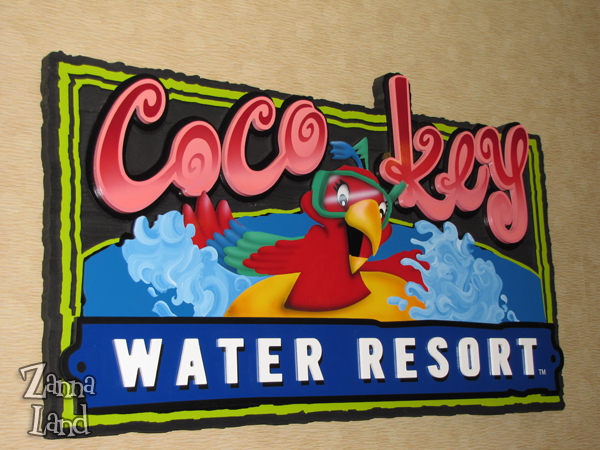 A few weeks back I was invited to the grand opening of a brand new hotel trying to make its mark on the Orlando tourism map. In actuality, this brand has been quite successful in other areas of the country, and is making its new home in a spot with quite an established bit of Orlando and even Walt Disney World history.
Originally the Hilton Inn South, this location was the very spot that cast members were trained before the opening of Walt Disney World's Contemporary Resort! It's hard to imagine an I-Drive back then, before the rest of the theme parks and surrounding tourist attractions moved into town.
The Key West-themed CoCo Key Hotel and Water Resort opened April 22nd and offers rates through June 15th for as little as $89 per night*.  CoCo Key combines a casual tropical hotel setting with a whimsical water park that features slides, rides and fun amplified with four pools, 14 water slides, poolside entertainment, and splashing good times all specially designed for kids in a safe and friendly environment.
Standard rooms rates range from $99-$149 per room, per night, and water park amenity access is just $19 per room, per day for guests of the resort – less than $5 per person, per day for a family of four.  Admission to the water park for day guests is $19.95 per person, and $14.95 for Florida residents.
During our tour of the resort, we saw that the original hotel had been completely gutted and renovated with newly appointed rooms in addition to the facelift outside. For guests seeking a more tropical and relaxing experience, a separate quiet pool area can be found towards the front of the resort.  CoCo's Beach features a pool, sun deck with chaise lounge chairs, hot tub/spa framed by a beautiful rock formation with cascading water, firepit, tiki bar, and three relaxing cabanas.
The resort is comprised of 12 buildings all themed to the Florida Keys.  With 391 spacious guest rooms, including eight, two-bedroom suites, four junior suites, and an interesting combination of rooms that connect not only side-by-side, but back-to -back, guests have a range of options to select from.  The resort also offers a $30 price break on those connecting rooms, making CoCo Key an ideal option for larger families and groups.
Guestroom amenities include 37-inch, flat-screen TVs with high-def feeds; Wi-Fi, room service; granite showers and countertops; lighted vanities with large mirrors; and, a premium in today's hi-tech world, plenty of accessible outlets to charge electronics.  Guests will also enjoy the 1,000-square-foot fitness center featuring the latest in workout equipment; Gators Grab 'N Go – a convenience store offering specialty coffees, ice cream treats, souvenirs, pool toys and more; and for those that must remain connected to the "mainland," a business center.
The adventure-filled, 54,000-square-foot canopy covered and outdoor water park features 14 adventure water slides; Parrot's Perch – an interactive Play Island; Minnow Lagoon featuring a zero-entry pool and water fun for youngsters; Coral Reef Cove – a teen pool; and an outdoor splash pad.
CoCo Key also features TradeWinds, a full-service restaurant serving breakfast and dinner; a food court including Callaloo Grill offering burgers, wraps, chicken fingers, soft serve ice cream and other family favorites; and a Pizza Hut Express serving up the eatery's popular fare.
I think the best way to show you around this fun resort in the heart of International Drive is to let you see it yourself!
To see many more photos of the CoCo Key Water Resort, check out my flickr set. I was provided with a tour and attended a media preview cocktail party to obtain these pictures and hotel info. Watch for an upcoming post where my family will be testing out the resort as guests!
*The $89 introductory rate is available for mid-week nights, Mon.-Thurs., through May 31.  Rate does not include taxes.