Those who know me online and off are aware of my established reputation as a coffee addict. If you checked my instagram and twitpic accounts, photos of me drinking coffee probably rank second only to castle photos, much to the dismay of those who follow my adventures and are tired of seeing my coffee shots, I'm sure.
I had my first cappuccino in Boston's North End, the area known for its Italian residents and authentic restaurants and pastry shops. Growing up in New England, of course I was also brought up with a Dunkin Donuts on every corner. I had avoided Starbucks out of a panicked fear of what to order. That finally changed in 2004 when a friend wanted to meet me at a Starbucks. I looked at the menu board and almost passed out in confusion. I just told her to order me something, and she got me an iced peppermint white mocha. If any drink was the right one to start off my first Starbucks experience, that was it. It was SO good, a perfect mix of sweet and peppermint and coffee all in one. I was in heaven, and Starbucks had officially gained a new disciple.
Starbucks became my new friend, and whenever I was near one, I went in and tried something new. It wasn't only the coffee itself, but the act of getting the coffee, the cup, the whole ritual. I am actually an enigma to the baristas wherever I go, because I do not have a regular drink. I like to switch it up and though I will go through phases, I don't have any one favorite drink. Baristas like to know your drink order if you are a regular. Ideally, once they see you walk in, they grab a cup, write up your drink, and have your total before you can even reach the counter. And that is fostered and encouraged by management. So I'm messing with that system a little, but it's okay. Despite the reputation Starbucks and its baristas sometimes have for being snobby, they really are just concerned with making great coffee and giving exceptional service. Sound like any other company we know?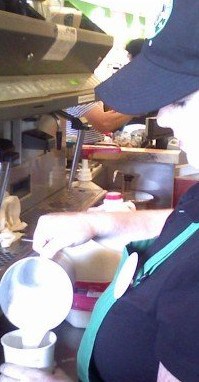 Back in 2006, I found myself with some free time on my hands, as both of my oldest children were now in school. I had befriended a barista and she encouraged me to work with her part-time. So I did, and it was perhaps the best thing I'd done in a long, long time. Making coffee was actually fun and the customers who ordered it were seemingly just as excited about it as I was. I took pride in my position and in everything I made, and soon was tapped to be a trainer for the store.
There is a reason why Starbucks as a company has such a wonderful reputation, and why their service is always so amazing when you go there. They do not automatically hire someone just because they know how to pour a cup of coffee. They look for people, or partners, who are passionate about coffee and giving great service. Once on board, partners receive extensive training – before they even get near the coffee they learn where it comes from, why they roast it the way they do, and how it gets to the stores. Employees are also instantly stockholders in the company, making their success and the company's success one in the same.
It was an honor to wear the green apron every day and go the extra mile whenever possible to make people's days that much brighter. Until I'd worked at both Disney and Starbucks, I didn't realize how similar they were, in the act of making people happy and ensuring needs and expectations are met and exceeded. Even now, I find myself still picking up trash I may see on the ground in the Parks, or helping out a guest with a question even though I haven't worked there in 16 years. Similarly, I find myself defending Starbucks to strangers and friends, and educating them on what each drink contains and what they might like. What can I say? When you find your passions, they never really leave you.
Because of that love of coffee and knowledge of how Starbucks works, I was thrilled and excited to hear about their partnership with Disney Parks. I'd walk through the parks and think, "all that's missing is a Starbucks" (okay and maybe Horizons and the original Journey into Imagination and World of Motion, while you're at it). And now it's finally happening. Would it be the same if another national coffee chain were brought into the parks? I don't believe so. I truly feel that the training and allegiance Starbucks has to its product and its people is unparallelled. Dare I say, even greater than that of the Walt Disney Company. Starbucks took something as simple as coffee beans and water and elevated it just enough to make it an experience and a luxury rather than a necessity. It made coffee something the average person felt they had to have, pay more for, and come back again and again.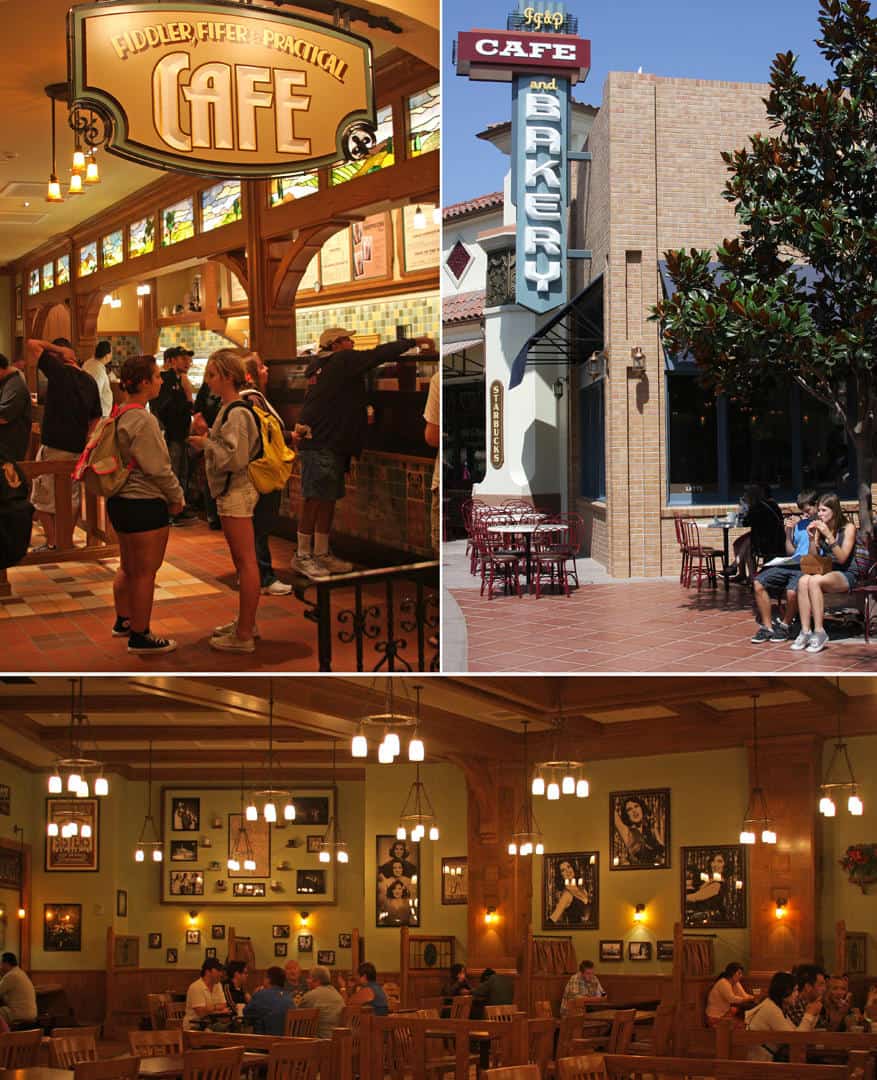 Starbucks, at least every store I've encountered, has well-trained, knowledgeable staff who are committed to making you exactly what you want. Granted, that level of training and service is concentrated into one niche and defined set of tasks versus the 60,000+ Cast Members who work in varied roles across Walt Disney World alone. That said, I do hope the devotion to training and service established by Starbucks is kept up by Disney. If anything, walking into a Starbucks at at Disney Park should be the ultimate guest service experience, given the reputation of both companies. The key here will be consistency and dedication to the products being served. I know it's hard in some Food and Beverage roles to be passionate about slinging scrambled eggs or french fries for their entire shift. Making several hundred Frappuccinos a day is no different, but the reputation for hand-crafted drinks made to your specifications precedes the 'hourly Cast Member working Food & Beverage' stereotype that may exist.
I have now experienced the first Starbucks within a Disney Park (the Fiddler, Fifer and Practical Café at Disney California Adventure) several times, during two separate trips.  Apart from the drink choices and the competitive prices, it definitely did not feel like a regular Starbucks experience, due to the nature of the set-up. I had to actually seek out the "Starbucks" sign, it isn't the focal point of the space, inside or out. The café features Disney theming first, and Starbucks products second. Because of the popularity when it first opened, cast members were stationed with digital ordering devices to expedite the vast line. My first visit was the longest time I'd ever waited for a drink, but I expected it, and because of my personal addiction to Starbucks, it was totally worth it to me. I'd have waited in the Radiator Springs Fastpass line to get an iced Caramel Macchiatto with no complaint. However, knowing what it takes time-wise to make each drink served on the menu, I couldn't help but play armchair barista and wonder if there was a better way to get drinks out in a timely manner. Iced lattes are one of the easiest drinks to make and should not take more than a few minutes if you have a person dedicated to that type of drink vs. trying to create Frappuccinos, hot drinks, and iced drinks all at the same time.
By the very nature of a theme park location, the interactions and service will be different. With the exception of a few locals perhaps, there won't be recognized regulars and because of the fast-paced busy location, the interaction between guest and barista will probably be minimal as a rule. However, that does not mean that the traditional Starbucks experience must be lost in the shuffle. My hope is that the Cast Members set in those roles and the Starbucks trainers that guide them, will share their passion with each cup that passes across the counter in a Disney Park, making it one of the best partnerships to date.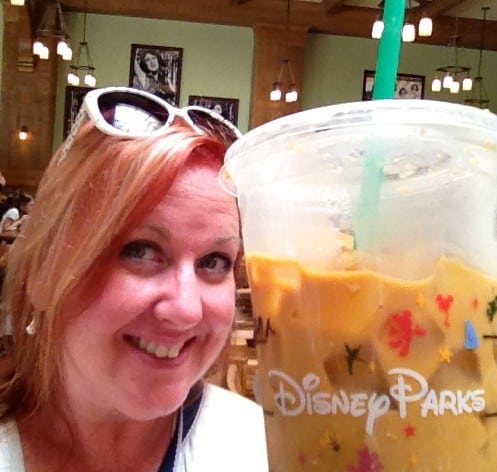 There may be grumblings about Starbucks going into the Main Street Bakery, but as was pointed out in the Disney Parks Blog update, the items folks were concerned about being missing are available in other areas of the Magic Kingdom, and the Bakery will keep its name. Walt Disney's first park, Disneyland, was founded with partnerships like Coca Cola, Pepsi, and Carnation, as were all the additional theme parks. Starbucks is a logical choice for a stable, established partner with a bevy of loyal and addicted fans. And have you seen their baked goods and treats?? I am ridiculously excited to be able to walk around multiple Disney Parks holding a delicious, fresh espresso drink. I'm also curious to see how the Starbucks concept fits into the Future World of Epcot in Fountain View Ice Cream, since the other two locations are set in a vintage time period. And if by chance you are not a coffee fan, Starbucks has some fabulous non-coffee drinks as well like iced teas, green tea options, and non-coffee Frappuccinos and hot chocolates too.  My passions are aligning, and I like it. I'm pretty sure I'm not alone.
I'd love to hear your thoughts on the Starbucks partnership, let me know what you think in the comments below.