I've been so busy lately with projects that I haven't even had a chance to share the news that I'll be attending the D23 Expo in Anaheim, California this week! (So if you'll be there too, be sure to stop and say hello!) It is not only my first trip to Disneyland, but my first trip further west than Chicago and my first plane trip since 1997 (crazy, I know!). So I am, in a word, overwhelmed! I figured if I was overwhelmed, there were probably lots of other people wondering "What exactly IS this 'D23 Expo?'" and even those attending might be a little confused by all the events, presentations and more. To help, I've enlisted Carrie Hayward, who I had the pleasure of meeting this year at the Disney Social Media Moms event. Carrie is not only the most famous Disney bride I know, she's also an amazing writer. She attended last year's Expo, so I knew she'd have all the ins and outs to help us newbies out. I'm honored to have her as a guest author here on ZannaLand. Without further ado, here's Carrie —
+++
Billed as "The Ultimate Fan Event," D23 Expo 2011 takes over the Anaheim Convention Center Aug. 19-21. Falling somewhere between the chaos of Comic Con and the intimacy of the All Disneyana Show & Sale, this official event is a chance for Disney to connect with fans and showcase the new and forthcoming products in all its business lines, from film, television, and radio to theme parks and consumer products. Whether you were at the inaugural D23 Expo in 2009 or this will be your first time, here is an overview of everything you need to know about D23 Expo 2011.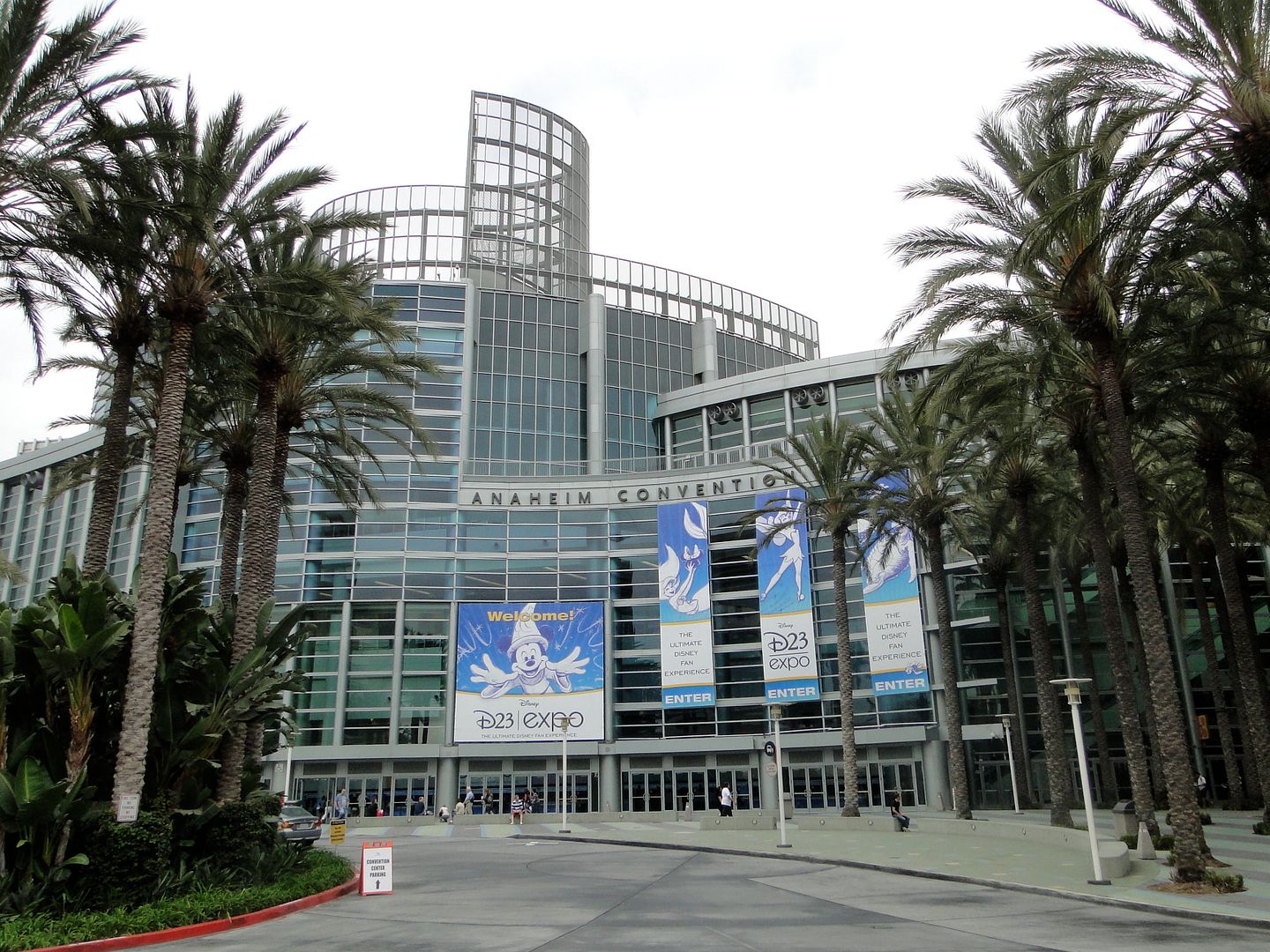 D23 Expo Show Floor
Located in Halls A, B and part of C, the D23 Expo Show Floor is where you'll go to see Imagineering's handiwork in the Walt Disney Parks & Resorts Pavilion, track down rare items in the Collectors' Forum, purchase official Expo merchandise in the Dream Store, and visit the booths and exhibits of Disney's various business lines. The show floor is open from 10:00 am to 7:00 pm daily, with a one-hour head start for D23 members beginning at 9:00 am.
Welcome Center
In addition to acting as an information booth and membership desk, the Welcome Center will host meet-and-greets with artists, authors, actors, filmmakers, and Disney celebrities including Don Hahn, Ridley Pearson and Dave Barry, Melissa Joan Hart and Joey Lawrence, and Dave Smith. Note that these take place in the Talent Round-up area across the aisle, not inside the Welcome Center itself.
Disney Consumer Products' Disney Living Pavilion
This is where you'll find a showcase of the latest Disney merchandise, appearances by celebrity designers and artists, story time with Disney Publishing, and a performance by American Idol's Constantine Maroulis and Rock Star Mickey. This massive pavilion, which spans the lower quarter of Hall A, also houses "pop-up" locations of the Disney Store and A Small World Village (more information on these in the Shopping section, below). Additionally, there will be toy demos, mini-beauty treatments at the Disney Beauty Lounge, and party ideas at the Disney Celebrations exhibit.
Disney Channel & Radio Disney Pavilion
You'll hear this pavilion before you see it because it's the site of a nonstop series of dance parties, concerts by Radio Disney favorites, appearances by Disney Channel stars, and meet-and-greets with Disney characters. This is also the place for "Perry-Oke" sing-alongs at the Phineas & Ferb Platy-Bus.
Disney Interactive Media Group
Check out the latest Disney videogames and meet Epic Mickey game designer Warren Spector on Friday and Saturday afternoon.
Walt Disney Studios In-Home Entertainment
This is the place to see Blu-ray 3D in action and learn about movie-viewing on mobile devices.
Inside Tides – Pirates of the Caribbean Film Prop Collection
Located next to the Walt Disney Animation Studios booth, this collection of props and costumes from the fourth film in the Pirates of the Caribbean franchise offers the rare opportunity to actually photograph items from the Walt Disney Archives.
Disney Corporate Citizenship
The hub for Disney's charity and environmental initiatives offers the opportunity to volunteer just a few minutes of your time at the Expo to make a big difference in the community.
Walt Disney Parks & Resorts Carousel of Projects Pavilion
Probably the most entertaining area of the show floor, this pavilion spotlights the work of Walt Disney Imagineering at the parks around the world. You'll get a behind-the-scenes look at the work on Disney California Adventure's Cars Land and the Fantasyland expansion in the Magic Kingdom and have a chance to talk to real-live Imagineers about the projects they've worked on. There will also be exhibits on the inner workings of Audio-Animatronics, and last time there were meet-and-greets with advanced AA figures Wall-E and Lucky the Dinosaur. Elsewhere in the pavilion, you'll find displays by Disney Cruise Line, Disney Vacation Club and Adventures By Disney.
Collectors Forum
This area serves as a catchall for independent vendors of Disney art and collectibles, fan sites and message boards, and Disney travel agents. It's also the place to meet Disney celebrities like Bill Farmer (Goofy), Paige O'Hara (Belle), Margaret Kerry (Tinker Bell), and Susan Egan (Megara, Belle on Broadway) at the Disneyana Fan Club booth. An outlet of the United States Postal Service will be handy for those who've gone on a D23 Expo shopping spree.
Disney Desk – Park Ticket Sales Center
Disney will be selling Expo attendees discounted "Twilight" tickets to Disneyland and Disney California Adventure that are good after 4:00 pm or 4 hours before the park closes, whichever comes first. Rates are $55 for a 1-day, 1-park Twilight ticket (vs. $80 for a full day) or $70 for a 1-day Twilight Park Hopper (vs. $105 for a full day). A full-day Park Hopper can be purchased at $8 off the regular adult or child price. Disney will also sell multiday Park Hoppers for $25 off the 3-day price, $30 off the 4-day price, or $35 off the 5-day price for adults and children.
D23 Arena
The 4,000-seat arena hosts all the major Expo events, from the Disney Legends Ceremony and 3-D screening of The Lion King to the presentations by Walt Disney Studios and Walt Disney Parks & Resorts. The Studios presentation is the one to hit for celebrity sightings, with Jason Segel, Kermit the Frog and Miss Piggy, Willem Dafoe, Kelly Macdonald, Jennifer Garner, Sarah Silverman, and cast members from Marvel's The Avengers on tap at press time. Fans of the Disney princesses will want to check out Friday morning's 2011 Disney Legends Awards Ceremony, which honors the women who provided voices for Ariel, Belle, Jasmine and Tiana. The Walt Disney Parks & Resorts presentation will provide a look at upcoming projects at Disney parks around the world, although last time the promised surprises were the same information that had been floating around the Internet for weeks or months already.
You only need to wait in the ginormous arena queue if you absolutely have to get a seat in the first few rows. Also, attendees will be required to turn over their cell phones, cameras, and other recording devices on the way in to the Walt Disney Studios presentation. This creates long lines before and after the event; allow extra time or find another place to stash these devices so that you can skip the check-in lines.
Second Floor
You'll need to travel upstairs to see the various seminars, panels, and events with Disney celebrities, plus the Treasures of the Walt Disney Archives. For a complete schedule, click HERE to download the official D23 Expo 2011 Guide Book.
Stage 28
The majority of the historical and Imagineering seminars at D23 Expo 11 will take place inside Stage 28. These are the kinds of presentations found at D23's Destination D events at Disneyland and Walt Disney World: in-depth examinations of the development of parks and attractions, plus interviews with the people who were there. Stage 28 was frequently packed to capacity at D23 Expo 2009, so be sure to get in line early.
Treasures of the Walt Disney Archives
Located in the middle of the second floor is the Treasures of the Walt Disney Archives exhibit. This year's will be twice as big as it was at the inaugural D23 Expo, packing in 12,000 square feet of costumes, props, artifacts, photos, and memorabilia from Disney films, TV shows, theatrical productions, and Walt Disney himself. Also inside the exhibit this year is the D23 Fan Art Gallery, which commemorates the 50th anniversary of the movie 101 Dalmatians. (Shameless plug: My husband created the winning art piece, Tiki de Vil!) Note that photography and videography are prohibited inside the Treasures of the Walt Disney Archives.
D23 Expo Live Auction Preview Room
If you don't want to pay $45 for a ticket to the D23 Expo Live Auction on Saturday night, you can preview the lots on the second floor of the convention center. Up for live auction are original attraction vehicles, props, art pieces, tours, and experiences—a complete list can be found at HERE. To see a few of the silent auction lots, click HERE.
Third Floor
There's only one venue on the third floor of the convention center, and that's…
Stage 23
Not to be confused with Stage 28, this theater hosts mostly screenings and events for the first two days of the Expo, including the Pixar shorts collection, the Dick Van Dyke & The Vantastix concert, the Ultimate Disney Trivia Tournament and the D23 Expo Live Auction. On Sunday it becomes home to the kinds of theme park history and Imagineering seminars found on Stage 28, like "Imagineering Cars Land" and "The Making of Star Tours – The Adventures Continue." Although it can hold 1,500 people, Stage 28 (then known as Walt Disney Studios Theater) was often packed to capacity in 2009, so get in line early for hot-ticket presentations featuring popular names.
Shopping
Disney provides numerous "shopportunites" at the expo, including plenty of limited-edition and exclusive merchandise.
D23 Expo 2011 Dream Store
This is the place for limited-edition Expo merchandise, theme park products, jewelry, ACME art, and autograph sessions. Each day will see the release of items themed to a specific Disney classic: 101 Dalmatians on Friday, Dumbo on Saturday, and Alice in Wonderland on Sunday. Last time, Disney handed out tickets to those in the pre-opening line that allowed them to return at any time that day to pick up the limited-edition items they wanted. While certain products remained available throughout the Expo, others sold out to those at the front of the line, so be sure to get there early if these are important to you. A partial list of D23 Expo merchandise can be found HERE.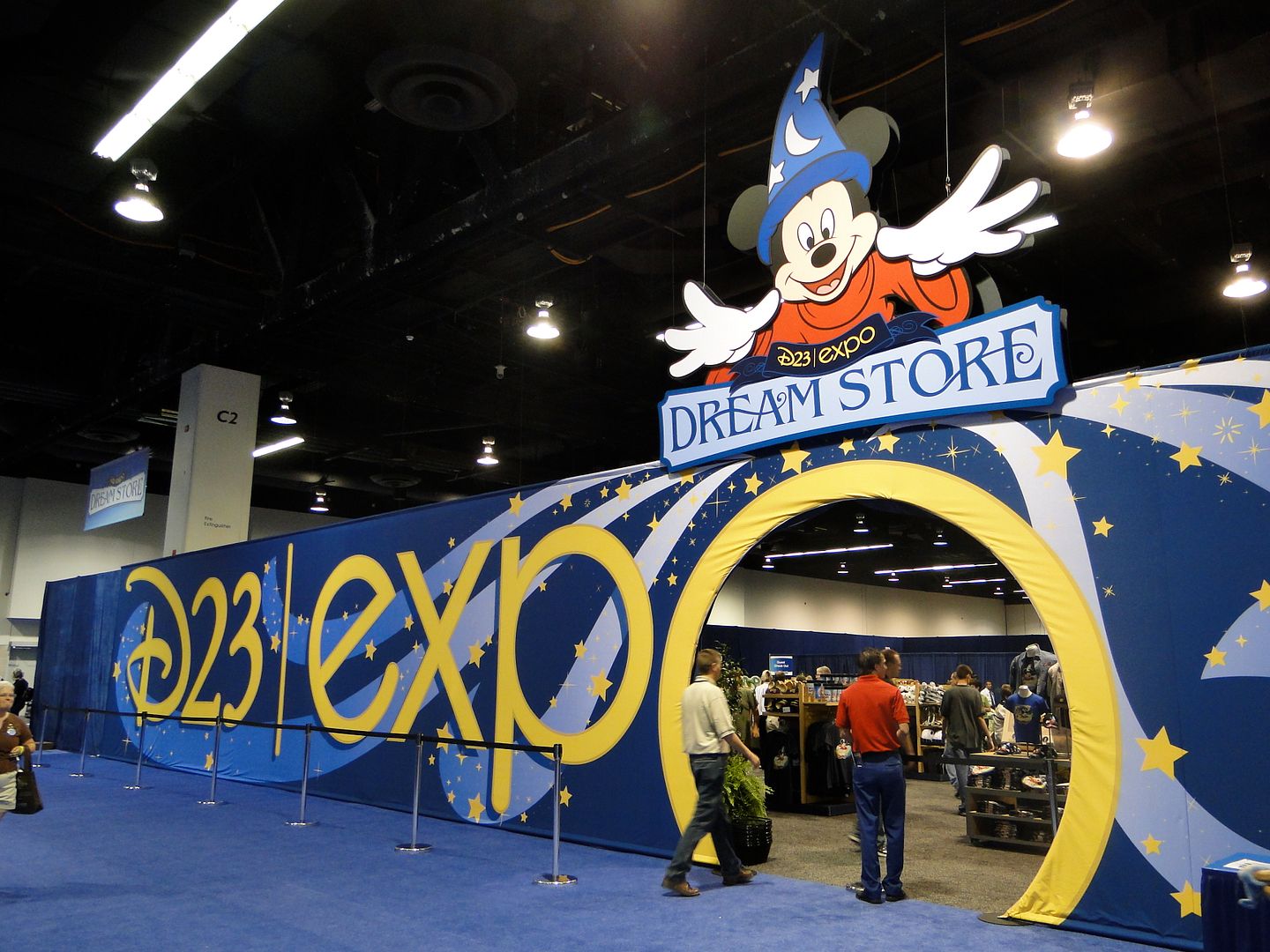 Mickey's of Glendale
Although it has been a fixture at the Disneyana Fan Club's All Disneyana Show & Sale for a few years, Mickey's of Glendale makes its D23 Expo debut in 2011. This satellite location of the employee store at Walt Disney Imagineering will be inside the Walt Disney Parks and Resorts Carousel of Projects pavilion selling WDI-exclusive apparel, accessories, pins, and art, plus merchandise inspired by the projects on display in the pavilion. Pin collectors, take note: There will be several limited-edition D23 Expo pins sold only at Mickey's of Glendale. Also, they usually have a few bins of $4 and $5 WDI pins that make great traders.
Disney Store
The Disney Living Pavilion is the site of a 1,500-square-foot pop-up Disney Store, which will kick off its 25th anniversary celebration with a D23 members-only presentation at 9:00 am on August 19. The first 25 people in line will receive a commemorative pin. Additional members-only opening ceremonies will be held at the same time on Saturday and Sunday. Note that only 500 of the Disney Store 25th anniversary Vinylmation figures will be sold at the Expo, but 2,000 more will be available to D23 members online.
Walt Disney Archives Treasure Trove
Adjacent to the Treasures of the Walt Disney Archives exhibit is the Walt Disney Archives Treasure Trove, which will sell reproductions of and pieces inspired by items in the archives, limited-edition merchandise from the 40th anniversary of Walt Disney World and 20th anniversary of The Rocketeer, and assorted other leftovers from previous D23 events.
A Small World Village
This pop-up shop features apparel and accessories for children, toddlers, and babies inspired by Mary Blair's concept art for the "it's a small world" attraction. Sponsor Nordstrom will also offer Basq NYC skincare for new moms and TOMS shoes for kids.
Dining
All concessions are handled by Aramark, whose food you may recognize from arenas, convention centers, and stadiums across the country. If you have special dietary requirements or are just a fan of fresh food, you may want to explore the options right outside the convention center in an area known as CenterWalk.
A complete list of dining locations and menu items can be found in my article "Dining Options at the 2011 D23 Expo" on The Disney Food Blog.
Touring Tips
It's a Disney convention, but it's still a convention. Disney may have reinvented the amusement park business, but its approach to conventions is strictly by the book. Expect many of the less-than-thrilling aspects of a theme park visit (lots of walking, long lines, overpriced food) combined with familiar convention touchstones like counter-programmed seminars, bad fluorescent lighting, and huge corporate booths shilling the latest and greatest products.
It may feel crowded. In 2009, D23 Expo drew almost 40,000 people over four days. This year, they're expecting 45,000 people over three days. This may be especially noticeable at the two counter-service restaurants around lunchtime, so you might want to eat at off hours.
Expect to wait in line. Unfortunately, Disney's FASTPASS does not extend to D23 Expo. Lines form hours in advance for popular seminars (especially the ones featuring Imagineers), the sale of limited-edition merchandise, and presentations in the arena.
Know when to get in line. Although D23 Expo officially opens to D23 members at 9:00 am (10:00 am for the general public), Disney is expecting lines to begin forming out front by 5:00 am. These will mostly be people waiting to line up for merchandise vouchers from the Dream Store and those who want floor seats in the arena. The first group will be ushered into the lobby at 6:45 am, with the rest entering by 7:00 am. At 8:00 am lines will be divided into one for the store and one for the arena, and at 8:30 am the latter will be allowed into the arena. There is no need to wait in either line if you're not interested in limited-edition merchandise or don't care where you sit in the Arena.
You can't see it all. D23 head Steven Clark has said that the Expo is scheduled so that fans will feel like there's too much good stuff to see and do. This means that popular presentations are often counter-programmed so that it is impossible to see them all. Be prepared to make tough decisions between certain panels and presentations, especially those that require a long wait in line.
See you at the Expo!
+++

Carrie is the author of PassPorter's Disney Weddings & Honeymoons, a guidebook and bridal organizer for weddings and honeymoons at Walt Disney World and on the Disney Cruise Line. You can read her account of the inaugural D23 Expo in D23 Expo The "All-Lines, No-Rides" Disney Experience! and follow her adventures at D23 Expo 2011 as @lurkyloo on Twitter.