SeaWorld Orlando hosts a delightful array of offerings to celebrate the holiday season. SeaWorld's Christmas Celebration for 2021 takes place on select dates from November 12th through January 2nd with lights and decorations, holiday foods and treats and entertainment the whole family can enjoy together. This is one of the best values when it comes to seasonal events in Orlando. SeaWorld's Christmas Celebration is included with the purchase of a regular ticket or annual pass. Let's take a look at some highlights of SeaWorld's Christmas Celebration 2021 event.
SeaWorld Orlando Christmas 2021
The Sesame Street Christmas Parade will delight kids from one to ninety two with classic characters like Big Bird and Elmo. The floats in this parade are colorful, creative and entertaining too. This parade is the kind that rolls through, pauses and puts on a stationary show. The performers are high energy and the original music is extra festive. Sesame Street provides an entertaining and inviting atmosphere for all on television and in the park.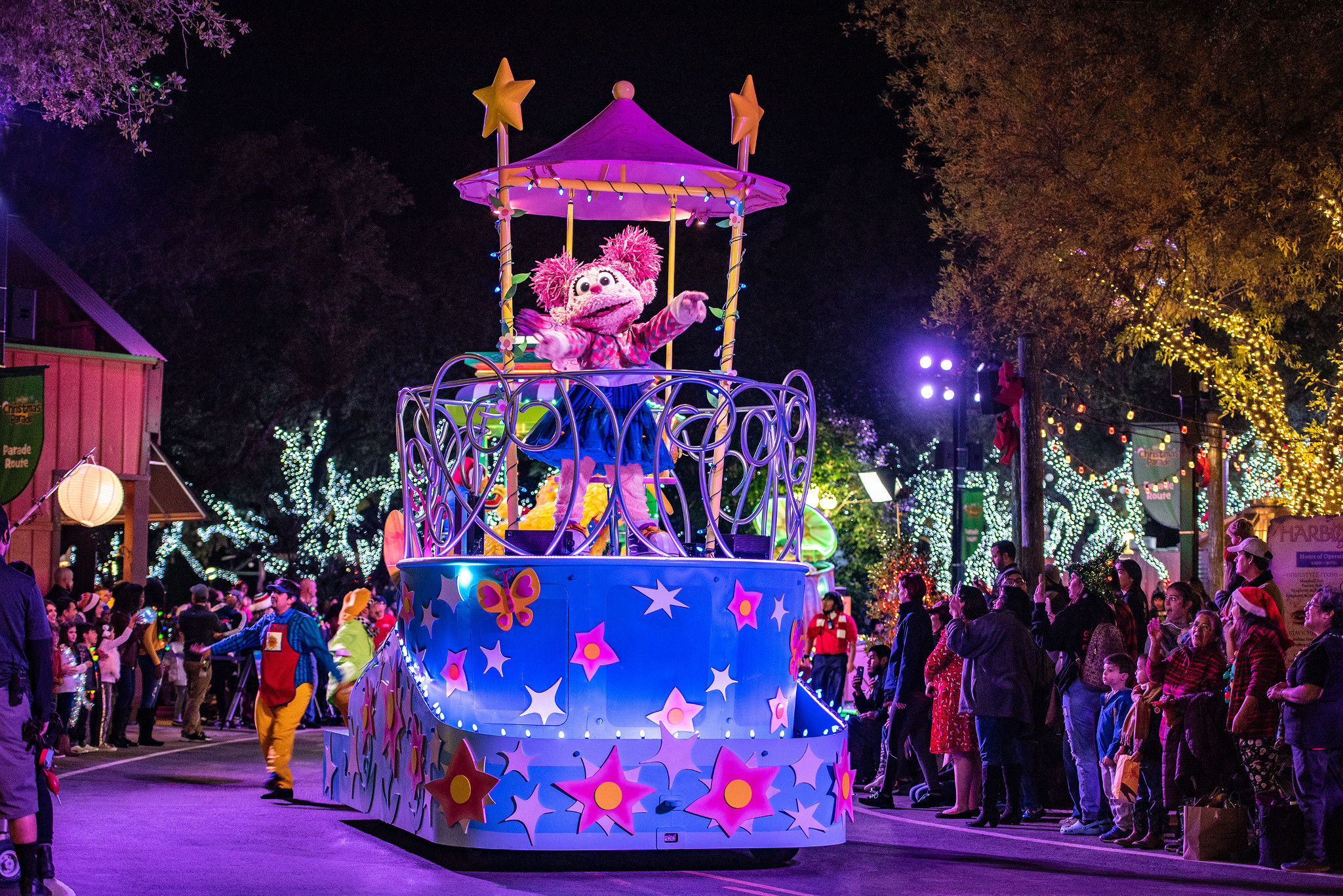 Rudolph's ChristmasTown offers more family fun with photo ops featuring some of your favorite Christmas characters. Here you can meet Rudolph from the 1964 Rankin Bass stop motion, classic film Rudolph The Red-Nosed Reindeer. You may also find the Bumble in this storybook setting! If you love jolly attire and accessories, this is the place to look for merchandise.
New to SeaWorld Orlando Christmas 2021 is The Sounds of the Seasons Concert featuring musical acts in the indoor Nautilus Theater. Check the schedule as the featured talent rotates through the duration of the event. If you enjoy live music, SeaWorld's Christmas Celebration has lovely atmospheric shows you should add to your plans. There is an a cappella group that sings favorites from classic holiday movies and a reindeer band alternating on the small stage at Rudolph's ChristmasTown. This little venue is outdoors and on the water with lights and decorations all around.
Sea of Trees is a nighttime wonder with lit Christmas trees floating, twinkling and reflecting on the water to music. You can see this dazzle throughout the night. One of the best viewing places is on the bridge in the middle of the water with the trees all around you.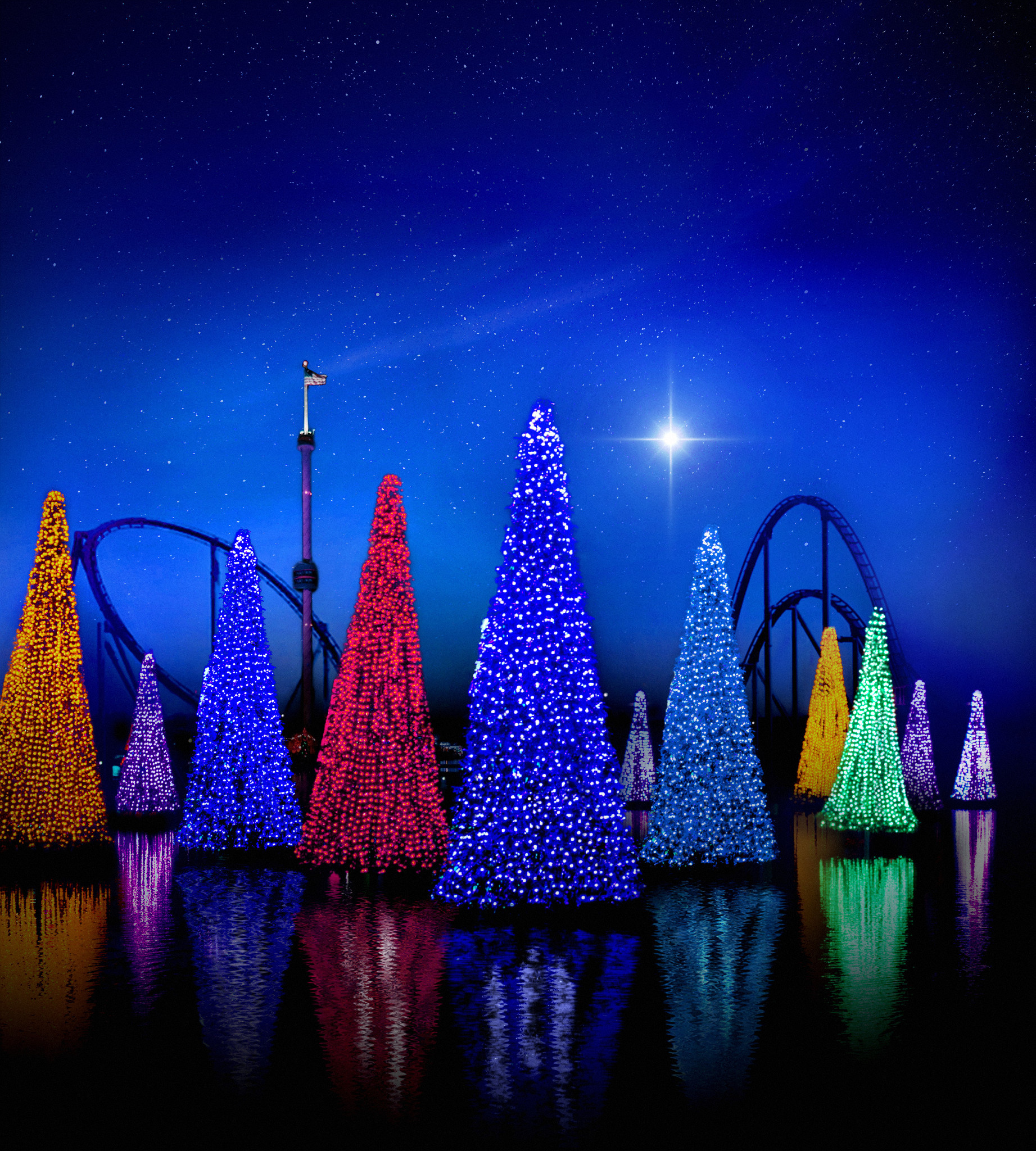 Winter Wonderland on Ice is an ice skating show featuring songs of the season and glitzy costumes. Guests can enjoy the work of these talented artists as they dance on ice in this beautifully crafted show. It's truly a spectacle as the water behind the stage is illuminated with the Sea of Trees and colorful, gushing fountains.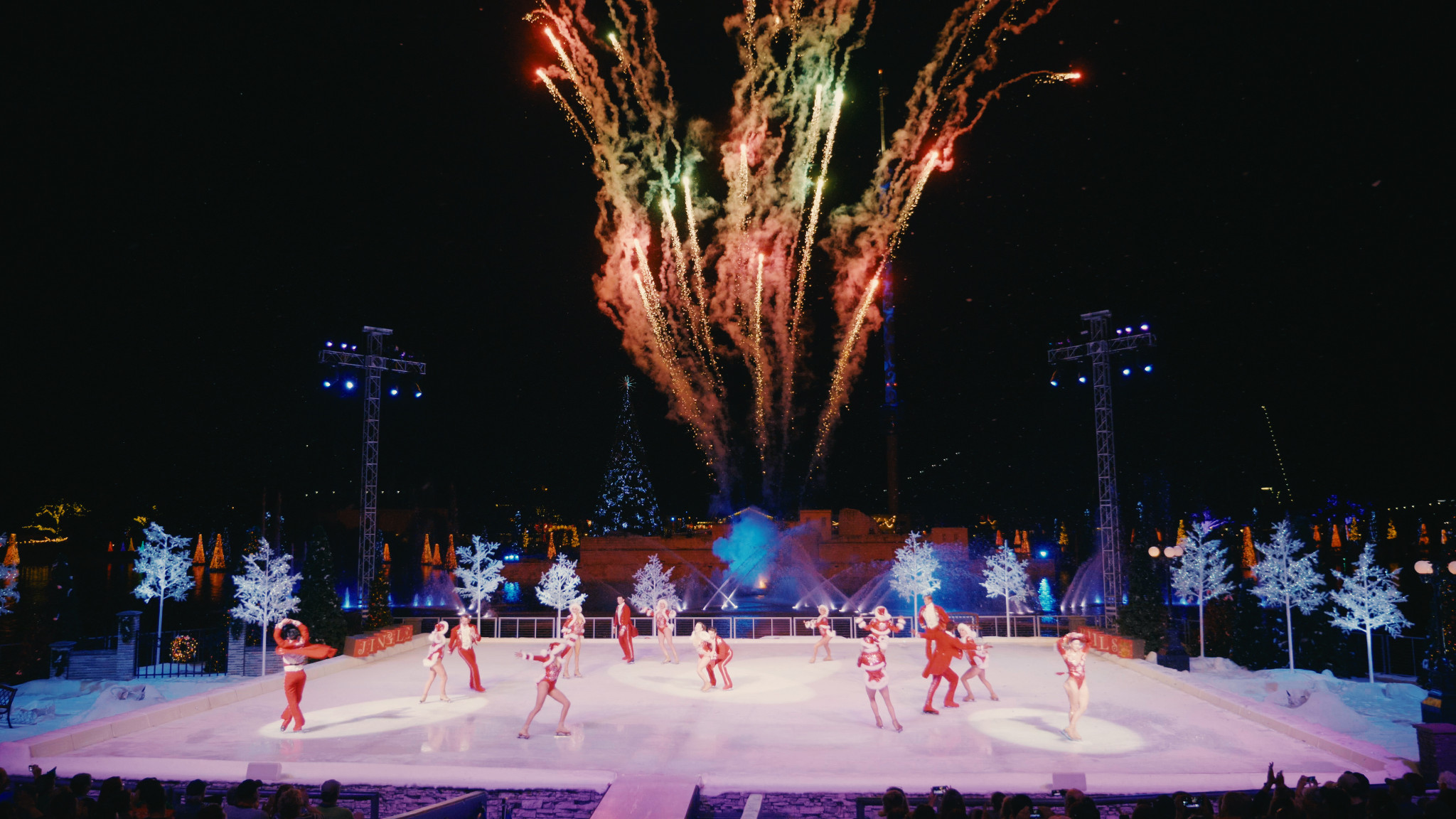 You can also experience wintery fun like snow flurries and ice skating at SeaWorld for the holidays. Ice skating is an additional charge and has a couple of requirements so look into it before you go if that is of interest to you.
Finish your night at SeaWorld's Christmas Celebration with a sky full of sparkles. Holiday Reflections Fireworks can be seen from many places around the park but the best viewing is from the Winter Wonderland On Ice venue or around the lake where Sea of Trees floats. If you've enjoyed Halloween at SeaWorld you've seen the unique tie in of SeaWorld's aquatic theme with the spooky season. As fun as that may be, SeaWorld's Christmas Celebration takes a more familiar approach celebrating with classic characters, decor and music, and food.
HOLIDAY FLAVORS TO SAVOR
The Christmas Market, nestled along Bayside Pathway, features festive entertainment and delicious culinary delights. At this bustling market, guests will discover one-of-a-kind gifts and snack on scrumptious holiday treats. Relax near the warm glow of the fire pit with a holiday craft brew and experience a wonderful view of the vibrant Sea of Trees or sing along to musicians who bring the sounds of the season to life on the gazebo stage.  Find the tastes of the season throughout the park with the return of fan-favorite beverages, including the decadent Butterscotch Hot Chocolate or try something new like the Peppermint Berry Julep or the Mistletoe Margarita.
MORE TO CELEBRATE
Take note of this additional events added to celebrate other holidays during the season:
Hanukkah Celebration Celebrate the festival of lights at SeaWorld! From November 28 through December 6, gather with your friends and family to view the traditional lighting of the menorah in Sesame Street Land™ throughout Hanukkah.
Kwanzaa Festivities Join SeaWorld's celebration of Kwanzaa! Taking place December 26 through January 1, guests can enjoy a joyous time of reflection and celebration of African heritage with the nightly lighting of the kinara in Sesame Street Land™.
New Year's Eve Spend the final day of 2021 enjoying SeaWorld's Christmas Celebration then ring in the New Year as vibrant fireworks fill the night sky at midnight on December 31.
Best Way to Enjoy the Holiday Cheer for SeaWorld Christmas 2021
The best way to experience SeaWorld's Christmas Celebration and New Year's with family and friends is with a SeaWorld Orlando Annual Pass. For a limited time, Florida residents can become a Pass Member for as low as $12.75 per month. Pass Members can receive park benefits and rewards like priority access to new attractions, FREE parking, in-park discounts and much more.
For more information, park hours and to purchase tickets, visit SeaWorldOrlando.com.
Thank you SparklyNicole of SparklyEverAfter.com for providing us with this review and guide for SeaWorld Orlando Christmas in 2021. We'll have a video coming out soon that will showcase the food and other fun from the event, so be sure you're subscribed to Zannaland on YouTube!
Disclaimer: Zannaland.com was provided with free tickets to SeaWorld.