Hello! Well, it's all finally happening. If you've been following along these recent Zannaland.com changes, we've been talking about all the things that were coming up. With the addition of our video producer-extraordinaire, Christian (my son, who's basically grown up with Zannaland), we've added more videos, vlogs, and now, a project I've been wanting to do basically ever since getting married to @otisney and realizing the amount of Disney history we wanted to discuss and share, a podcast! Since podcasting has grown and changed and morphed over the last 15 years, we have decided to share ours as both an audio and video podcast. We aren't doing any fancy effects at this point, but if you want to follow along and see our faces while we talk and any props we may use as an example along the way, feel free to watch vs. just listen.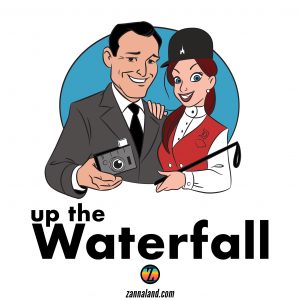 I explain this in our first episode, but we will go into it more in the future too, but the name, "Up the Waterfall" comes from Walt Disney's Tencennial show for Disneyland's 10th birthday. And seeing him explaining things to Julie Reihm, the first Disneyland Ambassador, just always made me instantly smile…even just watching the clip at the end of our first show put a smile on my face again. So that's the sort of feel I wanted to have with our podcast. It's not just a historical podcast, it's not a news podcast, it's a combination of all of our experiences, thoughts, and yes, knowledge (which I will admit is mostly on Scott's side of the desk!) about Disney parks and all the made them what they were and are today. We hope you'll listen in on our journey as we explore this podcasting path.
We're no podcasting or even broadcasting experts, so keep that in mind as I say "um" 27 times 😛 But we'll keep figuring things out and hopefully make a great show that keeps you wanting more.
You can listen to the podcast right here on Zannaland, there is a Podcast tab at the top of the site now, or you can (eventually, it's not quite searchable there yet but it is there!) search "Up the Waterfall" on iTunes, or you can watch on Zannaland's YouTube channel. You can also visit UpTheWaterfall.com for the latest show too, but everything will be shared here as well. Thank you so much for supporting all of these updates and new ventures that we've wanted to do for so long, and a HUGE thanks to Christian for making it all happen and pushing us to just do it, and of course Scott for his patience when it took me 5 years to get it going. 🙂