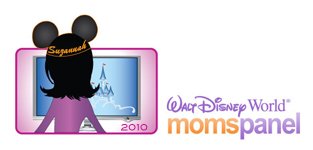 I just wanted to take a moment to mark another magical milestone in my life; being back on the Walt Disney World Moms Panel answering questions! I'm honored to have been asked back again this year and will be giving out magical advice at www.DisneyWorldMoms.com until April.
So much has happened in the span of two years, it's hard to imagine that just a short time ago my dream was to join the amazing panelists on the Walt Disney World Moms Panel, and that dream actually came true. Since the site here took off at around the same time and my last year was filled with special events and opportunities, new friends and experiences, I felt like I needed to remember the dream that started it all. It's still pretty amazing if you stop and think.
I'm so grateful for the chance to help guests out in an official capacity on an official Walt Disney World site, not to mention the wonderful cast members I've met, fellow panelists I've worked along side and friends I've made because of the panel. It's such a special opportunity of a lifetime and I am so appreciative, every day, for that gift. I only hope that I can pass my excitement, love and knowledge of Walt Disney World on to the people I come in contact with and, well, make Walt proud too.
If you'd like to ask me a WDW vacation planning question directly, you can head over to my bio page at DisneyWorldMoms.com and click on the "ask Suzannah a question" link. 🙂 I'd be happy to help! While you're there, check out all the new faces ready to lend a hand as well. I hope to be highlighting some of them here on the sight in the coming months!