Alright, I've waited long enough for this update! The truth is, in addition to heading back to Disney World 2 days after returning from training, and then getting sick and having a sick baby to take care of, the thought of trying to put back into words all the the amazing sites, experiences and emotions I felt during the 5 days of training was just a tad overwhelming! But I'm finally here and figure if I break it down into days, I can tackle it. It's just too good not to share, right?
On the day I was supposed to drive up, I got cold feet. I know, most people would have killed to be in my shoes, both being close enough to drive to Walt Disney World and being picked to be on this amazing panel…but I still got nervous. You see, there's a reason why I write a blog and don't host a pod cast or web cast or anything else involving face-to-face interaction. I am in fact, pretty shy. There, I said it. I wasn't always this way, my 1st grade report card lists me as a "Social Butterfly" and as a result I was separated from my best friend for 2nd grade. It isn't even because of all the moves my family made over the years, deeming me the eternal 'new kid' – I actually had no problem making friends and keep in touch with many of them from all the way back to grade school. This really started in college but is also a combination of being nervous about speaking in front of people. Let me digress a bit…
Oddly, when I attended high school in Virgina, I was recruited by my English teacher to be a part of the Forensics team. No, this is not CSI medical forensics, it is public speaking and debate. Forensics also means the study or art of formal debate. So anyway, my teacher wanted me to be a part of the Extemporaneous team. WHY he thought this was a good idea for an 8th grader I have no idea. The school was actually K-12, and he recruited me early, so I was the youngest member of the Forensics team and the Extemp category. Here's the thing – Extemp was based on current events. You picked 3 topics out of a hat, then chose one to debate for or against, giving various reasons for your stance. You had a certain ridiculous amount of time to prepare (I want to say 5 minutes but that could be wrong) and the speech was supposed to be 3-5 minutes long. I was lucky if I got a minute most times. So how many 8th graders were up on the Iran contra situation or the cold war in Russia? Well, I certainly wasn't. We were allowed to have newspapers and magazines to research and quote from, but the key was knowing and *understanding* these possible topics before they were asked. My coach put it best when he said, "The seniors doing this category are remembering things from back to 9th grade, for you, the last 4 years go back to 4th grade, so how much do you remember of world events from then?" The answer: not much! So again, I still have no idea WHY he wanted me to compete in that category. It was pretty much pure torture.
Eventually, I was able to convince him to let me switch to Original Oratory, which is where you wrote your own speech, memorized it, and recited it – with feeling! for the judges. I loved this category. I loved being able to write something that caught their attention and kept it for the length of time I spoke. I loved receiving positive feedback from the judges and being proud of what I did. Despite all that, I still had an issue with nerves and speaking in front of people. My neck would start turning a bright shade of red as I spoke and it was quite noticeable. My coach eventually suggested I wear high-necked tops when I went to meets, which helped a little. With the switch to Original Oratory, I made it to the Virginia state finals for Forensics. I was in the semi-final category and finally got beaten out by another competitor. Come to find out during the awards ceremony, the judges had calculated the scores wrong and I was supposed to be in the finals, but they felt it was then too late and everyone else had already competed and been scored for the finals, so that was that. I could've disputed it, but that meet was actually my last one sophomore year before my mom and I had to move back to Massachusetts where I finished high school without a forensics team. So that was that.
My point, in explaining all that, is that I've always had issues with speaking in front of people, but I still love writing and being able to communicate and actually perform (I was in the drama club all through high school too). It's just something I have to work on dealing with. When I have something concrete memorized to perform, it's quite different than just meeting new people, mingling and making small talk. That, is what gave me cold feet and had me worried the day I needed to drive to Walt Disney World alone, be a big girl and talk to people! The good part was that I had already talked to most people online and built up quite a rapport with a few of them, so that was my safety net – hanging out with those people. Anyway, there's the background leading up to day one! Thank you for letting me go off on that tangent (hopefully you scrolled by if it was too much!) maybe it'll help someone else that's shy out there realize they are not alone and they could end up in my wonderful position someday too!
As I started out in the car, it was a cold, drizzly day in central Florida. I made it 10 miles out and realized I'd forgotten the big basket I was bringing for all of us panelists to put together some group gifts to those in charge of the WDW Moms Panel team. So, I had to make a U-turn and head back home, getting stuck in traffic on the way, pick up the basket (and my gifts that I'd forgotten!) and head back out again. I finally arrived to a rain-soaked Contemporary resort and had the car valet parked so I could head to check-in.
I wasn't sure what to expect, I knew from past years they had a little sign up saying "Welcome Moms Panelists" or something, so I was looking around for that, but only saw the usual hustle and bustle of the Contemporary check-in area. I waited for a hostess and then let her know I was checking in for the Disney Moms Panel. I felt weird saying that, since I know most cast members have no clue what the Moms Panel even is. I wasn't sure if they'd been alerted to the 22 of us checking in (plus past panelists too) or what, but she just asked my name and went from there. She did say she had an envelope for me and went in the back to get that. I tried to remain calm and composed rather than ripping open the envelope right then and there. I lucked out and my room was ready, so I then headed up to check it out.
I had been keeping track on twitter to see if anyone else had arrived from the airport or not, so far, I seemed to be the only one there. I took some pictures and enjoyed the view while waiting to see who would join me first. Soon Amanda A. and Dannée N. arrived from the Magical Express. Their rooms were not ready, so I told them to come on up and we'd hang out in my room while they waited. We took twitpics and talked – they were both so nice and funny, there was nothing for me to be nervous about! It was then almost 1 o'clock so we decided to head over to Kona Cafe to grab some lunch and wait for more friends to arrive.
That lunch was SO fun. Dannée is just hysterical with her stories of her family and her great personality. Amanda A. was so wonderfully sweet, with a great sense of humor too, and her adorable North Carolina accent reminded me of my southern Aunt and made me feel right at home. It was great to just relax and get to know two people without thinking about another 19 all at once. Soon other moms (and dads) were arriving and we told them where we were. There were about 7 people about to head over to join us when we realized Kona was stopping service while they switched over from lunch to dinner. So those 7 hung out in the Contempo Cafe and we headed back over to see if Amanda and Dannee's rooms were ready.
When we separated back at the hotel, I got in touch with Amanda W, one of the people I'd been bonding with online before training. She was down at the Contempo Cafe too, but was just leaving, so I ended up meeting her in her room and we chatted for a bit. She is JUST as bubbly and funny in person as she is online and I loved her instantly. She probably got sick of me because I think I clung to her so much during the whole training experience since she was the one person I felt like I "knew" already and was still so nervous to mingle. 😛 Soon it was almost time to get ready for our first event, the cocktail reception, so I left to get ready back at my room. On the way down the hall I ran into Marc, who I'd also spoken with before hand so we hugged and said hello. I knew we'd talk more later so I went to get ready.
The cocktail reception was supposed to be held outside at the Contemporary Marina, but had been moved inside due to the rain. We met at Grand Republic room A. As I headed into the elevator down to the 2nd floor, I saw another familiar-looking face, with the same "Moms Panel Training 2010" name badge hanging around her neck as me. We looked at each other and I said, "You're…a Mom!" and she said "Yes, and you are too, right? Zanna?" It was actually Disney Mom Karen, so it was great to meet her as well. She was so very nice and helpful from day one when I started talking to her on Facebook.
I remember walking in and not being sure what to expect. This was when the nerves really got me. However, the team from the PR company all welcomed me and handed out my little training binder, so that helped. Then Laura Spencer, the Social Media Manager in charge of the Walt Disney World Moms Panel and inaugural panelist herself, came over and hugged me. HUGGED! I was expecting a hand-shake, even though we'd met before at the Mickey Moms Club Illuminations Party, surely I wasn't hug-worthy yet…but she hugged us all and that really made me feel at ease and like I really *was* supposed to be there. Then this very very tall man came over and said, "Zanna, right?" it was Chris from Massachusetts. I'd only commented to him on Facebook, but you can't help but feel at ease with him. I have no idea how tall he is, but I'm going to say at least 6'4″ so at 5'2″ it was pretty funny looking up to him. I told him how I was originally from Sharon, MA and we started chatting away.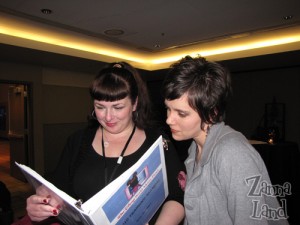 Soon more people came in and we all introduced ourselves. It was nerve-wracking meeting so many people at once, but it was also funny because almost everyone seemed to know who I was from here and twitter, so they all seemed to tell me who I was before I could tell them. It was quite humbling to have so many people tell me they'd been following the blog and how they liked it. In addition to being shy, I can't really take compliments well so part of me wanted to just crawl under the table!
We mingled and took group photos and got new itineraries with the updates due to the weather and eventually all left to get ready for our first group bus trip to Disney's Hollywood Studios for dinner. Originally, we were supposed to see behind the scenes of Fantasmic and eat there, as well as viewing the Osborne Family Lights, but the steady rain changed those plans. We were now going to a place called "The Prop Shop" for dinner. I had no idea what that place was, but as we pulled up, I realized I recognized it after all.
We were arriving behind the scenes at the Studios, but in a familiar setting. The building was home to the former "Inside the Magic" part of the Backstage Tour, when it was done in two parts, the tram tour and the walking tour which started with the water effects tank then moved inside to a series of buildings. When J, my mom and I worked at Disney World, J.'s position was in this very building. He did the spiel for the water effects tour, as well as the parts inside – the miniatures room, which featured props from the then-popular Dick Tracy and some other movies of the time, and the green screen room, which featured the giant bee from Honey I Shrunk the Kids. Guests were chosen to climb up on the bee and re-create the famous scene from the movie for all to watch on the screens above. It was a great part of the tour, before you were left on your own to tour the sound studios, see some "live sets" (at various times shows actually filmed there like the new "Mickey Mouse Club" and "Wheel of Fortune" occasionally) and then went on to see a short film called The Lottery with Bette Midler, then tour set pieces from that movie. That room was later turned into pieces from the live-action 101 Dalmations film before the tour was finally morphed into one walking/tram tour and most of the inside parts were left behind.
The Prop Shop now housed many formerly used pieces of Disney World history, including the puppets from the Lion King show that played where Philharmagic now appears. Also there were the pieces from the wonderful Tapestry of Nations parade in Epcot's World Showcase and a set featuring life-sized props from The Nightmare Before Christmas. There was also the adorable baby dinosaur from the old tv series "Dinosaurs" – remember that show? The baby would never say "Daddy" and always called him "Not da mama" and say "Gotta love me, I'm da baby!" It was a cute show. Sort of like The Simpsons with live-action dinosaur suited people. It was so fun to just look around and see various bits and pieces of Disney past.
We all sat at big round tables and were served delicious cocktails. All I remember is there was something peach about them! The dinner was absolutely amazing – the most wonderful array of salads, side dishes and main dishes I think I've ever seen. The creamy polenta with mushrooms was so delicious, I thought it was my favorite until I tried the beef medalions with au poivre sauce! There was also a pasta station where a chef was making penne with roasted garlic, goat cheese and tomatoes. After all that, there was a dessert table as well with delectable little bites to try.
It was so wonderful listening to stories from everyone's families and experiences at Disney and elsewhere. We were lucky enough to have Kay at our table, who has a wealth of amazing Disney knowledge and tales to tell. Everyone says how she's like a mom to all the Disney Moms, and I soon learned that was very true!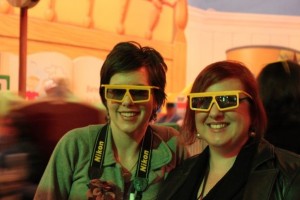 Soon Laura came over and let us know we were heading over to walk on to Toy Story Mid-way Mania! For some people it was their first time on the ride so we were trying to catch everyone up on what happened on the ride and others were quickly googling how to gain the most points in the game! I sat with Amanda and we had a blast shooting everything. I don't think I did too well, but it was still fun of course. We stopped traffic for a bit to get some group photos on the way out, we all looked so funny with some of us in ponchos all crowded together.
We were already a family after just a half a day together…the laughter and stories were as abundant as the drops of rain around us. I'm paraphrasing, but at one point Laura said "Who would've thought 22 people thrown together would be instant best friends in a matter of minutes" That's the power of Disney magic for you. And this was just the beginning.
When we got back to the room, many of us stopped by The Wave where the 09 Moms were toasting Cathy for her birthday. We hung out there for a bit getting to know the existing moms, all of whom welcomed us with open arms, and just talking. Some of the new moms went back to other places, I think the Grand Floridian to look at the gingerbread house, others to Downtown Disney or another park. I was just still so amazed to be there that I just headed back up to the room to drink in the alone time. When I arrived, there was a big, pink, sparkly thing waiting for me on the entryway table.
It was our 2010 Moms Panel gift basket – chock full of magical goodies that made all of this (as if it hadn't already) seem really real! I almost didn't want to open it because it was just so pretty – but I did. Inside was the new 2010 version of the WDW Moms Panel jacket, a quilted, longer design for the moms. The Moms Panel pink polo shirt and pink baseball cap, Moms Panel mouse pad and cubes of paper also with the logo. There was also a gorgeous silver pen with Mickey heads on it, which it took me 3 days to realize ALSO had the WDW Moms Panel logo and name on it! Also a beautiful watch with the logo and name and a blue messenger style bag with the logo too. Tucked inbetween was one of the cool reusable bags that actually fold up into a tiny carrying pouch as well, that said Peace, love and Disney in the various symbols for each. I loved everything and was just grinning from ear to ear.
As I was jumping up and down I heard music and realized right outside my window the Electrical Water Pageant was going on. I took some pictures and watched till the end, and then called it a night. I hoped for pixie dust dreams as I anxiously awaited the next days excitement – video shoots! I was so nervous…
For more trip reports and pictures, be sure to check out my flickr stream and my Moms Panel friends' blogs: OhAmanda.com, What Now Kathie.blogspot.com and FiveTimesBlessed.blogspot.com and look for their flickr streams as well. I'll continue to update trip reports as I see them published as well. This will be a long series here on ZannaLand, so stay tuned!