After a short break, the Meet Your Moms Panel series here on ZannaLand is back! Today we are meeting my fellow Floridian Mom – Maria M! These informal interviews are meant to be a jumping off point from the bios that appear on the DisneyWorldMoms.com site where you can learn about every panelist's background and experience with Walt Disney World, and see their personal videos as well. Once you check them out there, you can get to know the panelists a little better here!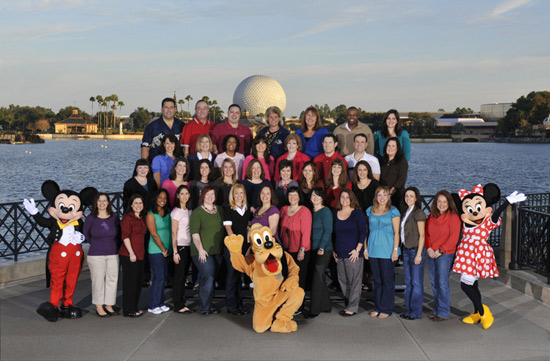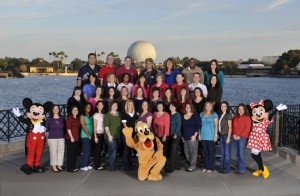 I was lucky enough to spend some time with Maria during training. I think we are similar in that we are both on the shy side, but fun-loving once we get comfortable. Maria is so incredibly sweet and her love for her absolutely adorable family shines through. I am proud to call her a friend and hope you enjoy getting to know her a little better!
How did you first get interested in the Disney parks?
It was always the most fun vacation destination when I was growing up. Now as a parent, it's just as much fun, if not more fun, to see my kids enjoy all the magic at Walt Disney World. I still have fun when I'm there, and it's never gets old. I love exploring and learning new things about Disney, or just enjoying something that's new to my children. They are at that age where they are just starting to meet height requirements and are becoming more patient and curious so it's like a whole new experience each time we visit!
Besides Disney, what are you most passionate about?
My family. I'm blessed to be able to stay home with my kids and have a flexible work/school situation. I also enjoy anything science related (geology, meteorology, astronomy, physics, chemistry…the list goes on). I also like getting outdoors for fun. For fun on rainy days, I will voluntarily sit through marathon runs of Lost, Star Wars, or Star Trek with the boys in my house. Pretty much if it's anything typically associated with being a "geek", I'm likely to be a fan.
Tell us about your family – are they Disney fans too? What are some of your most memorable family experiences?
I'm a lucky lady with a wonderful prince and two little princes in training. Are they Disney fans? Yes. Yes. And Yes. DH has been to WDW at least three times more than I have and takes pride in his VHF collection of Disney movies from back in the day, along with his other Disney collectibles. My children have Disney around them at all times; they don't know any better but to be as enthusiastic about Disney as we actually all are. One thing we all love is learning about Walt Disney and how Walt Disney World came to be. We really appreciate the vision and innovation behind it all. It helps drive home the whole "think big and work hard" approach that we try to teach our boys about.
What is your dream job (you can answer at Disney, not Disney, both or neither!)
Non Disney, a dream job of mine would as a planetary geologist. At Disney, I would like a job in France at Epcot's World Showcase. Something about the food there and being able to practice my (rusty) French makes me happy.
What is your favorite Disney restaurant and why?
Citricos, because of the Gateau of Crab. I crave it when I'm away from Disney! My other favorite is Hoop Dee Doo. The food is great and dinner is fun. It's pretty impossible to go and not laugh.
What is the first thing you do when you arrive at Disney visit? What is your MUST DO during each visit?
Mickey ice cream is always a must. We like to go to Disney without much of an itinerary. Maybe we'll have a dining reservation or a show we must catch, but other than that, we get to the park we want to go to and just wing it.
What do you wish there were more of at Disney? Less?
I wish there were more places in Disney that offered free refills. It would also be nice to have more resort to resort transportation.
I wish there was less humidity there, though I should be used to it since I live in Florida!
What type of music are you into?
I like Pop. I'm somewhat stuck in the 80s and 90s still, so I like music from then. There's this online radio thing called Pandora, and one of the most often played stations is the "Disney Channel Stars" one. I just like playing music the kids and I can dance around to without the worry of bad words or things like that.
What's the last book you read that you really enjoyed?
I Am Going! (An Elephant and Piggie Book)
by Mo Willems. Oh wait, did you mean just for me? Well, in that case, The Girl Who Loved Tom Gordon
by Stephen King.
Describe YOUR perfect Disney vacation (could be solo, with family, friends anything, no limitations).
It would be one that included extended family and friends, but still allowed plenty of my own family's time on our own together to play in the parks and wander the resorts at our own pace. We would all be staying Club level. There would be a table available at any dining location we desired without needing advanced reservations and with little to no wait. I would love to be able to ride Toy Story Mania! with my boys over and over again, without waiting in line. Then there would be a parade or show or something where my older son was picked from the crowd to participate, because he is a ham and loves to be in the limelight. In fact, he was bummed that he didn't have his question taken at Turtle Talk with Crush, so having that happen would be enough. Oh, and a stay at Cinderella's suite in Magic Kingdom would be nice.
…
Thank you, Maria for sharing a little more about you and your family with us. Remember to look for Maria at the Walt Disney World Moms Panel, where you can ask all of your Disney World vacation planning questions. You can also find Maria on twitter @OrbitMom. Also, since Maria's a Floridian, you just might see her next time you're in the Parks too!