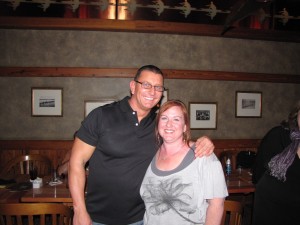 As you may have seen on twitter and facebook, a few friends and fans of Chef Robert Irvine of Dinner: Impossible fame were treated to an informal and cozy little meet up at the Crew's Cup Lounge inside Disney's Yacht Club Resort. I have to thank Amanda Tinney for informing me of this hush-hush event, put together in part by Marc Bigbie and another facebook fan of the Chef. The meeting was kept quiet for the purposes of not having the chef mobbed by fans, camera flashes and questions (otherwise you can be sure that with three local bloggers in attendance – myself, Amanda, and Leigh Caldwell from ThemeParkMom.com – we would've spread the word!).
At first there was question as to whether the chef would make it over, as he was still filming and I guess had been stopped by many fans along the way. A man of his word, Chef Irvine did indeed show up and was extremely kind and appreciative that all of us had waited for him. So often you hear stories of celebrities having a different personality in real life or being too 'big' to bother with fans but that couldn't be further from the truth here. Robert Irvine is as funny and warm-hearted in person as he is on his show. It would've been all too easy (and understandable!) for him to say, after a long day of shooting, "Sorry, I can't make it". Obviously he didn't say that and we were so grateful for his time!
My other blogging pals have covered in great detail the interesting tidbits and stories he shared with us, so I'll simply direct you to ThemeParkMom, DisneyEveryDay and DisneyFoodBlog for more information and pictures.
Something I never thought I would hear from a celebrity of any sort, was that they had my picture on their computer! Now before you go getting the wrong idea, let me explain. Back in February, several Walt Disney World Moms Panelist friends and many other bloggers converged on Disney property for the first annual Disney Social Media Moms Celebration. The event coincided with the Give a Day Get a Disney Day celebration and Chef Irvine was there filming a very special episode of Dinner: Impossible featuring some of the program volunteers and of course, Disney princesses.
As we were strolling through Epcot's World Showcase, my family and Moms Panelist Kathie Flood's family happened to see Chef at the American Adventure pavilion. We waved and he came walking right over to talk with us. We took a few pictures and I blogged about it. When that February visit came up in Friday night's conversation, I showed him the picture from ZannaLand on my phone he immediately exclaimed, "I have that picture on my computer!" I thought he was joking at first, but he explained how he has several photos in a screensaver on his desktop and mine was "right there in the middle!" I was blown away! I shared the news with Kathie and she said it made her night too as I know she is a huge Robert Irvine fan. As you can see, Chef Irvine is truly one of a kind and all in attendance were just so grateful for his generosity.
Oh, and did I mention he bought us all tequila shots? Yes. This was the very good stuff…but being the lightweight that I am I could only do a sip! We would've been happy just spending some time with him but again, he went above and beyond and made us all feel special. Each fan that came up was able to get a photo or two and a word – even indulging requests to 'show us his guns' as we all swooned at his famous biceps (which he let us know were named "Casualty" – on the right and "Cemetery" – on the left because "If I hit you with Cemetery, you won't be waking up" not that I'd ever think this gentle giant would hurt a fly!) Chef also shared with us that his next adventure was flying to Canada for the Make a Wish Foundation – one of his three charities of choice, the other two being armed forces and veterans. He said he's loved coming to Disney for the past 4 years because of the people and how everyone works so hard to make it such a wonderful place. Chef Irvine was truly a class act, gracious and imploring us to do something nice for someone we don't know, each day, to make the world a better place. Will do, Chef. Will do.
Huge thanks to Robert Irvine for a wonderful evening! If you're in the Hilton Head, SC area, look for Robert Irvine's eat! to experience some of Chef's recipes first hand. Also be sure to watch for his new series Restaurant: Impossible, coming soon!!