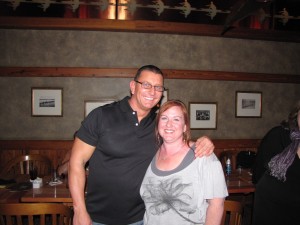 As you may have seen on twitter and facebook, a few friends and fans of Chef Robert Irvine of Dinner: Impossible fame were treated to an informal and cozy little meet up at the Crew's Cup Lounge inside Disney's Yacht Club Resort. I have to thank Amanda Tinney for informing me of this hush-hush event, put together in part by Marc Bigbie and another facebook fan of the Chef. The meeting was kept quiet for the purposes of not having the chef mobbed by fans, camera flashes and questions (otherwise you can be sure that with three local bloggers in attendance – myself, Amanda, and Leigh Caldwell from ThemeParkMom.com – we would've spread the word!).
At first there was question as to whether the chef would make it over, as he was still filming and I guess had been stopped by many fans along the way. A man of his word, Chef Irvine did indeed show up and was extremely kind and appreciative that all of us had waited for him. So often you hear stories of celebrities having a different personality in real life or being too 'big' to bother with fans but that couldn't be further from the truth here. Robert Irvine is as funny and warm-hearted in person as he is on his show. It would've been all too easy (and understandable!) for him to say, after a long day of shooting, "Sorry, I can't make it". Obviously he didn't say that and we were so grateful for his time!
[Read more…] about Chef Robert Irvine Loves Helping Others, Meeting Fans and DISNEY!