You may remember my review of my last Tables in Wonderland experience at The Wave in Disney's Contemporary Resort. It was so spectacular, I had to take my husband to the next event. Lucky for us both, it happened to be at Raglan Road Pub at Downtown Disney at  $115 per person, which included the entire meal and wine service as well as a signed cookbook from Chef Kevin Dundon, who would also be on hand cooking. Just looking at the menu got both of us excited since we just love Raglan Road in general. Let me recap the evening for you  – with pictures of course!
I was curious as to how we'd be seated for the night, since I knew Raglan Road did not have a closed-off area and the event was for 63 people. For those who've not yet been, throughout the restaurant you will find antique furnishings, grand fixtures, marble adornments, leaded glass, and ornate detailing.  The entire pub was built in Ireland then shipped to Orlando. As we arrived, the Irish band was just taking the stage.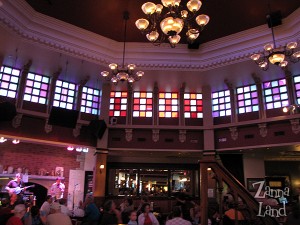 We were taken to the Raglan Room to the left of the stage and bar. This oak-paneled room was built using original woods from an old Georgian mansion in Dublin. It was nicely intimate while still enjoying the ambiance of the rest of the venue.When we were seated, we found some nice items waiting for us.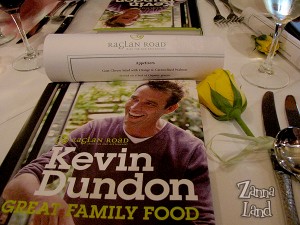 There were both large and small tables throughout the room. We were seated at a table for six. Like most group seating at Disney, there is usually an instant topic of conversation because of course, we are all fans of Disney. In this case, added to that was the fact that we were all lovers of food and wine and looking forward to the evenings selections. Soon our first choices were offered – wine and appetizers.
We were given a choice of 14 Hands Merlot, 14 Hands Cabernet Sauvignon, or Terrazas Torrontes. My husband chose the Merlot and enjoyed it while I had the Torrontes and proved yet again that I do indeed like good wine. Our next choice was between an appetizer of Goat Cheese Salad with Orange and Caramelized Walnuts served on a bed of Organic greens or Crispy Filet of Fresh Atlantic Salmon served in a Saffron Broth with Stewed Grape Tomatoes. I chose the former and my husband chose the latter.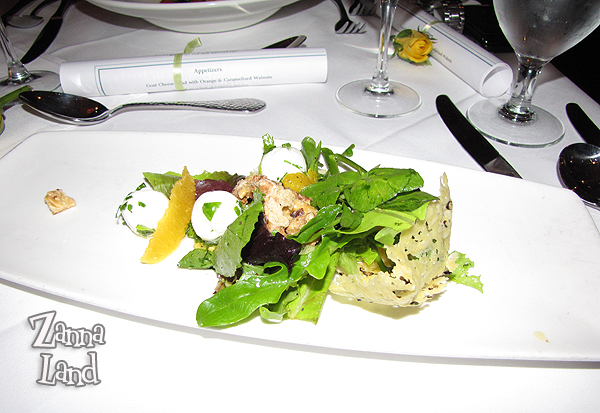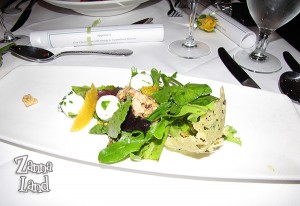 I cannot adequately put into words how well the components of this salad worked together. Individually, they were all wonderful, but when you combined the goat cheese with an orange, it burst with flavor. With the caramelized walnuts, it was a whole new taste and with the little peppered Parmesan cheese crust, another completely different and delicious combination. Pretty much perfection in a salad!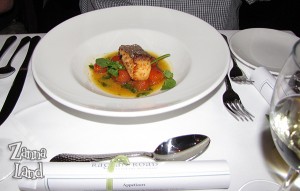 Here I have to admit that I am not a salmon person. I have tried it so many times and I just don't enjoy it. However, my husband insisted I had to try this, and he was right. It really was wonderful. Even the tomatoes (which I also do not usually like) just melted in your mouth.
Next up, the soup that both of us were so looking forward to – Delicate Lobster Bisque garnished with Crème Fraiche and Lobster Meat. I don't think any of the diners were prepared for the amazing presentation of this dish: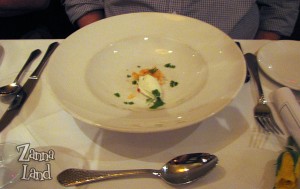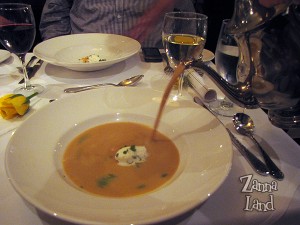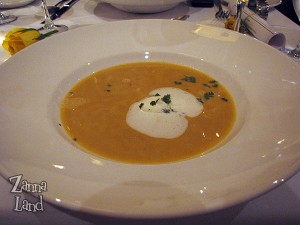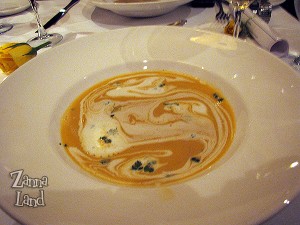 Now I have to say, I could've gone home at this point completely satisfied, everything was so wonderful. The entrees were soon on their way and we had another choice here: Roast Loin of Lamb with Dauphinoise Potatoes and miniature Lamb Pie or Oven-roasted Turbot with Crispy Potato Scales and Caper Vinaigrette served on a Leek Fondue. My husband chose the lamb and I the turbot.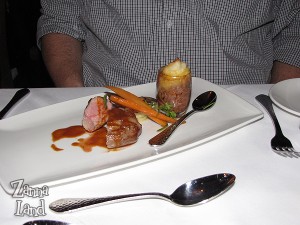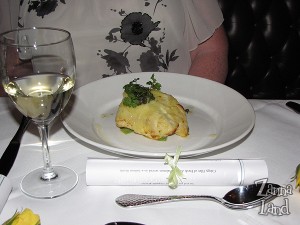 And just when you thought it couldn't get any better, dessert was individual mugs of Baked Chocolate Fondant (very similar to a chocolate souffle to my non-expert palate) with Stout-flavored ice cream. Again, presentation was all part of the experience here: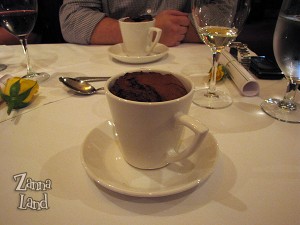 After desserts were served, we were all brought an Irish coffee which was a nice nightcap to the evening. Plates of hand-made Irish truffles were then also brought out to each table.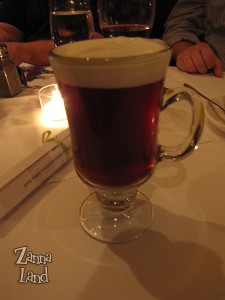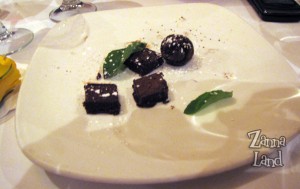 After the final desserts, Chef Kevin Dundon came out and spoke to each person at every table. He was extremely personable and open to discussing the dishes and his work. It was a nice treat to meet the chef behind the creations we'd just enjoyed and Raglan Road Pub's menu as well.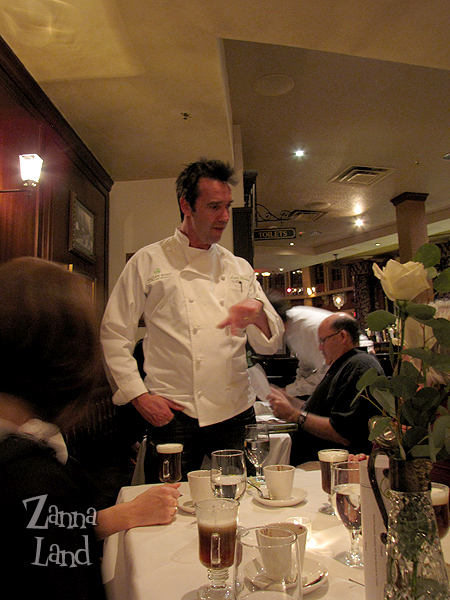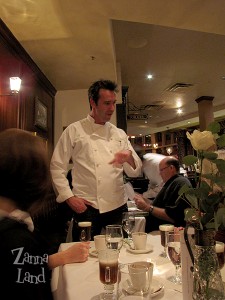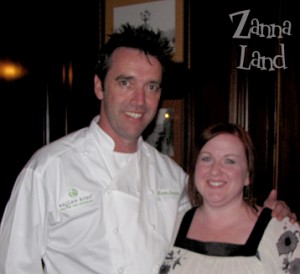 All in all, it was a simply spectacular evening. I was so happy to be able to enjoy it with my husband. It has been a long time since we've experienced such a gourmet meal alone together. I would like to personally thank Chef Dundon and the staff at Raglan Road for the impeccable service we received. This night differed from the previous Tables in Wonderland event I'd been to in that it was a little larger and more focused on overall flavor combinations versus the one or two ingredients that the prior event featured. I'm really glad I was able to experience both and that's just part of the benefit to being a Tables in Wonderland member!
I would have had this review posted sooner, but I had been trying in vain to get an interview from the exceptionally busy Chef Dundon. Finally I decided to just share the experience with you all and hopefully I'll be able to post the interview sometime in the future (maybe even with a signed cookbook giveaway too!). Be sure to let the Raglan Road twitter account you'd love to read Chef Dundon's interview on ZannaLand. 😉 UPDATE: The fine folks at the Raglan Road Pub twitter account informed me this morning that a response had been sent and to check my spam folder. I did and low and behold, there were the answers. Color me embarrassed! Stay tuned for Chef Kevin Dundon's interview and a book giveaway next week! Interview or not, look for more unique items like those featured here when you visit Raglan Road at Downtown Disney and more events like this from Tables in Wonderland!