Week 3 of our Meet Your Walt Disney World Moms Panel series brings us to another 2010 panelist – Kaylene J. I first "met" Kaylene as we all were awaiting news on the DIS Boards about who moved on to round 2 during the application process. I instantly felt a connection with her because she was from Massachusetts, where I'd grown up and considered "home" (outside of Disney of course!). I was following her story closely because I knew she'd made it to the final round the year before but not made the panel, so we all thought she was a shoe-in for this year. Thankfully, we were all right! 😉 Please enjoy getting to know Kaylene in her own words below.
Next week I'll start mixing it up and featuring panelists from the 2009 and 2008 panel as well as the 2010 panelists, so stay tuned!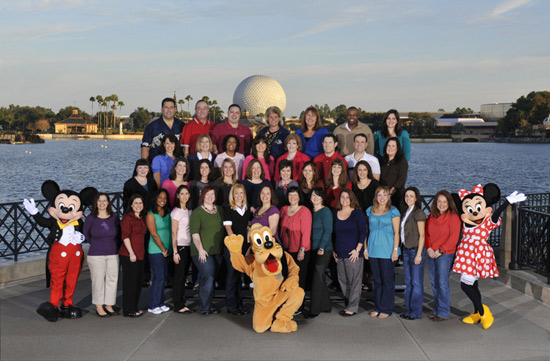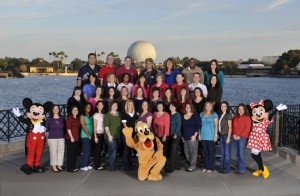 …
How did you first get interested in the Disney parks?
My first Disney trip was when I was a "tween". Later, my mother moved us to Florida and as a teenager I frequented the Parks often. It wasn't until I had children of my own though, that I truly fell in love with Disney World. Experiencing the magic through the eyes of my children…that is what sold me on it for life.
Besides Disney, what are you most passionate about?
First and foremost: my family. My world revolves around my husband and our children…and I wouldn't have it any other way. God has truly blessed me with an amazing husband who puts our family first as well. Our kids lead very active lives and their individual schedules are packed with school & sports activities. Our entire WDW vacations revolve around celebrating our immediate (and often extended) family. Vacations allow us priceless time together. We cherish each other's company, make memories, celebrate similarities and appreciate differences. We appreciate the chance to treasure our family in such a magical place.
Tell us about your family – are they Disney fans too? What are some of your most memorable family experiences?
My husband Steve and I are parents of 5 amazing kids. Three girls ages: 18, 7 & 5 and two boys ages: 14 & 9. We are all huge Disney fans. We joined Disney Vacation Club to ensure our family a lifetime of Disney memories. We find that Disney has a way of popping into our daily conversations in our house…from the kids "finding hidden Mickey's" in their food to discussing our next trip.
A few memorable Disney experiences would be:
Our youngest is very shy (she always has been). When she was 3, I told her we were going to eat breakfast with Winnie-the-Pooh at the Crystal Palace. She is huge Pooh fan and so when she told me that she was going to "give Pooh a bear hug", I thought that would be sweet. However, she generally hides behind me when in public, so I didn't have high hopes for character interaction. Well, when Pooh came along…she JUMPED out of her seat and wrapped her arms around him…I was teary. I tell people all the time that Pooh brought her out of her shell. She followed suit when Tigger, Piglet and Eeyore came along. At 5 years old, she's still pretty shy now…but Disney characters have a magical way of making even the shyest of children feel comfortable.

We often have extended family join us on our Disney vacations…so Grand Gatherings are a common occurrence for us.  Several years ago, my (now 7 year old) wanted to ride Tower of Terror with her Granny. Well, my Mom wouldn't even ride the Tea Cups when I was growing up. However, she wasn't about to let her little granddaughter down…so she went on Tower of Terror with us. We will all remember that forever.

I truly have countless "favorite Disney memories". Many involve a different child, and sharing special magical moments with them.
What is your dream job (Disney or non-Disney)
As much as I love Disney, my husband doesn't want to live in Florida. Therefore, working at Disney World isn't an option for me. Having spent several years in the Lodging industry as a Hotel Front Office Manager, I have always enjoyed helping people make the most of their vacation time. Currently, being on the Moms Panel, I am able to help people plan their Disney vacations … which ties in 2 of my favorite things: Helping others and Talking Disney. Someday I hope to own a Bed and Breakfast by the Sea.
However, IF I could work at Disney, I would love to be a "Dream Maker". During our Moms Panel Training Trip, we had the pleasure of learning about the wonderful people who work for Disney Florists. Hearing how they get to "add Pixie Dust" to vacations, helping to pull off big birthday surprises, engagements, "welcome home from Iraq" celebrations, making dreams come true etc…that all sounds so exciting to me. I would really love being able to have a personal part in something so rewarding, right at Disney World. In fact, that's something I am really enjoying about the Moms Panel…I'm helping to sprinkle a little extra magic on people's Disney vacations. Just knowing that their trip will be a little more special because of a tip that I shared with them…I find that very rewarding.
What is your favorite Disney restaurant and why?
Gosh, this is a TOUGH question. Disney Dining plays a huge role in our vacations. Our family has several traditions that involve "must-do" restaurants. Many of our treasured memories involve Disney Dining, these meals are highlights of our trips. My husband and several of my kids list Boma as their favorite. The selection of food and the atmosphere are hard to beat. As much as I love Boma, I think if I had to choose, I'd say that Le Cellier is my favorite for dinner. The pretzel bread is delicious and the filet mignon is very tender. Then again, on my last trip, I had the pleasure of eating at Citricos. Wow…the food there was amazing. I actually think Citricos may be my new favorite restaurant and I can't wait to take my husband there.
What is the first thing you do when you arrive at Disney visit? What is your MUST DO during each visit?
We actually mix things up. We often will hit Magic Kingdom as our first Park to visit…but beyond that, we don't have a "do this first" tradition. We MUST eat breakfast at the Crystal Palace. We have done this on every single trip. The breakfast buffet selection is fantastic, the atmosphere is beautiful and the character interaction is superb. We also MUST watch Wishes and ride Tower of Terror together.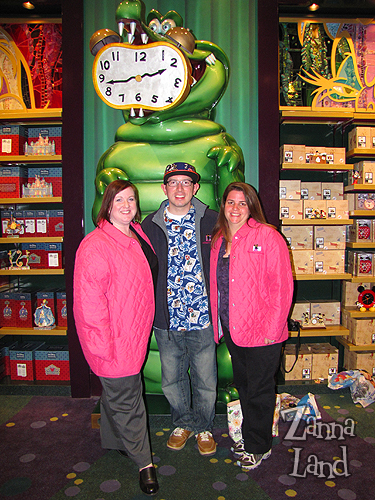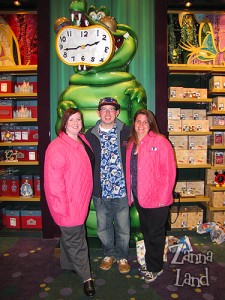 What do you wish there were more of at Disney? Less?
I wish there were more economical lodging options for a family of 7. We joined DVC in order to not have to rent 2 rooms on each trip. Our oldest won't be joining us on our next trip (because she'll be in college), so we plan to try out the Fort Wilderness Cabins. It would be nice if there was a standard Deluxe Resort room that could sleep 6. In fact, I find myself answering a lot of questions on the Panel from family's with 4 or more children…they have trouble finding accommodations that don't require 2 rooms. Less? Nothing comes to mind.
What type of music are you into?
Anything but rap. I have a special place in my heart for '80's music, though.
What's the last book you read that you really enjoyed?
My oldest daughter was assigned "Nineteen Minutes" by Jodi Picoult for her Summer Reading last year. I initially decided to read it along with her to make sure she was really reading/comprehending it (LOL). Turns out that I couldn't put the book down…as heart wrenching as the story was…it definitely held my attention. Honestly though, I don't think this book was appropriate for a Senior in High School, but nobody asked my opinion when they assigned it, LOL.
Describe YOUR perfect Disney vacation (could be solo, with family, friends anything, no limitations).
My perfect Disney vacation would be a massive Grand Gathering. It would involve my immediate family, as my well as my kids grandparents, aunts, uncles and cousins. I can't think of any place more Magical to bring a family together. It is SO much fun to celebrate at Disney with multiple generations (one time, my youngest was 3 months old and the oldest was 70 years old). We would stay at the Yacht and Beach Club, as it is my favorite Resort. I love the proximity to Epcot and the boat ride to DHS. Stormalong Bay is the best. We'd stay for 10 days, spending 2 days in each Park and a day in each Water Park as well.
What is an interesting tid-bit or surprising fact about you?
I grew up with 5 brothers (the only girl) and can throw a football better than most guys I know. Also, I have lived in all four corners of the United States: NE (Maine, New Hampshire, Mass.), SE (Florida), NW (Oregon) and SW (Las Vegas, NV). I've visited 41 of states so far (most of my extended family has never left New England, so I've been determined to see as much of the country as I could).
Anything else you would like to add?
I met Steve while working as a Hotel Front Office Manger in Lake Tahoe. In fact, I hired him (!) and over a year later we began dating. He had to switch departments…and the rest is history. He proposed to me on a horse-drawn carriage in Central Park, NY because I had once told him that I dreamed of riding on one of those. We were married at Portland Head Light (house) in Maine because I love the Sea and Lighthouses. My oldest two children were 3 & 7 when we were married, and he has loved and raised them as his own since that day. While we share 3 biological children, we are parents of 5 beautiful amazing kids and our children all know that family is not defined by biology but by immeasurable, unconditional love.
A few of my favorite things (besides my family and Disney) include: Lighthouses, New England Patriots, Boston Red Sox, lazy summers on Cape Cod spent relaxing on the beach, Sunsets, Coffee Ice-Cream drizzled with Caramel, Italian Food, Freshly Blooming Lilacs in the Spring and Daisies.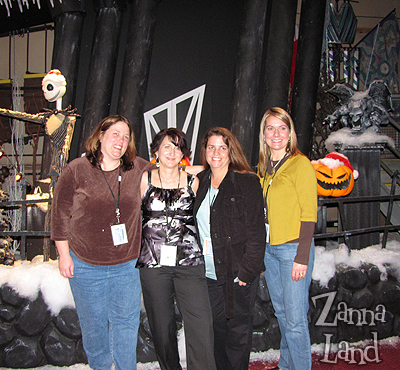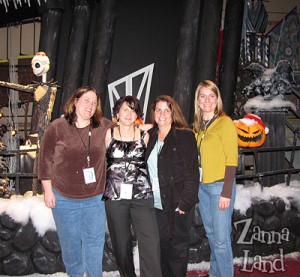 One more thing I would like to add: Being on the Moms Panel is the realization of one my most precious dreams. I initially applied in 2008, and made it to the second round. In 2009, I made it to the Finals and completed the phone interview process. I was not selected to serve that year, and I was devastated. However, I quickly dusted myself off and prepared to try again. I just *knew* that I was supposed to serve on the Panel…to share my passion and Disney knowledge with others. So when the 2010 application process came around, I poured my heart into it once more. I have always taught my children to chase after their dreams…and to never give up, no matter what. Walt Disney was so right when he said, "If I can dream it, I can do it." Three times was the charm for me…it happened when it was meant to be.
In retrospect, I know that everything happens for a reason. My youngest would not have been ok with me leaving for training the first two years (now that she is a little older, she understands more). I've been able to use this experience as a wonderful life lesson for my children. "Don't EVER give up on your dreams." In addition to seeing my dream come true, I have the privilege of serving with some of the most amazing people I've ever met. I am honored that they are not only my friends…but we've become family. I encourage everyone out there who dreams of being on the Disney World Moms Panel to keeping trying.
…
Thank you so much for sharing a bit more with us, Kaylene! Remember to look for Kaylene at the Walt Disney World Moms Panel, where you can ask her all your Disney World vacation planning questions. You can also keep up with Kaylene on her blog, Memory Maker Mom – Five Times Blessed and on twitter @memorymakermom. And just maybe you'll see her the next time you visit Walt Disney World, too!