Antelope, Giraffes and Zebra, that's who! And that is just a few of the many animals you can see right from the windows of Sanaa (pronounced Sah-NAH) the newest restaurant at Disney's Animal Kingdom Lodge. Sanaa is located in the Kidani Village section of Animal Kingdom Lodge, a new area built for Disney's Vacation Club members. Kidani Village contains studio, 1 or 2 bedroom villa suites. This area has its own lobby and check-in area, its own pool and recreation area and its own savanna, viewable from many of the villas as well as Sanaa itself.
While the lobby area is not as breathtaking as Jambo House (the original Animal Kingdom Lodge section) it is still quite beautiful. It is more cozy. However, you will still be in awe as you walk down the spiral staircase to Sanaa and get your first glimpse of the savanna. The staircase itself is beautiful, and the thatched roof above this area is amazing. After you check in for your reservations at Sanaa, feel free to explore the hallway directly behind you. It is beautiful on its own and you can see the animals from all the windows. There is a viewing area outside, where you can walk out and see the animals closer without glass to get in the way. There are cast members out there to ask questions and a firepit for late night story-telling.
As we were brought to our table, we were told that Sanaa was meant to represent a marketplace – the decor is to look like the trees of a village and a colorful marketplace within it. We were lucky enough to be seated right at a window. Our server welcomed us and carefully explained how the menu at Sanaa worked, with its special entrees and drinks. We instantly felt special and taken care of with the patience and attention we received. I would add that this was because we were celebrating a birthday there, but I was actually quick to notice that all the tables around us, with the same and different servers, received this same incredible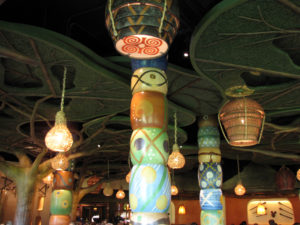 and attention. Our server brought over a covered cup with a glowing ice cube in it for the baby, to keep him entertained. The server next to us knelt down to explain to the 4 year-old at the next table which animals were out there and what they liked to eat. Our server later explained to my son the process of making naan bread, and how his pizza was made from that bread. "That must be why it was so good!" he replied to her. That is just part of what made Sanaa stand out as a truly "Disney" experience.
We ordered the Indian Bread Sampler, where you pick 3 types of breads and 3 accompaniments. The bread choices are Naan, Roti, Paratha, Paneer Paratha. We chose all but the Roti. The accompaniments to choose from are: Mint and Onion Raita, Cucumber
Raita, Coriander Chutney, Mango Chutney, Garlic-Ginger Pickle, Mango-Lime Pickle, Roasted Red Bell Pepper Hummus, Tamarind Chutney. Your server can explain better than I the differences between all of these choices, but we went with the Cucumber Raita, Hummus, and Garlic-Ginger Pickle. We loved them all. I highly recommend this sampler, because there will be something for everyone and at the very least, you can share plain naan with your picky eaters.
We also ordered the Mustard Seed Crusted Scallops with a coconut cream sauce. I am a sucker for all things coconut, but even if you are not a fan, it's not an overpowering coconut flavor. These scallops were perhaps the best I've ever eaten. They were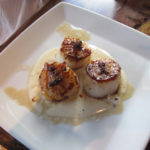 perfection on a plate. I would go back and order 2 orders for an entree, they were that good! I definitely want to try the Samosas next time though, because I'm sure they are delicious too.
For an entree, I ordered the Tandoori Chicken. I have had Tandoor chicken many times before, so I knew I couldn't go wrong with it. To my surprise, it came already off the bone and in fork-sized pieces. Perfect! It came with your choice of Basmati rice or 5-grain Pilaf. "From the Tandoor Ovens" also has a shrimp or lamb chop option rather than the chicken.
Other menu options include slow-cooked meats, or a vegetarian option as well, including chicken or shrimp curry, paneer cheese and spinach, or beef short ribs. Also available are African Cooking with Indian Flavors, which feature Cornish Game Hen, Strip Steak, Dum Biryani and a Sustainable Fish, which changes nightly.
Our meals were just fantastic, and though were worried about my picky 10 year-old, as you read, he loved his naan pizza. My daughter enjoyed her Meaty Macaroni made with ground turkey as well. The problem with dinner was that we were so full from the delicious appetizers and entrees that we had no room for dessert, which, if you know me and my family at all, is shocking.
As we dined, various animals strolled past, stopping to eat some strategically placed hay, or hanging out by the trees further back. We loved watching the Antelope *right* outside our window. Soon many friends joined and later the far-off Giraffes came by to say hello. In the distance we could see Wildebeests, Zebras, and the long-horned Ankole Cattle. We saw Ostriches off to the side and Red Crown Cranes came up closer than any other creature, since they could fly around the little unobtrusive barriers set up so you don't end up having Wildebeest for dessert. Even the server remarked that there was an unusually large turn-out of animals that night.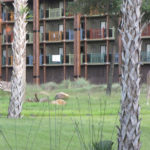 While we were enjoying the view, we started to hear drums from the front of the restaurant. I thought they must just do a musical presentation, but as we continued to watch, the drummers paraded through the restaurant and over to a table where they sang a Sanaa version of Happy Birthday. I thought that was really impressive, but then they came over to our table for my mom's birthday. They sang the song again and it was SO moving! Way different than a plain ol' Happy Birthday by weary servers that you usually see in restaurants. Everyone was clapping along to the beat and looked genuinely excited for your celebration. After the song, a hostess handed my mom the Disney birthday card that you usually get, signed by various characters. However – this card was signed by every member of the front of the house staff, with wishes in their native language. I just thought that was the coolest thing ever. As a result, I *highly* recommend Sanaa for a birthday celebration. I know that's where I'm headed for MY birthday this year.
All in all, our experience with Sanna was a marvelous one. I have been singing its praises ever since to anyone that'll stand still. I loved it there, and so did the whole family. It is not just a place to eat…it is an experience – one which you'll likely treasure for years to come. If you are planning a trip to Disney World, include Sanaa in those plans. If you do, I'd love to hear your thoughts. Oh! I almost forgot – on our way out we stopped at the restroom. I'm not sure I've ever said this about a restroom or not, but it was GORGEOUS. Beautiful dark wood and stone…just beautiful. Make sure you make a stop there before you go! 😉
All photos are ©Zanna DiMarzio under Creative Commons license – more photos available at Flickr.