For those unfamiliar with The Secret World of Arrietty, which opens February 17, 2012, here is the official synopsis:
Residing quietly beneath the floorboards are little people who live undetected in a secret world to be discovered, where the smallest may stand tallest of all.  From the legendary Studio Ghibli ("Spirited Away," "Ponyo") comes "The Secret World of Arrietty," an animated adventure based on Mary Norton's acclaimed children's book series "The Borrowers
."
Arrietty (voice of Bridgit Mendler), a tiny, but tenacious 14-year-old, lives with her parents (voices of Will Arnett and Amy Poehler) in the recesses of a suburban garden home, unbeknownst to the homeowner and her housekeeper (voice of Carol Burnett). Like all little people, Arrietty (AIR-ee-ett-ee) remains hidden from view, except during occasional covert ventures beyond the floorboards to "borrow" scrap supplies like sugar cubes from her human hosts. But when 12-year-old Shawn (voice of David Henrie), a human boy who comes to stay in the home, discovers his mysterious housemate one evening, a secret friendship blossoms. If discovered, their relationship could drive Arrietty's family from the home and straight into danger. The English language version of "The Secret World of Arrietty" was executive produced by Kathleen Kennedy and Frank Marshall, and directed by Gary Rydstrom.
I was lucky enough to be able to see a preview screening of Arrietty last weekend. I should preface my review with the fact that I am a huge fan of Studio Ghibli in general and Hayao Miyazaki in particular. Arrietty has been out in Japan as The Borrower Arrietty
for quite some time and now the American English dubbed version is coming to theatres. I was quite pleased with the voice acting from Amy Poehler, Will Arnett and David Henrie, and thought they seemed to fit their characters perfectly. As usual, however, the real star of the film is the animation and with it, the story.
Compared to the Miyazaki films of My Neighbor Totoro, Spirited Away, Howl's Moving Castle and Ponyo, the animation in Arrietty is not as breathtaking visually, but it is no less amazing, if you watch for the details. Some little things that made me smile; when Arrietty's mom pours their tea into dollhouse-sized cups, she is not just pouring liquid like we are used to doing – the tea looks like a tiny drop of dew – because after all, that's how small their tea cups would be. When it began to rain, the drops on one of the stones outside look exactly like they do in reality – not tiny drops all uniform in size, but some larger than others, and all spreading out as the water soaks in to the stone. In addition, whenever you are seeing things from Arrietty's point of view, the sounds around her are all amplified, since, to miniature eardrums, that's how they would be heard. Brilliant little details that draw you into the secret world and truly make you feel a part of it.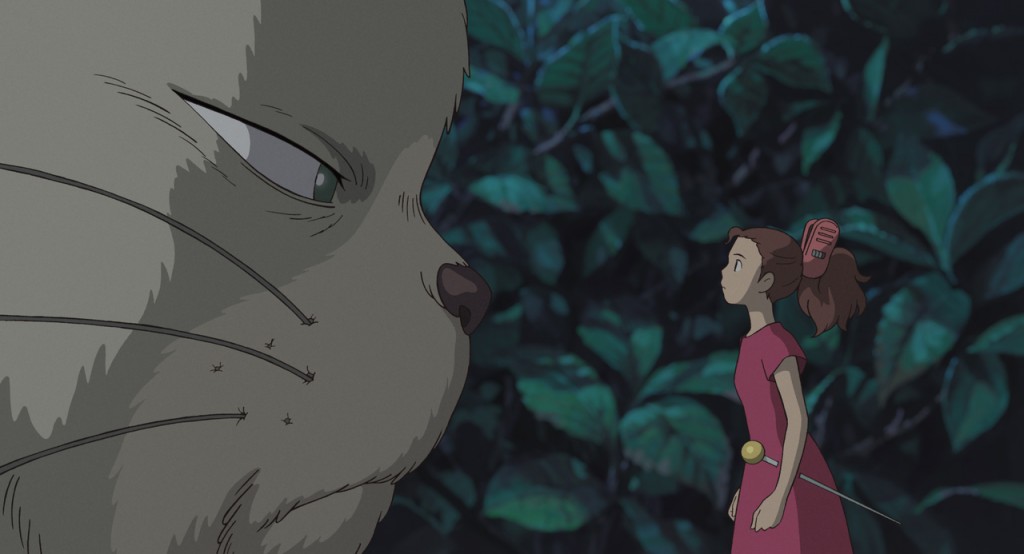 The story itself is one of family, friendship, trust, and hope. Arrietty learns that friendship can transcend differences while Shawn learns that it's never too late to have hope. And all the characters learn that sometimes the risk of trust is worth it in the end. It was a truly beautiful story wrapped inside layers of Japanese landscapes. There is just enough comic relief to keep the little ones, who may not be as entranced by the details, entertained and laughing.
The Secret World of Arrietty opens in theatres on February 17, be sure to bring the whole family to experience the world of the borrowers.