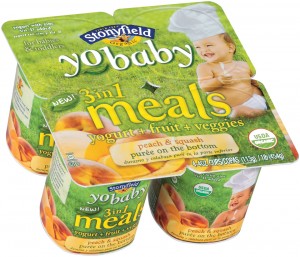 A while back I was given a chance to receive and review Stonyfield Farm's new YoBaby Meals. I was completely intrigued by this concept. I had been a YoBaby fan from when they first came out, when my now 11 year-old was a baby. I think he survived on YoBaby organic yogurts for breakfast or lunch for more than a year!
The difference with YoBaby Meals is they offer a unique 3-in-1 combination of protein-packed yogurt + fruit + veggie purée in one cup. They're an easy, delicious and surprising way to help moms give their babies and toddlers a trio of important food groups at every meal. They come in three delicious flavors – Pear & Green Bean, Peach & Squash, Apple & Sweet Potato – just right for baby's growing appetite.
When I tried YoBaby Meals my littlest guy was just under a year. He had already formed the discerning palate of 'if it's green, I don't want it' however. Surprisingly, he loved the YoBaby Meals! I was concerned that the flavor combinations might be too odd and he'd refuse them, but that was not the case. He loved each and every flavor we tried. His favorite was the Apple and Sweet Potato. The only issue I had when I tried them was that he couldn't finish an entire container at once. Stonyfield Farm has fixed that issue with their new smaller sized meals. They listened, and created the new size based on what consumers were requesting. It's that kind of personal involvement which is just one of the attributes of Stonyfield Farm.
If by chance you haven't heard of Stonyfield Farm, let me share that they are celebrating their 26th year and are the world's leading organic yogurt company. Their all natural and certified organic yogurt, smoothies, milk, cultured soy, frozen yogurt and ice cream are distributed nationally. The company advocates that healthy food can only come from a healthy planet. Its organic ingredient purchases keep over 100,000 farm acres free of toxic, persistent pesticides and chemical fertilizers that can contaminate soil, rivers and drinking water. To help reduce global warming, Stonyfield offsets all of the C02 emissions generated from its facility energy use. The company also started a nonprofit called Climate Counts (climatecounts.org) which shows people how they can help fight climate change by the way they shop and invest. Stonyfield also donates 10% of its profits to efforts that help protect and restore the Earth. For more information about Stonyfield Farm , its products and initiatives, visit www.stonyfield.com.
As part of my review, Stonyfield Farm is providing me with a GIVEAWAY for my readers!
One winner will receive:
1 Yobaby travel bowl with lid
1 Yobaby organic cotton bib
1 Eric Carle growth chart
3 free Yobaby Meals coupons
If you would like to enter the giveaway, follow the directions below–
STONYFIELD FARM GIVEAWAY
To enter, comment below sharing what Stonyfield Farm or YoBaby product you are most looking forward to trying. I'd love to hear if you've tried their yogurts in the past too, but that has no bearing on the contest winner.
Additional entries (please comment for each additional entry letting me know)
That's 6 additional entries for just a few clicks. Contest ends midnight February 25, 2010 and winner will be announced February 26, 2010. I will assign a number to each entry and use Random.org to pick a winner. Good luck and thanks for participating!
Disclosure: I was provided with coupons and free YoBaby meals for this product review, as well as the items for the giveaway. That did not affect my review in any way, my baby really liked them! I was also provided with facts from Stonyfield's press release for use in this post.