The Shop Disney Friends & Family Event is here! During this event, February 13-17, 2020, you can get 25% off your entire purchase online at ShopDisney.com! This is a great time to pick up some Disney favorites you've been spying or saving in your cart for later! I really love how you're able to get many of the great items available in Disney Parks online now at ShopDisney, it really gets me through the time when I can't make it to Disneyland for a while (not that I'm keeping track with a clock counter or anything…).
I know I'm not alone in my love of some of the Disney designer collaborations that have been happening over the past few years (some for a decade – like the Disney + Dooney & Bourke 10th Anniversary that happened recently!). To celebrate our mutual love, I thought I'd put together a list of some of my favorites, to see if some of the same things catch your eye. Of course you can always share some of your favorites that I've missed in the comments and I can add them to the list too!
Edited to add: Now that the Friends and Family Sale is live, I have learned some of the designer collaborations are not included in the sale, like Dooney & Bourke. Sorry for any confusion, I didn't know that when I was sent this info…But I have found some D&B bags that are on sale, so I've updated this post to share the ones that are currently on sale, and of course, any of the links will take you to ShopDisney where you can search for your favorites to stock up on during the sale, whether it's pajamas, plush, Funko Pops or more!
Disney Dooney & Bourke
Well let's start with the OG collaboration – Disney Dooney & Bourke. They have come out with SO many new designs, there seems to be one for every character or film or even snack at this point! I love that there are still some of the classic original designs available too. Here are some of my newest favorites (I've just discovered these bags are not on sale, but they are too pretty to take down, so I'm adding some that ARE on sale at the bottom):
Disney's Fantasia Dooney & Bourke this new design is gorgeous. I especially love the Fantasia tote design it's such a classic look!
The Disney Dooney & Bourke Pixar collection is brand new and adorable. All your favorites on one bag with some fun pops of color.
Of course, the recently released Disney Park Life design is a new and instant classic. All your favorite Disney park icons on a bright pink bag, it will definitely put a smile on your face. The best part is this design comes in more than just Disney Dooney & Bourke bags so there's something for the whole family. Here are a couple of Dooneys on sale. (You don't need a code for these, they are just reduced in price.):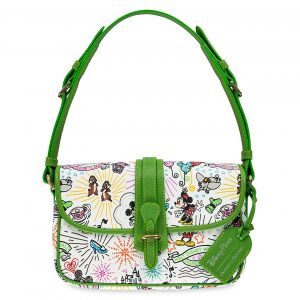 First on sale is one of the 10th Anniversary bags that came out last Fall – this bright new green color us such a perfect fit for Spring!
Speaking of Spring, the Dooney and Bourke Mickey and Minnie Floral Tote came out with last year's Epcot Flower and Garden Festival, and now it's on sale!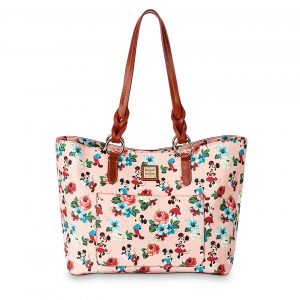 Disney Loungefly
The Disney Loungefly designs have been some of my favorite, they really are so creative, sometimes it's just a pattern of characters or items you know and love, other times, it's more of a "Disney Bounding" design, where the purse or wallet will look like the character it represents. Kind of like the Loungefly Bo Peep design below. This leads to some really cool items, and lots of conversation starters when you're in the parks (and out!).
Loungfly is mostly known for the classic Minnie Mouse sequined backpack design seen here, but they have many other fun styles too.
The Bo Peep Loungefly mini backpack is such a fun twist on her iconic look – pink and blue with "lace" trim and polka dots.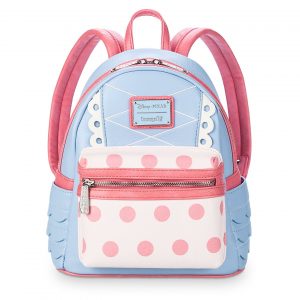 One of the newest designs is the fun Loungefly Pixar ball, in a crossbody bag. So bright and a perfect addition to a Pixar look with sequins and black accents.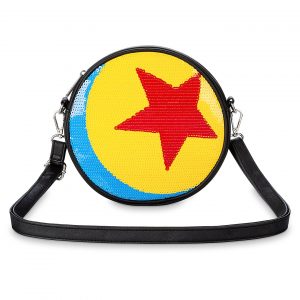 Baby Yoda
Of course it's not all about purses…it's also about BABY YODA (ok ok "The Child")  Everything is 25% off, so you can add whatever items you see and want to add to your Disney collection.  I mean, who doesn't need a Baby Yoda hat. I may have to get that one myself.
Hopefully that gives you a little motivation to take advantage of this 25% off sale for the Shop Disney Friends and Family Event.
How do you score 25% off?
Simply use the code "DISNEYPAL" in the promo code area at checkout! You can click any of the links* on this post to take you to ShopDisney and start saving with the Friends and Family Event! (*links on this page are affiliate links which is no extra cost to you, but zannaland may receive a small commission if you purchase anything, which helps offset our costs to keep bringing you new content.)
What Disney items do you collect? I'd love to hear from you below! And let me know if you're buying anything during this sale too! I wanna see your shopping scores! 😀