During a media press conference last Thursday, I was treated to some amazing previews of Disney Cruise Line's newest ship the Disney Fantasy. The Disney Fantasy is the second of two newly designed Disney Cruise Line ships that take the family cruise experience to new heights. Sister ship to the Disney Dream, which entered service in January 2011, the 4,000-passenger Disney Fantasy will sail week-long Caribbean cruises from Port Canaveral, Fla., with its maiden voyage scheduled for March 31, 2012.
There is so much to cover with the Fantasy, I'm going to break it down into a few posts. First up is the all new version of the classic restaurant featured on each DCL ship – Animator's Palate. On Disney's Magic and Wonder, Animator's Palate features a color-changing finale during dessert filling the room with classic and modern Disney characters in full color. For the Disney Dream which debuted in January of this year, Crush, the laid-back turtle from Disney Pixar's Finding Nemo interacted with guests at their tables, similar to Turtle Talk with Crush at Epcot. With the Fantasy, however, guests will be even more a part of the action and the magic…
"Animation Magic" at Animator's Palate
Animator's Palate on the Disney Fantasy brings the magic of Disney animation into the dining room with a new show called "Animation Magic."  The dinner show celebrates the magic of Disney animation and allows families to create and participate in a whole new way.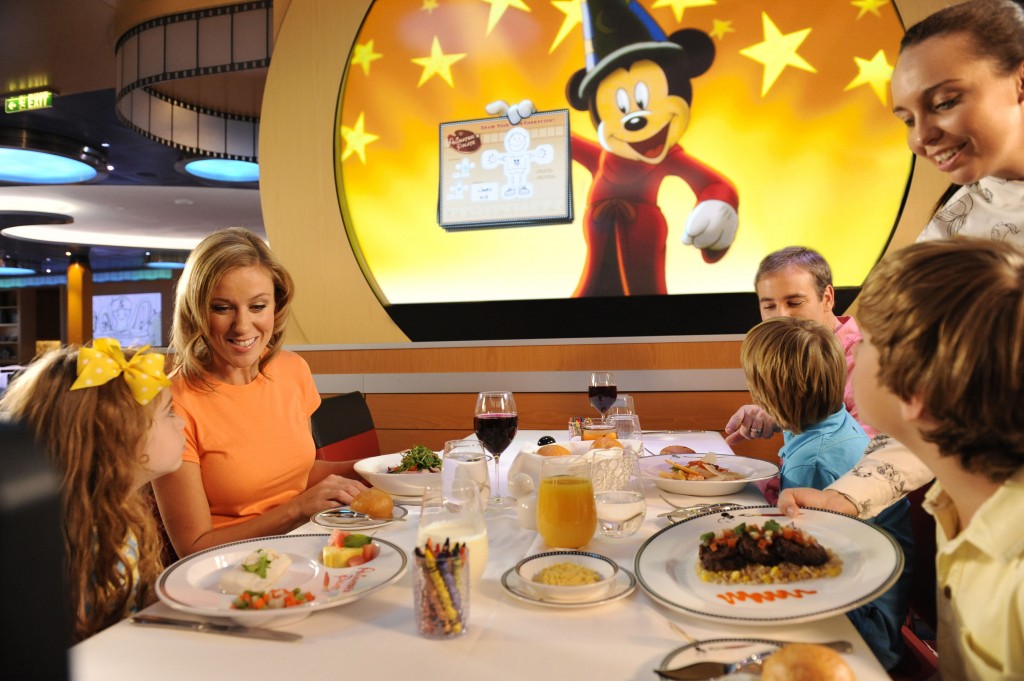 Like Animator's Palate on the Disney Dream, the venue is wall-to-wall whimsy inspired by a classic animation studio. Throughout the restaurant, pillars are fashioned like huge pencils and brushes. Character sketches, maquettes (three-dimensional character models), film strips and other tools of the animation trade adorn the room.  As a special nod to Mickey Mouse, the dining room chairs feature red and yellow colors and a trademark design – Mickey Mouse pants with two bright yellow buttons.
Upon entering Animator's Palate, guests are surrounded by artwork featuring their favorite Disney characters.  Guests get a sneak peek into the origins of these beloved characters through concept art, storyboards and character studies.
As guests are seated at their tables, they are invited to draw a character of their own using a simple template on their placemat.  Then, just before dinner, house lights dim and a sprinkling of pixie dust illuminates the room.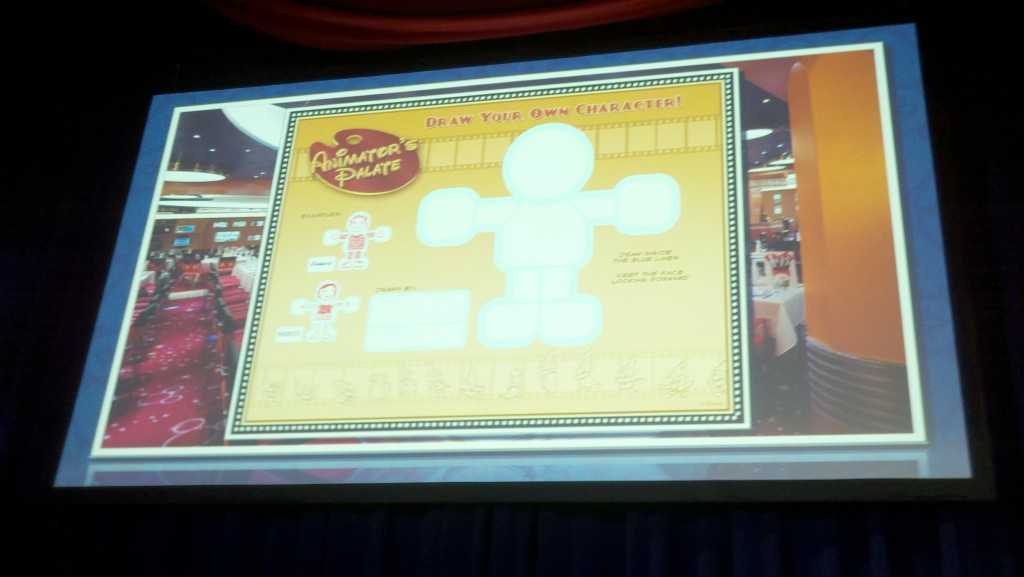 Imagery is revealed on several large monitors showing animated, black and white drawings of Mickey Mouse.  Mickey then places the Sorcerer's hat upon his head which transforms him, as well as all of the other pencil drawings shown throughout the room, from black and white to color.
Mickey then invites guests to sit back, relax and enjoy a taste of animation as a montage of memorable food-themed moments from Disney and Pixar films set to "Be Our Guest" begins to delight guests.  After the "Be Our Guest" number is complete, animated curtains are drawn on the monitors for a brief intermission. During this time, guests are encouraged to complete their own drawings, if they have not already done so, so they may be whisked off to Mickey Mouse who is conjuring a magical final act.
While guests enjoy dinner, the restaurant's walls fill with classic Disney and Pixar characters gathering food, eating and drinking together, and celebrating over meals.
After dinner, the animated curtains are opened on the screens and Sorcerer Mickey returns for the exciting finale.  With a flourish and musical crescendo, Mickey works magic as only Disney can do.  Mickey conjures the guests' drawings – now fully animated and brought to life – into the onscreen action.
A parade starts as Mickey leads the guests' drawings in a march across the screens around the dining room.  The animation of the drawings becomes increasingly more elaborate, and then the drawings step into scenes from beloved Disney movies and skip, skate and dance side-by-side with characters such as Mickey Mouse, Jiminy Cricket, Cinderella and Snow White.
At the conclusion of the show, Mickey returns to say "so long" to the guests and, as he does, credits roll on screen showing each guest's name listed as a guest animator. To commemorate the experience, each guest will have their character drawing returned to them, with an added touch… a golden seal proclaiming them an Official Disney Animator.
Check out this preview video I took at the press event showcasing the Be Our Guest song and guest animations:
The Disney Fantasy will depart on her maiden voyage March 31, 2012, and will sail out of Port Canaveral on seven-night Caribbean itineraries – alternating eastern (St. Maarten and St. Thomas) and western (Grand Cayman, Costa Maya, Cozumel). Special Eastern Caribbean sailings in November and December 2012 stop at St. Thomas and San Juan, Puerto Rico. All Disney Fantasy itineraries include a stop at Disney's private island, Castaway Cay.
Rates for the seven-night Caribbean cruise itineraries on the Disney Fantasy start at $959 per person for a standard inside stateroom, based on double occupancy. All pricing reflects a category 11C standard inside stateroom, Government Taxes and Fees not included.
To learn more about Disney Cruise Line or to book a vacation, guests can visit disneycruise.com, call Disney Cruise Line at 888/DCL-2500 or contact their travel agent.