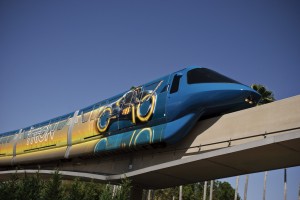 This week was not short on wonderful Disney blog posts, so let's get right to it and share a few that caught my eye – much like the fun new look of the Epcot monorail line caught my eye last weekend! Many thanks to Alex Goldman for the use of his photos here on ZannaLand.
Before we jump in though, let me officially announce here that ZannaLand is available in a mobile version at m.zannaland.com! If you are connecting on your phone, it should switch over to the mobile version, but if not (or if on an iPhone) you can just type in m.zannaland.com and it'll show you the mobile-friendly version. Enjoy!
…
Before you run off to read all those fun articles – I have a winner to announce! The Project Future book giveaway recipient was determined using random.org. There were 18 entries and lucky  number 9 was the winner – Charles Aguillon! Congratulations, Charles – I just know you'll enjoy reading Project Future. Thanks again to Mr. Emerson for providing the giveaway, which did not affect my prior review in any way.
Stay tuned for future giveaways including an exciting prize back from a Mr. Lou Mongello – you may have heard of him. 😉
Happy reading!