Following in the vein of Disney Cruise Line exclusive Dooney & Bourke bags, Disneyland park now gets its own special collection of these wildly popular handbags. Once again featuring Dooney & Bourke designer Ian Ray, Disneyland fans are sure to enjoy this newest offering from perhaps the most popular marriage of fashion and fun.
The bags showcase so many iconic images from the different silhouettes of Mickey through the years, to Mickey Mouse Club I.D. cards as well ticket media and famous phrases associated with 'The Happiest Place on Earth.'
Disney Vault 28 will be the first to offer these Disneyland® Resort Dooney & Bourke co-branded bags.  This fashionable collection highlights the essence of Disney with color, art and a nostalgic touch.
Click each picture below to head to the DisneyStore.com and purchase these bags!
Bags and prices are as follows:
Medium Tote
– $270.00
Small Messenger
– $ 255.00
Letter Carrier
– $155.00
Large Wristlet
– $70.00
Checkbook Wallet
– $175.00 (not pictured)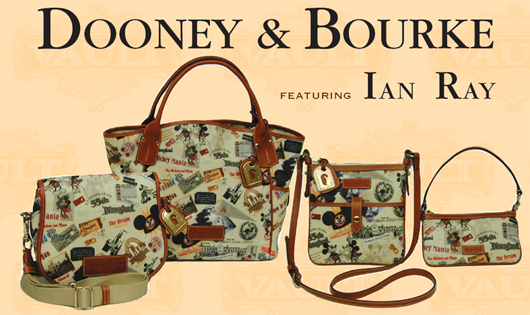 Don't forget to check DisneyStore.com for sales of select current released Disney Dooney & Bourke purses and Zannaland's Disney Dooney & Bourke page with ALL handbag photos and info.
*DisneyStore.com links are affiliate links, which means it costs you nothing extra to click or buy, but if you do, I get a small commission. Thanks for reading!