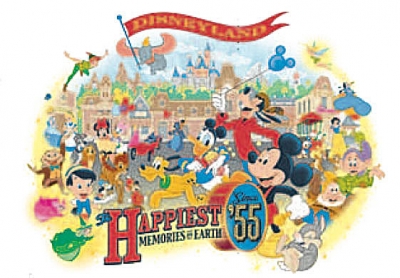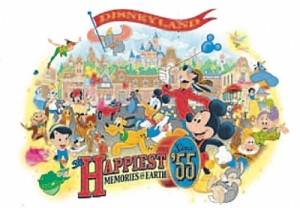 You might know, if you are a friend or family, that it is not unusual for me to be wishing someone a belated birthday (I sometimes think the pixie dust has taken over the memory cells in my brain). I'm sure you do know, Disneyland Park celebrated its 55th Anniversary on July 17th. I did remember, I swear, but I really wasn't going to post about it.
You see, I've sadly never been to Disneyland, so I have no memories of my own to share from there. I am hoping to change that soon (and if anyone wants to send my family there, we'll be happy to oblige! 😉 ) because I do think it a sacrilege to have not experienced Walt's original park and the history there. So rather than bore you with my talking about a place I'd never been, I was just going to let it go.
However, today I happened upon a video from someone who had taken their dad's old 70's movies of their visits to Disneyland and transferred them to video. She was apologizing for the quality of the film, but I saw it and thought it was perfect, even fitting in with the 55th Anniversary tagline of "the Happiest Memories on Earth". Of course, the music helps to bring a nostalgic tear to your eye – even if you haven't been there, being a fan of Disney parks can transcend location sometimes. I asked her permission to share the video here with all of you, in hopes you would enjoy and appreciate it as much as I do. It's wonderful to see some now long-gone attractions captured in one family's vacation. I know there are thousands of others out there with this same wonderful history, all thanks to Walt Disney.
So thank you, GrumpyCD for sharing your family's Disneyland memories with us:
What are some of your favorite Disneyland memories? Or are you like me and you're just waiting to create some?