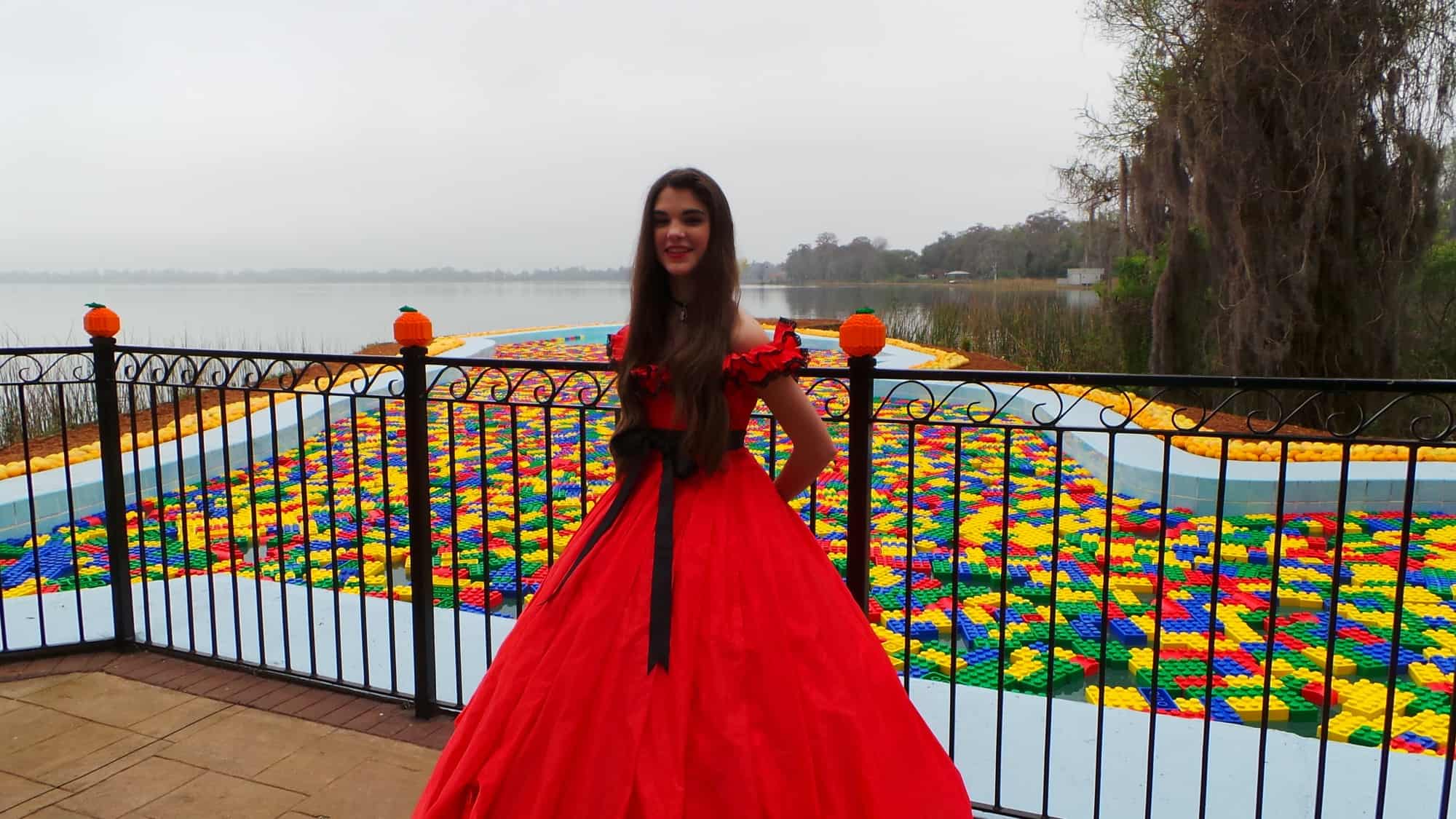 Readers of Zannaland are no doubt aware of my great love of Legoland Florida. I think this is due to the dual nature of the man-made vs. nature that is abundant at Legoland Florida. My children and I truly do enjoy the Legoland side on its own, but also the fact that Legoland has embraced the grounds and the history upon which it made its Florida home – the former Cypress Gardens.
Many who grew up in Central Florida any time before the 1990's probably visited Cypress Gardens at least once growing up. Over the years, the park had changed quite a bit since its 1936 opening by champion water skier Dick Pope and his wife Julie; these changes being a product of Walt Disney World making Orlando the hub of Florida tourism and leaving the many "old Florida" attractions by the wayside, quite literally. However, what remained the same were the beautiful, well-maintained gardens, native plants and trees which called Cypress Gardens home. The colossal Banyan tree, planted in 1939 became a centerpiece of the gardens, just as much as the Southern Belles who would dot the landscape, smiling and waving to visitors. Two other iconic spots were the Oriental Gardens and the Florida Pool, which until today had been closed off to the public as part of Legoland Florida.
The Florida Pool was first built in 1953 for the film "Easy to Love," starring Esther Williams, based on a man's successful water show at Cypress Gardens. Once the film was complete, Dick Pope decided to fill the pool with oranges, have some Belles pose with it, and use it as a promotional photo for Cypress Gardens (see below). Pope was instrumental in building Florida's tourism back in those days and was an amazing promoter in addition to running the park and choreographing the famous human pyramid water ski shows. His work led to Winter Haven being named  the "Water Ski Capital of the World." (As a side note, when I lived in Ocala, FL – I took swimming lessons with the daughter of Newt Perry. Newt was responsible for teaching Johnny Weismuller [who often worked with Esther Williams] his moves in the Tarzan movies-some filmed at Silver Springs, and for starting the Weeki Wachee mermaid attraction.)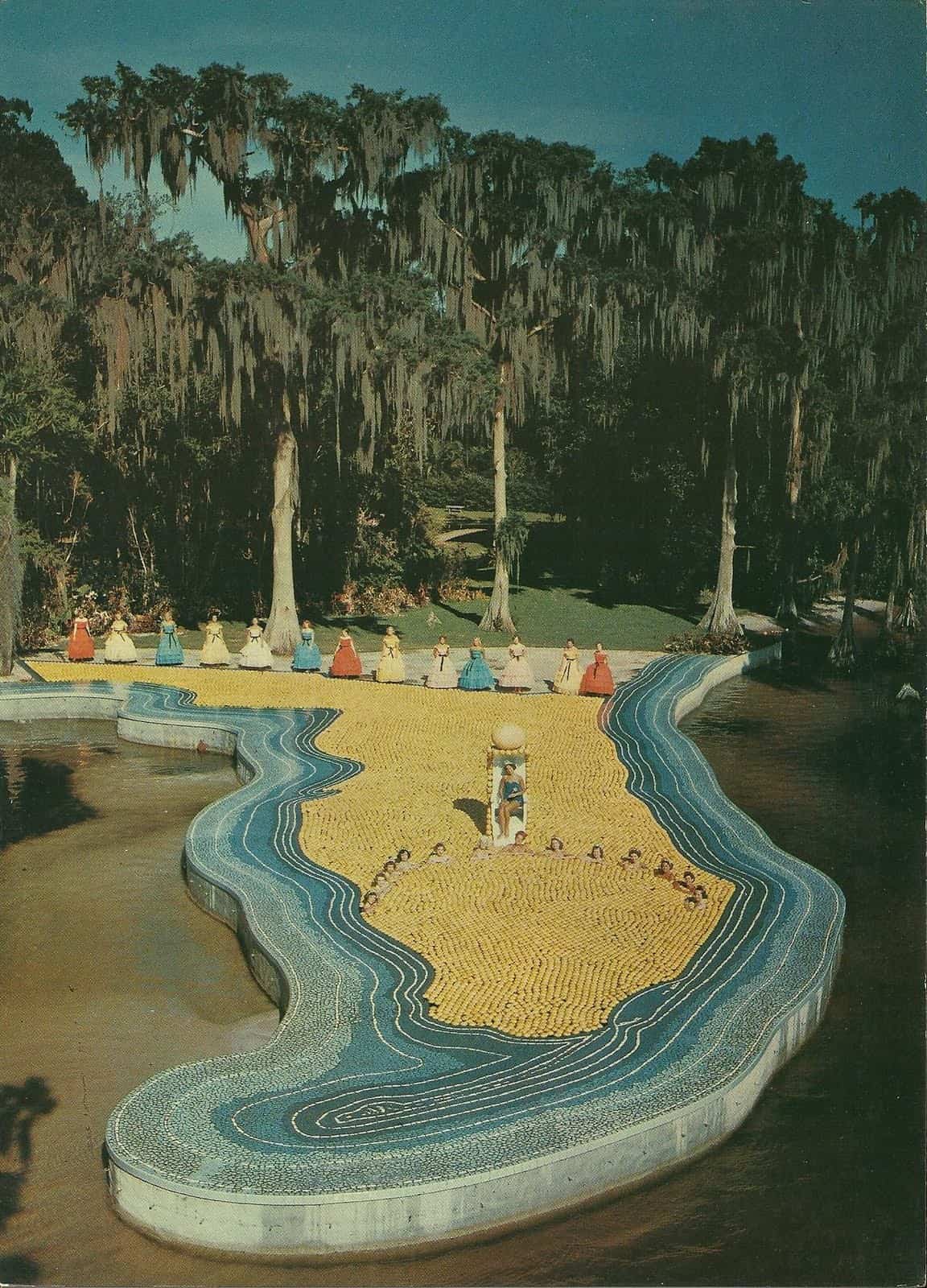 The other area which was reopened today was the Oriental Gardens. Known for its giant golden Buddha statue, the Oriental Gardens were in great disrepair and many of the pathways needed to be restored to be accessible to guests. Legoland has done that and it makes for a perfect area to meander and explore the beautiful plants and water features.
As Bob Gernert, former Winter Haven Chamber Executive Director said at today's ceremony, "The most exciting thing about this is it makes the gardens whole again. It makes it exactly what it was when Mr. and Mrs. Pope put the concept together so many years ago." I couldn't agree more.
Well, I could go on about old Florida all day, but lets get back to present times. Certainly part of why I love Legoland Florida so much and praise it whenever I can, is its commitment to keeping and now restoring the elements which made Cypress Gardens what it was so long ago.  Of course they did not have to keep the gardens. They could've bulldozed over it and filled the park with easy-to-care-for cement and low-maintenance plants. They could've let these areas sit and rot, with nothing remaining but fond memories…like some other old areas we know and love (*cough River Country cough*). But they didn't. They committed the time, effort and dollars needed to retain this beautiful Florida landmark, and keep up with its care, inspiring new generations to come and experience natural Florida. And for that, they are to be praised and admired.
At every Legoland event I've attended for the blog, company officials have always invited and partnered with local Winter Haven and Polk County representatives, fostering this feeling of family and community, which definitely shows when you are in the park. There are Legoland employees who were Cypress Gardens employees, and almost everyone seems to have a relative who was a former Belle, or water skier, or has some story to share about the history of the park and gardens. That is what makes Legoland Florida so very special and why I wish them nothing but success and support from all Florida visitors. Visiting Legoland Florida is completely different than any other typical Orlando vacation, and that's just wonderful. Many visitors may go for the Legoland side, the rides, the Mini Lands, the water park, which are all fun on their own (I could spend hours in the Mini Lands!). But hopefully once there, they will explore the Cypress Gardens side and see that there is so much more to Florida than rides and attractions, and that it's okay for both sides to exist in one theme park.
The Florida Pool has been cleaned and the tile restored, with water circulating again. The first step in the process, said Legoland Florida General Manager Adrian Jones, was getting a couple of alligators, who had taken up residence in the pool, out – which was done by putting some wooden boards in so they could get out on their own. The LEGO bricks you see in the pool photos below are just for today, and will be removed and brought back to the water park, where they normally float around the lazy river. I asked Adrian if they had any plans to restore the original tile work and while he agreed that that would be wonderful, they have other areas they are going to focus on within the park first.
Now, the canal boat rides may be on your mind as much as they were on mine as "what's next" for the park…and that may not be too far off. Adrian Jones said that is definitely the next big project, but that it is a multi-million dollar endeavor and will take some time. (I for one would totally be willing to pay an additional cost for a canal boat ride!) For now, the next step is to add little LEGO animals, butterflies and such to the newly reopened areas, and a children's path as well. I know I can't wait to take my own children back to Legoland Florida again to enjoy both the Legoland experience and the special, old Florida Cypress Gardens experience.
Cypress Gardens is included with general park admission. The best way to experience LEGOLAND Florida is with the LEGOLAND Florida Resident Annual Pass as low as $99 each. Pass members receive unlimited admission for 12 months to LEGOLAND Florida and free parking. For the most current information on special events, daily operating hours and to purchase tickets, visit LEGOLAND.com.