One of the wonderful things about the Orlando area is that there are countless attractions and activities for everyone. Medieval Times is a well-known show with locations across the country, where you know going in what to expect – a royally good time. Before you write them off as just being a show with knights on horses and no utensils, Medieval Times has just premiered an all-new show to keep things fresh and exciting. I could not remember the last time I had been to Medieval Times, I think it was when my oldest (now 13) was a wee one. However, now that I've been back, I can't wait to go again.
The whole Medieval Times castle is wonderfully themed and the time you can wait before seating begins is filled with knighting ceremonies, photo opportunities by roaming castle-dwellers, and merchandise to peruse. There are also three cash bars and a lovely "wine cellar" seating area which makes waiting for the show to start relaxing and fun. Soon the knights are announced and begin roaming around and taking photos before guests are called to their table by the color of their crowns they were given upon arrival. I was really impressed with the well-organized check-in process and reception area. It made my family and I genuinely excited for the night (and knights haha) ahead.
Once inside, service instantly began with servers explaining the evening's fare for us and how things worked. The menu is conveniently printed inside the napkin so you know what to expect. As recent vegetarians, my husband and I let the server know and we were and there were no issues with that. We were still able to enjoy the delicious tomato soup and garlic bread, and the main entree was a lovely combination of hummus and pita chips, a veggie kabob, wild rice and some of the potato wedges served with the regular dinner. I was pleasantly surprised. I do wish they'd have an alternative for small children though. My three-year old was not into any of the choices, and ended up eating bits of the bread and drinking orange juice for the night.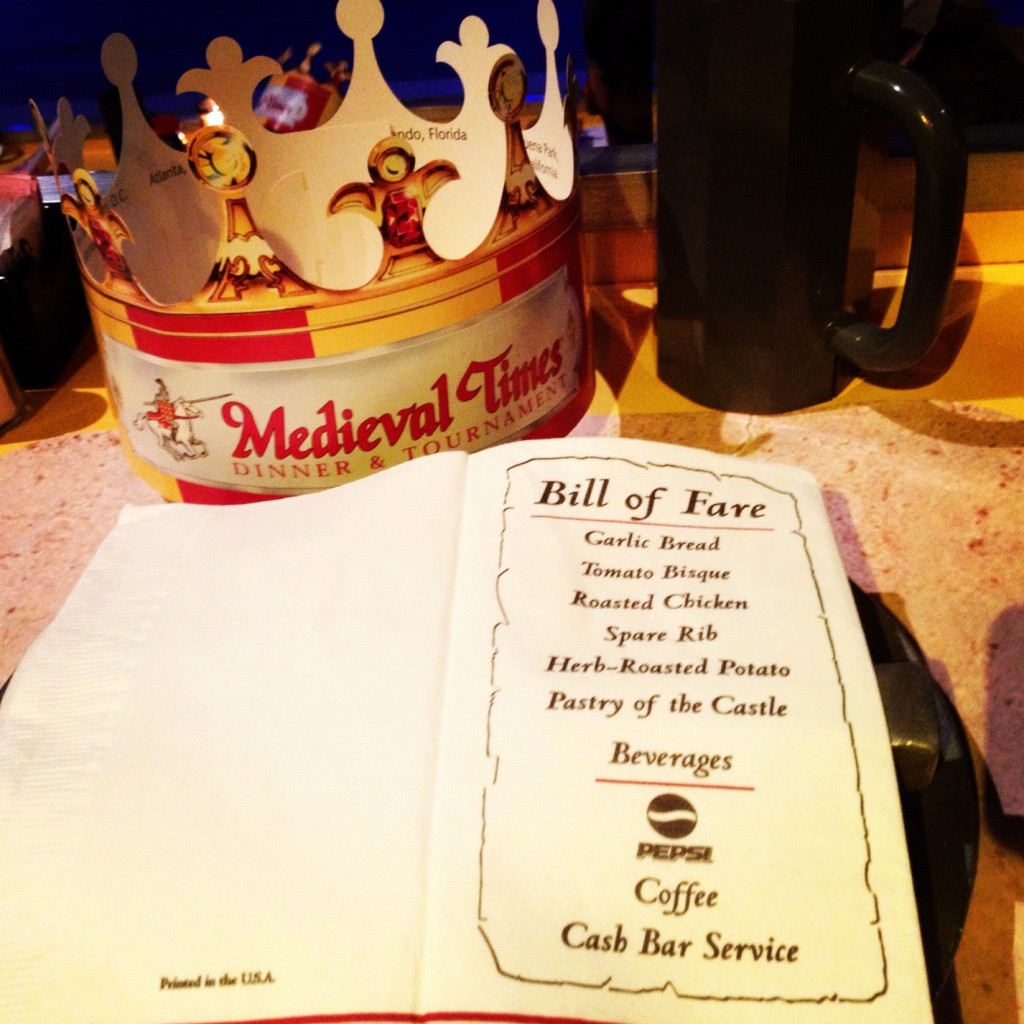 The new show was wonderful and definitely kept everyone entertained and happy. You'll still find the action-packed knight battles, but this time there is an invader from the north to liven things up and keep the show going even after the winning knight triumphed. There are also beautiful and amazing horses who perform in between battles and a falcon who flies around the entire arena. New costumes and an exciting new musical score round out the new show. It was a fabulous night of entertainment that had everyone cheering and on their feet by the end of the night. I can't recommend the show and the entire Medieval Times experience enough and I look forward to our next visit.
For more photos, check out the Zannaland Facebook page album – and see the new parts of the show too! (and feel free to "LIKE" my Facebook page while you're there!)
Check out more info at MedievalTimes.com and book your visit today online or by calling 1-888-WE-JOUST.
Guests also can find Medieval Times Dinner & Tournament on Facebook and Twitter.
My family and I were provided with complimentary admission to Medieval Times for this event, but as always, my opinions and thoughts were my own.