It's holiday time, and that means it's time to pick up some Disney swag for the main Mouse in your life. But what should you wrap up in pretty paper and put under the tree this year? Jen from MickeyFix.com has put together a quick list to help you select the perfect protection for your giftee's ever-present iPhone.
Best Disney iPhone Case for … Epcot Nerds

What do all Epcot nerds love more than a geodesic sphere? A retro-styled geodesic sphere! This Spaceship Earth iPhone case will not only protect your holiday honey's precious device, it'll also allow him to show off his unrelenting love of the Experimental Prototype Community of Tomorrow.
Best Disney iPhone Case for … Haunted Mansion Spooks

If the thought of damaging her iPhone gives your Mouseketeer hot and cold running chills, we have the perfect gift for her: this perfectly disquieting Haunted Mansion iPhone case. There's no turning back now …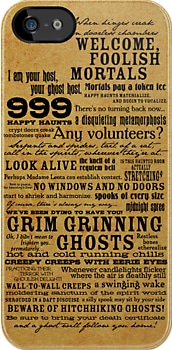 Best Disney iPhone Case for … Star Wars Geeks

This is not the case you were looking for … it's so much better! The Force is strong with this one, and your Star Wars geek will carry the Mickey Ear Death Star iPhone case with pride.
Best Disney iPhone Case for … Disney Dreamers

If thoughts of Pixie Dust and Neverland make her heart skip a beat, let her enjoy it on a daily basis with this Peter Pan iPhone Case. Just make sure she avoids that Hook…I hear he's no good. 😉
Which of these cases is right for the Disney obsessive in your life?
About the author:
Jen S. spends her free time chronicling v. cool Disney things over at MickeyFix.com. If you don't see something you like here, check out other Disney Gift Guides on Mickey Fix!