This summer, Pixar is opening a brand new pop-up experience in Manhattan.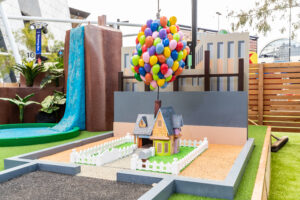 Pixar Putt is a new open-air mini golf pop-up, arriving in Battery Park's Pier A on August 1. Made up of 18 interactive holes inspired by some of Pixar's most beloved films, Pixar Putt is set to take guests to infinity… and beyond!
The pop-up will open August 1 and run through October 31, 2021. The course will be open seven days a week. Also appearing is Pixar Putt After Dark, an evening session "for guests aged 18+".
Following its run in New York City, Pixar Putt will continue touring nationally, currently slated to be presented in San Diego,  San Francisco, Los Angeles, Dallas, and Chicago – and Disney says more locations will be announced.
Tickets are expected to sell out fast, and tickets, as well as information like daily hours, are available here.
Stay tuned on all of our Pixar updates here.