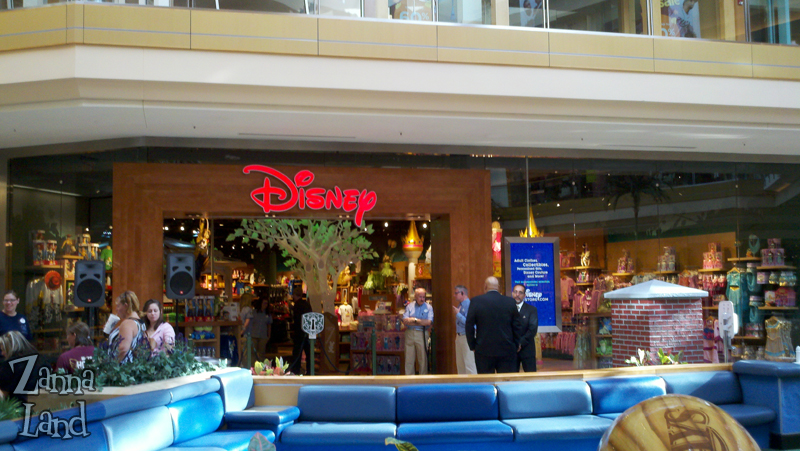 You may remember my enthusiasm for Tampa's brand new Imagination Park Disney Store when it opened near me at International Plaza and Bay Street. I was there opening day to experience the magic and share it here with you. The store was amazing and its cast members instantly won me over with their knowledge, kindness and pixie dust. I couldn't wait to go back with the rest of my children and family and show them around. Imagine my sadness when we returned a couple of weeks later to find the store closed!
A sign outside informed us the store was closed due to water damage. A pipe had burst on the second floor flooding the space above and the Disney Store with 15,000 gallons of water. Yikes. Peeking into the store that day, I could see that everything had been completely gutted and they were removing the hardware pieces while still drying out the store with floor fans. I thought of all the beautiful parts; the trees with projections on them, the gorgeous wall and ceiling displays, not to mention the merchandise – all ruined! I could only imagine how saddened the cast members were about this as well. I spoke to the Disney Store president, Jim Fielding on twitter and he let me know they'd be back open by Thanksgiving.
Now the store is re-opened and ready to spread the magic once again, just in time for the holidays!! Jim Fielding asked for my help on twitter to spread the word, so I thought this was the least I could do. I wouldn't be posting about it if I wasn't confident that this store is an absolutely amazing experience – the next best thing to being at the parks themselves. Jim assures me that everything is exactly as it was before and the cast members are back and even more ready to help you Unlock Imagination, right in our backyard.
As I said in my first report, it's just an hour away from the Walt Disney World Resort in Orlando (right down I-4 West to I-275) so if you're driving to the parks or renting a car, it really is worth a trip over here to experience this first Imagination Park in the central Florida area. I've shared before what a caring and involved president Jim Fielding is (in addition to his job title he is also a board member of the Make a Wish Foundation and volunteering in Phoenix this weekend). Reaching out to Disney store fans via social media is just one example of that involvement, and what makes shopping at the Disney Store such a rewarding experience.
In addition, the DisneyStore.com
has some amazing deals happening right now – what better place to do some holiday shopping? Be sure you add the Disney Store Tampa to your "must do" list for the holidays!