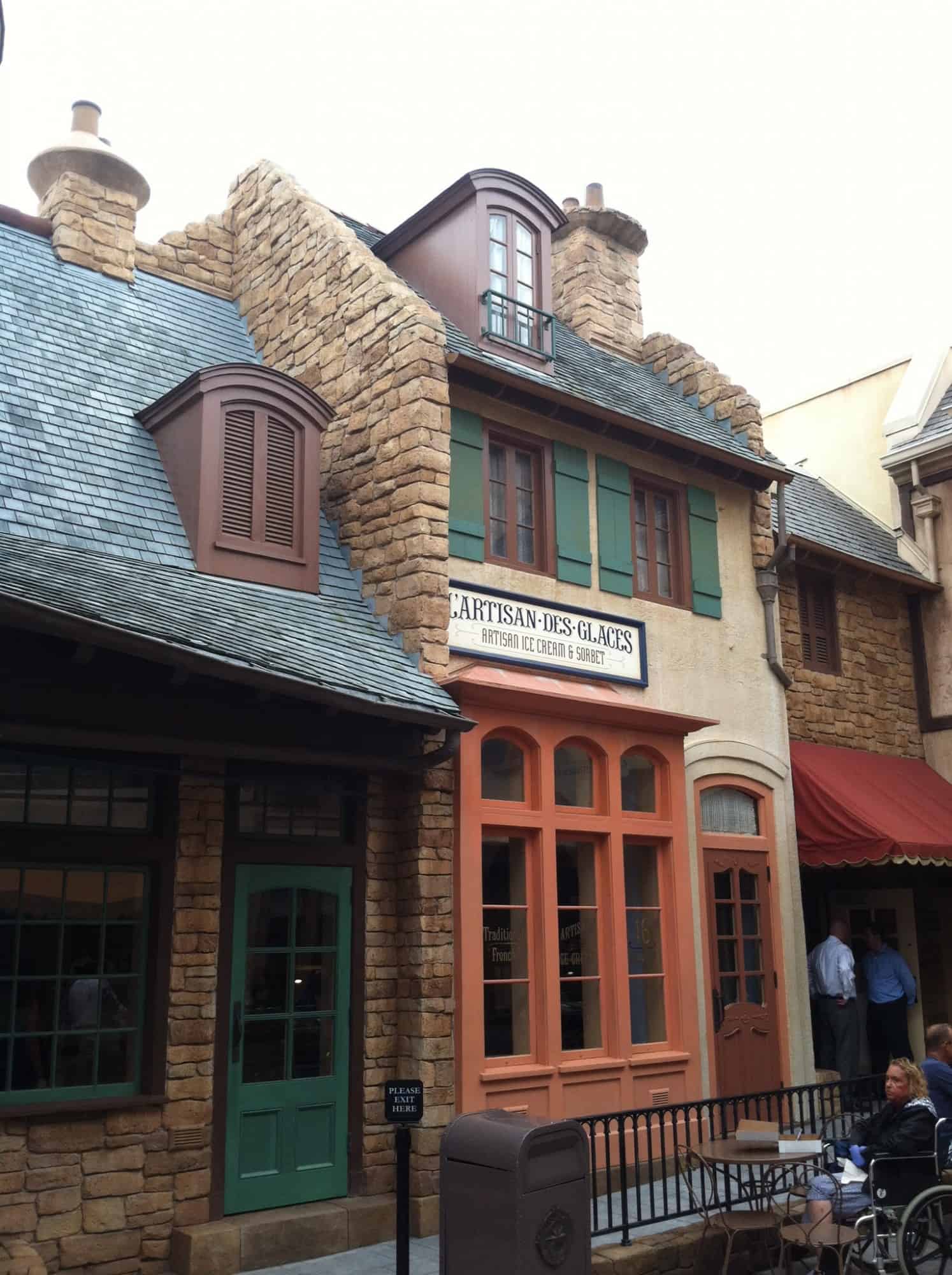 The newest snack spot in Epcot's World Showcase opened today over in the France pavilion. The much anticipated L'Artisan des Glaces ice cream and sorbet shop is now open and serving up 16 flavors of fun – ooh là là!
In the completely refurbished former patisserie area of France, L'Artisan des Glaces is set within a rustic, stone cottage building with turret (as before), but is open and airy inside, giving the feel of a country dairy shop. In fact, there are dairy touches throughout: milk bottles, milk canisters, even a milk bottle chandelier! The set up is different than before, with two registers allowing you to pay first, then choose a cup or a cone and pick your flavor.  You then move down the line to pick up your order.
The 16 flavors available at L'Artisan des Glaces are: Vanilla, Chocolate, Mint Chocolate, Pistachio, Hazelnut, Profiterole, Caramel fleur de sel (salted caramel), Cherry, Coco-White Chocolate, Coffee, and 6 sorbet flavors: Strawberry, Mango, Melon, Lemon, Pomegranate, and Mixed Berries. These flavors are made in-house and may change periodically – I'm hoping for fun seasonal options.
Unique to L'Artisan des Glaces is the adult-only sundae with liquor – 2 scoops of ice cream or sorbet served in a martini glass with a shot of Grand Marnier, Epic brand Whipped Cream Vodka, or Clement Rhum from Martinique for $11.50. One scoop of plain ice cream or sorbet is $3.99 while two scoops are $6.10 and are served in a waffle cone or a cup.
Here is a gallery of the new establishment, sure to be the popular place to be this summer and from now on! What flavor are you going to get first? I'm intrigued by the Profiterole, Hazelnut and Coco-White Chocolate! The sorbets will be so refreshing in the heat as well. Click to enlarge the photos and view as a slideshow:
Huge thanks to Scott Otis for providing the photos and info in this post.