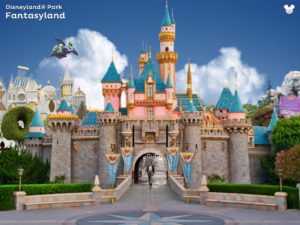 The past week has been a whirlwind of activity around the zannaland headquarters (aka my house) so I haven't been keeping up with all the latest tweets and blog posts and news…However, I happened to see one of my favorite Disney cast members re-tweeting something about a new Disneyland Explorer iPad app. Hey, I thought, I've been to Disneyland! And I have an iPad! I'd like to explore Disneyland ON my iPad! So I downloaded it. I instantly fell in love, and wanted to share my thoughts here with you all.
When I heard the title, "Disneyland Explorer" I figured it would be more of a "fun" app vs. planning or facts etc. And this is true. This is exactly how I like my Disney information and entertainment. This may shock some, but I'm actually not a planner when it comes to Disney Parks. Maybe I take visiting Walt Disney World so often for granted, but even on my first visit to Disneyland last summer, I didn't read one guide book or really do anything before I arrived. I just walked in and explored. That being said, I do want to put that little disclaimer in that for anyone looking for solid planning information, this is not the app for that. This is more like a way to be in Disneyland Resort virtually, with some extras thrown in too.
As you would expect from an official Disney app – it is breathtakingly beautiful. As you press the screen to enter the app, you are instantly transported to Sleeping Beauty Castle, with Walt standing in front. An image that makes any Disney fan just sigh with contentment. From there you can just start touching various park icons to discover how you can explore. Some attractions will feature a photo, others a short video of the ride in action, and still others will offer an interactive game or activity.
As you scroll through the different lands, the music blends seamlessly from one area to the next and each new land offers lush backgrounds and foregrounds with all your familiar favorite scenes. It's just wonderful. Once you explore all of Disneyland, the landscape continues to the Disneyland Resort hotels, Downtown Disney District and then on to California Adventure. There's even a section for Cars Land, opening soon – so I'm sure the app will be updated in the future with more interactive elements. [edit: just heard from one of the developers that they are working on this update and the Buena Vista Street area as we speak!] You then end up back on Main Street, U.S.A. and back down to the Castle to explore all over again. (I won't give away all the surprises, but there are a lot of them!)
Quite a few of the interactive games are perfect for little ones and rated my 3 year-old's seal of approval. Now I know I can keep him entertained with Ariel's undersea friends, any time of the day. I think my favorite games were trying to capture a photo of the Yeti from Matterhorn (I wish it saved these to my photos on my iPad!) and the epic pirate battle within Pirates of the Caribbean. You can even enter the Animation Academy and learn how to draw one of the Fab 4 characters. There's also a menu button to press and see all of the location choices in list form, in case you want to look for a particular attraction or dining location.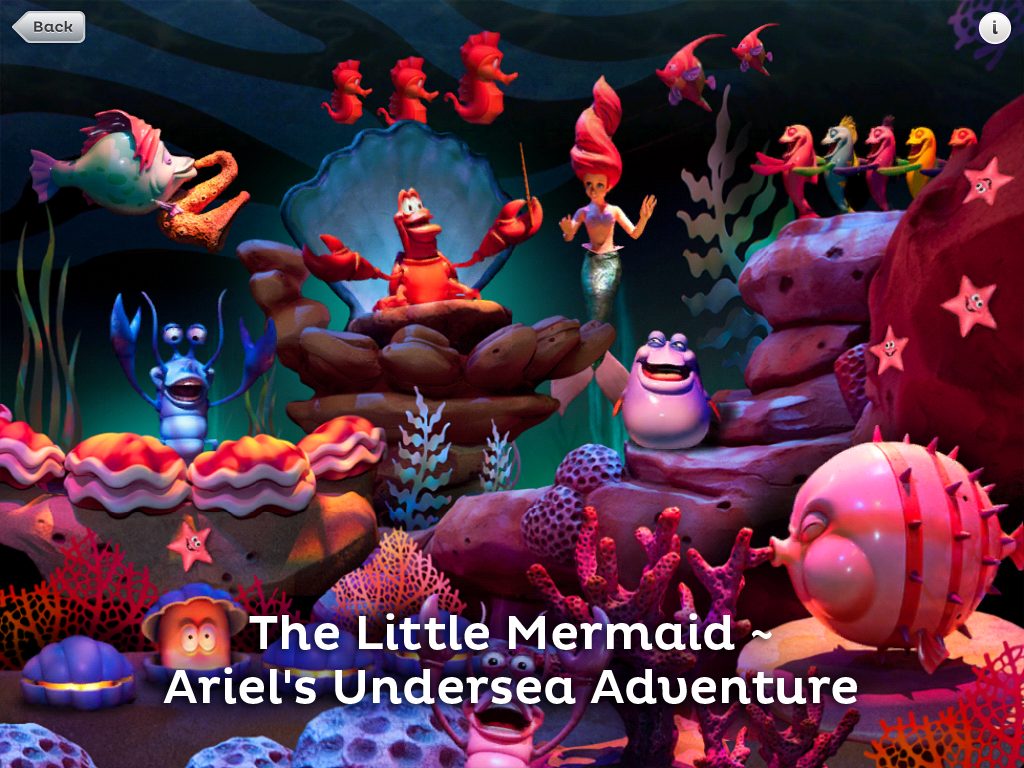 I know I will spend hours just relaxing and enjoying the magic of this little app – free from the AppStore. It is the perfect pick-me-up in between Disneyland visits. I can imagine something like this for the Walt Disney World Resort would require many more months of creation time, but I have hope they'll be releasing one for the Florida parks and even better – the international parks. I may never let my iPad leave my side if that were to happen. If you need even more convincing, enjoy the Disneyland Explorer preview video below —
Here is the official press release for the app:
The magical sights and sounds of Disneyland Resort can now be discovered with "Disneyland Explorer,"the official Disney Parks app available for iPad. The free app invites parents and kids to explore some of the many thrilling and whimsical experiences that can be found at Disneyland Resort, a premiere, multi-day, family vacation destination in Southern California.
With "Disneyland Explorer," users can swipe their way from Pirates of the Caribbean to "World of Color" to themed suites at the Disneyland Hotel, discovering more than 100 exciting things to see and do across the resort. Users tap beautiful images, animation and interactive touch points that represent experiences inside Disneyland park, Disney California Adventure park, Downtown Disney District and all three hotels of the Disneyland Resort.
Touch points within the photo-realistic carousel reveal photos, videos and special activities inspired by classic attractions and entertainment.  As users explore the Resort, day changes to night with spectacular colors, lights, and fireworks.
Animations are triggered as users scroll through the parks, hotels and Downtown Disney District, revealing surprises such as Dumbo in flight above Sleeping Beauty Castle. Users  discover items that are both fun and historical, from the Mad Hatter popping out of a tea cup to vintage video of Walt Disney dedicating Disneyland.
Users will:
Tour the galaxy with Star Tours – the Adventures Continue
Learn to draw their favorite Disney characters at the Animation Academy
Create their own musical water show in "World of Color"
Steer a Soarin' hang glider over California, while collecting and sharing personalized postcards
Bring the iconic dolls of "it's a small world" to life and hear the classic song in five different languages
Snap photos of the elusive Yeti as he roams across Matterhorn Mountain
Take part in a raging sea battle in Pirates of the Caribbean
"Disneyland Explorer" is a free app, available exclusively from App Store on iPad (www.itunes.com/appstore). More of the fun and excitement at the Disneyland Resort will become available on "Disneyland Explorer" throughout the year.