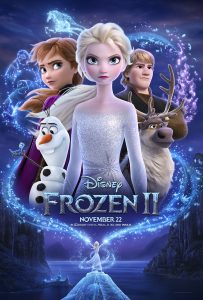 If you were to read all of my other reviews on here and make an assumption as to what I thought of Frozen II, you would probably guess that I didn't like it. And I'm happy to say that would be very incorrect!
I'll start by saying that I had no expectations at all. I liked the original Frozen, but I certainly wasn't obsessed with it or anything. I didn't think it was anywhere near their best animated feature, but it was enjoyable. Fun and funny and fresh and new. Deep down somewhere, I was probably a little worried for Frozen II, because the previous animated film before this was another sequel, and worse, it was Ralph Breaks the Internet. I knew it couldn't get worse than that, at least. 
Luckily all of these slight worries were immediately sheltered in Frozen II. I thought that it too was fun and funny, and despite being a sequel to one of the most popular movies of the decade, it felt very new too. The characters we quickly came to love (or come to appreciate via Stockholm Syndrome of their impact on the company) are back, and they feel just like they did 6 years ago. I guess Some Things Never Change (cue theme of using the song titles in this post).
Frozen was certainly a notable moment in Disney history, and I think Frozen II was a very appropriate successor. 
All Is Found
The biggest factors that contribute to this are twofold. Technically, this movie is stunning. It's incredibly beautiful, and it's the first Disney movie I had seen in this IMAX theater that I actually thought really benefited from that format. The backgrounds are crazy intricate, and the characters even better. The environments feel very breathable, and despite a lot of them being very new, they immediately feel welcoming and real.
The Frozen 2 soundtrack is the other key factor here. It's no surprise that Frozen had a great soundtrack, that, like it or not, produced some of the most prolific Disney songs in recent memory. I can only speak for myself here, but I think the new film matches that and then some. I never knew I needed Jonathan Groff singing an 80s rock ballad with a bunch of reindeer, but apparently I did, and I don't know how I lived without it. Obviously I can't predict whether they will all be hits or not, but I can very easily imagine that being the case.
Even the musical motifs that are carried through the length of the film are incorporated so masterfully that they connect all of the songs together, or even connect some songs to songs in the original film. I was *very* impressed. 
The Next Right Thing
I would be remiss if I didn't mention Ralph Breaks the Internet more though – that is to say, why I think this movie succeeds where that one did not at all. Ralph 2, for me, (and for Zannaland herself) felt like it lacked any real purpose, and didn't gain it by the end. It showed a story we didn't care about, with characters we didn't need to hear more from, and was comprised largely of elements that just didn't work together right for me. Ralph 2 got Lost in the Woods, but Frozen 2 stayed the path through and through.
The biggest issue, though, (and where I think Frozen II shines brightest) was that Ralph 2 felt incredibly un-Disney. Frozen II is a Disney movie through and through, and one that I know I will happily watch again and again, which I think I can say about exactly zero other Disney sequels. And, oh yeah, it was FUNNY! There were a lot of moments where I genuinely laughed, which is a nice change of pace from, say Maleficent 2, where I laughed more out of fear that it would never end.
Overall, Frozen II was great fun, and I enjoyed it way more than I thought I would. Now, if you don't mind, I have to go back to listening to the Panic! at the Disco cover of 'Into the Unknown' for the 300th time. INTO THE UNKNOOOOOOOOWN!
FOLLOW THE ZANNALAND TEAM ON SOCIAL MEDIA, WATCH OUR VIDEOS, VLOGS AND PODCAST TOO: 
We thank you for your support and for sharing the love!