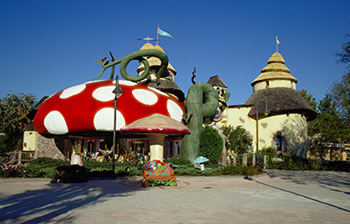 Give Kids the World is an organization near and dear to my heart. I've been honored to be a part of fundraising through the Walt Disney World Moms Panelists from 2010 on, who have together with supporters raised close to $35,000 for the Village, which grants wishes for children with life-threatening illnesses and their families. I was also able to tour the grounds in Kissimmee with my family and it is a day which I will never forget.
You can read more about some stories that affected friends of mine on my previous post about Give Kids the World. Now, my 12 year-old daughter, Sophia, and I are raising funds for Give Kids the World and running the Gingerbread 5K, held at the Village on November 3. My good friend Nicole started volunteering at the Village this year and wanted to create a team to take on the Gingerbread 5K together and raise awareness and valuable donations for such an amazing cause. Sophia and I would love to have your donation for this Gingerbread 5k as I join my friends on #TeamSparkle.
Click for Zanna's donation page
Click for Sophia's donation page
Team Sparkle has raised close to $3000 and we would love help in reaching our goals! Thank you SO much for helping the wishes of ill children get fulfilled!
To sign up to participate in the Gingerbread Run, visit www.gingerbreadrun.org.
Watch As Founder Henri Landwirth Tells Give Kids The World Story
Thank you!