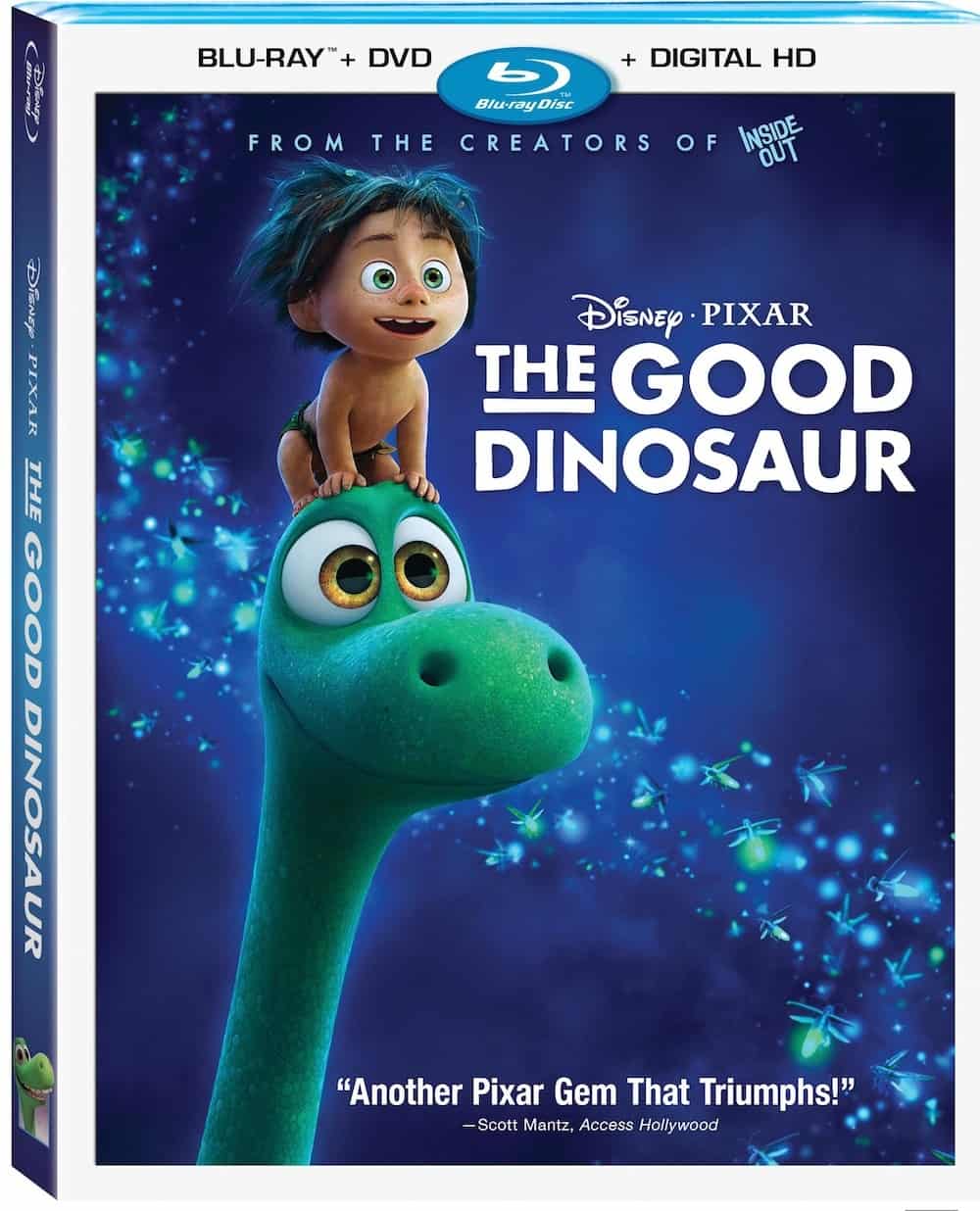 On Tuesday, February 23, Disney Pixar's The Good Dinosaur releases on Blu-Ray, DVD, and Digital HD and it will be packed full with 2+ hours of bonus features! Bonus Features include:
BONUS:
 Digital HD*, Blu-ray Combo Pack & Disney Movies Anywhere (DMA)
THEATRICAL SHORT – Sanjay's Super Team – Sanjay loves the world of cartoons and comics, while his father tries to draw him into his Hindu traditions. Reluctance quickly turns into awe-inspiring adventure as the boy embarks on an amazing journey, returning with a new perspective they can both embrace.
TRUE LIES ABOUT DINOSAURS – We know – it's preposterous to think Apatosaurs spoke English. Learn more about what separates the fictional dinosaurs of "The Good Dinosaur" from what scientists know about real dinosaurs.
RECYCLOSAURUS – Pixar takes creative competition seriously. Maybe a little too seriously. Watch as "The Good Dinosaur" crew competes to see which department can create the best dinosaur ever…using only discarded items from the studio's "free table."
THE FILMMAKERS' JOURNEY – Finding your way from an idea to a film takes a lot of exploration. Director Peter Sohn and his fellow filmmakers talk about the challenging, inspiring, and unexpectedly emotional experience of making "The Good Dinosaur."
EVERY PART OF THE DINOSAUR – The filmmakers talk about the special animation challenges of "The Good Dinosaur" – including figuring out how to animate a dinosaur who's really a boy, and a boy who's got the spirit of a dog.
FOLLOWING THE T-REX TRAIL – Follow the filmmakers as they travel to a working cattle ranch and meet the McKays, a close-knit family whose work ethic, generosity, and stories inspired the T-Rex ranchers of the film.
COMMENTARY – Commentary from director Peter Sohn, story supervisor Kelsey Mann, supervising animator Mike Venturini, director of photography/lighting Sharon Calahan, and supervising technical director Sanjay Bakshi.
DINO BITES – Montage of original animated pieces produced to promote "The Good Dinosaur."
HIDE AND SEEK – A short animated clip produced to promote "The Good Dinosaur."
DELETED SCENES:
The Attack  – An idyllic introduction to the family farm is cut short when a savage predator attacks the newborn Arlo. With an introduction by Director Peter Sohn.
Building the Silo – An admiring Arlo is thrilled to follow along as his father builds a silo for the family farm. With an introduction by Director Peter Sohn.
Waiting for Poppa – Arlo awaits the return of his beloved father on a stormy night, only to be greeted with tragic news. With an introduction by Director Peter Sohn.
Blu-ray 3D & DVD:
THEATRICAL SHORT – Sanjay's Super Team
Digital Exclusive:
JUST LISTEN – Trace the development of the unique soundscape of "The Good Dinosaur," from the wilds of British Columbia as Sound Designer Craig Berkey collects sounds, to the recording studio where Jeff and Mychael Danna use instruments from around the world to create the music.
---
Lots of behind-the-scenes fun, which I know I always find interesting – both for the technical aspects of how the films are created, and the stories behind the story so to speak; how the writers and animators came up with the choices they made within the film. Pick it up Tuesday everywhere!
I missed reviewing The Good Dinosaur when it came out in theatres, because I was getting married at the time and getting to screen it just didn't work out timing-wise. However, I did get to see it on our mini-honeymoon on the Disney Dream cruise ship (I love that you get to see first run movies on board!). I went into the film thinking I would cry uncontrollably, and it would become another Pixar-heart-wrenching-actually-more-like-heart-ripping-soul-gutting storyline that they are now famous for, where, parent or not, you are rendered a blubbering mess because of the storyline they've laid out in front of you. And yes, I did cry. Well, almost. My eyes welled up a bit. But that was it. Trust me, I was more shocked than anyone that I didn't really care for the story…or the characters.
I'm not sure if it was the design of the dinosaurs, which seemed almost plastic or rubber in nature, or the strange side-stories with western "cow-rustling" dinos, or perhaps just Arlo's personality…but whatever it was, it just didn't win me over. I felt like there were a lot of mixed messages there, as a parent, from the dad – telling his son to "make his mark" despite him being miserable and not wanting to hurt (or be hurt) by other creatures, then having a sort of change of heart – only when he saw his son's life was at risk. Maybe I'm over-analyzing, but as a mom, I just wasn't a fan. And the personality that came out of that upbringing was a whiny, complainy, Arlo, who wasn't much fun to watch. Of course, he learned to make his own way, and befriended Spot in the process, doing the right thing and making his own kind of mark.
In stark contrast to my dislike of the dinosaurs animation, was my love of the animated backgrounds. They were just breathtaking. A kind of homage to National Parks across the country, you could definitely see characteristics of many parks found within the film. I could watch the movie again and again because of that.
The world around them, nature and its power, became a character in itself, and again, that part I loved. As a side note, when I showed my 7 year-old the movie that had come in the mail for us to review, I asked if he wanted to watch it and he said no because he didn't want to cry. So I guess it affected him, which in a way, I am happy about. You always wonder in this day and age, if your children are desensitized to the importance of family, so I was glad to see he was affected in that way. (And he is my son after all, and I cry at (almost) anything.)
What did you think of The Good Dinosaur? Is it one of your new favorites? Or did you have issues with it too? I'd love to hear from you below!
Disclaimer: I was provided with a Blu-Ray/DVD combo pack for review. My opinions (as you can see!) were not affected by this and my thoughts are my own.