One of the best kept secrets among Walt Disney World visitors is the resorts that are on Disney property, but not Disney-run hotels. Two exceptional examples of this is the Hilton Orlando Bonnet Creek and the Waldorf Astoria Orlando. I have visited, stayed, and dined at these properties for the past 5 years or so, and am consistently impressed with the quality, service and surroundings. I understand that everyone seems to want that Disney experience, but these properties really have so much to offer, you'll wonder why you didn't stay here before…
If by chance you do not know where these resorts are located…if you are coming from Disney Springs, heading toward the rest of the Disney parks, you will take a left off of Buena Vista Drive onto Chelonia Parkway. The Hilton Bonnet Creek and Waldorf Astoria Orlando are about a mile down on the right. There is a central parking garage for both properties, but you can valet at either spot too, for a fee. If you are just dining, you can have your parking ticket validated for free parking as well.  You can read more about staying here in my previous Hilton Bonnet Creek and Waldorf Astoria posts. For now, though, we are discussing FOOD (and wine)!
You may recall last year I was invited out to experience the Food & Wine Weekends that the Hilton Bonnet Creek and Waldorf Orlando put on. I then went back on my own to experience it again, and I'm still thinking about that food. Food & Wine Weekends have officially returned, and though the experience is slightly modified, it is still a spectacular time. This year, Zeta Asia has sadly not reopened yet due to the pandemic. Our fingers are crossed it will be returning soon. However La Luce and Bull & Bear still have an amazing 4 or 5 course offering for the Weekends, and better still, they have full vegan menus for both locations!
La Luce® is Hilton Orlando Bonnet Creek's signature restaurant, inspired by famed Napa Valley chef and restaurateur Donna Scala. I have yet to have a less than stellar meal there. Additionally, the servers, bartenders, managers, and more all go above and beyond to ensure you are taken care of, you know about all of the offerings, and you are enjoying yourself. It's something we forget exists sometimes, that servers can really go above and beyond with every guest. And yes, a few of my visits have been as an invited guest of the hotel, but others have not, and I've still been impressed every time. It really is worth a trip over there to experience the service and food. Here is what is included with your Food & Wine Weekends menu:
La Luce Food & Wine Weekends Menu
La Luce Food & Wine Weekends VEGAN Menu
We started our our meal at La Luce with some cocktails, but then decided to get the wine pairings as well. I will say that I am in no way a wine connoisseur or even really a wine person, however each of these pairings went so well with the menu items, it really made me consider being a wine person!
For the regular menu, there are some choices to be made from the Taste of La Luce menu. Christian chose the Bruschetta, the farfalle, and the Risotto, which came with a seared filet mignon. The other options were a roasted red pepper and tomato soup, Cacio e Pepe (an amazing dish which I included a photo of even tho Christian didn't pick it – they serve it in a bowl made from parmesan cheese!), and a salmon filet. Then for dessert the choices are between Sugar Bombolini and a Nutella cake. He chose the Nutella cake. We aren't including photos of all the regular menu items here because we have everything on the video.
I didn't have any choices with the vegan menu, but I was not disappointed. Even the Spaghetti Primavera, which I wasn't super excited about because I'm not a regular ol' tomato sauce kind of person, was wonderful. You could tell it was made fresh in the back and bursting with flavor. The risotto was also amazingly flavored. Just the right amount of pepper added. Also, I had a lot of leftovers, which I was very happy about.
The dessert, a macaron, normally made with egg whites, was made with aqua fava (the liquid left in a can of chickpeas) and you really couldn't tell that it was vegan at all. As you can see, the portions were huge as well. Our server also recommended we try a vegan pizza, made in their 700 degree brick oven, and it was hard not to finish the whole pizza. They used a chickpea paste in place of tomato sauce, and it made for a great flavor combination with the crispy crust. There was also an absolutely amazing sunset view, as you can see below.
Bull & Bear has a reputation for comfortable elegance. Where you are taken care of from the moment you step food inside, and the food and drink quality match that service. Unlike some other upscale dining locations, you don't feel out of place or stuffy in this atmosphere. You do feel like your every desire (as far as dinner goes) will be taken care of. Named one of the Top 100 Restaurants in the United States by Open Table, Bull & Bear offers a menu featuring re-imagined steakhouse classics and trend-setting fare including a signature 32-Day Dry-Aged Tomahawk Rib Eye. You wouldn't exactly expect a place with that sort of reputation to offer a vegan option – but they DO! And, they do it well. Here is the breakdown of what's included for Food & Wine Weekends:
Bull & Bear Food & Wine Weekends Menu
Bull & Bear Food & Wine Weekends VEGAN Menu
We started again with cocktails and bread service. Here everything but the brioche is vegan. The ciabatta bread I had was so good, it didn't even need butter of any kind. The amuse bouche here was quite simply, amazing. I know they like their Pasta Explosion here, but to me, this was the real explosion of flavors, it was SO good. The mushroom soup was also very hearty and flavorful. The wedge salad was a little dry for both of us but I was happy to have something light in between courses.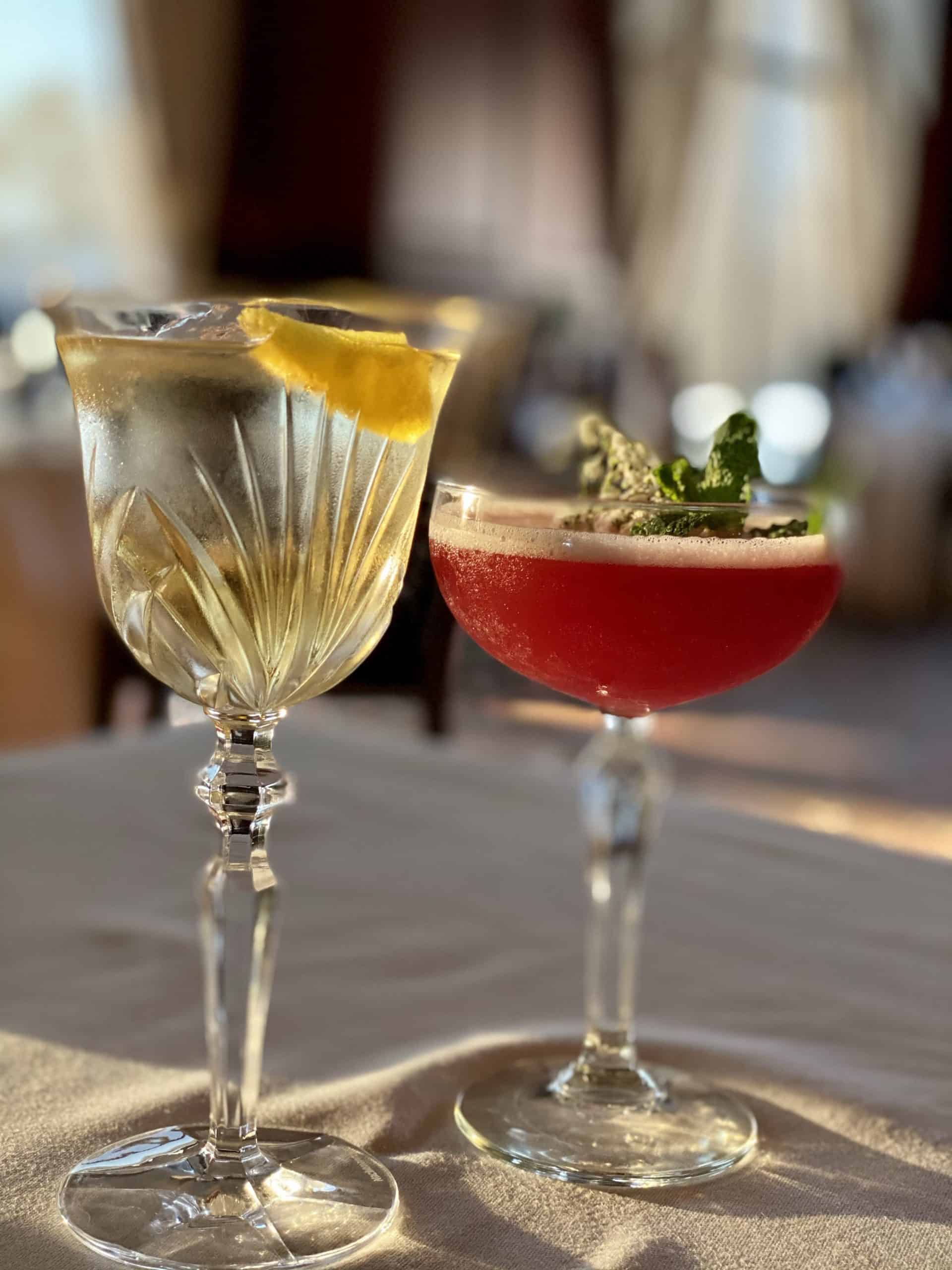 Next up was a tomato tart for me, which was super unique in flavor and very tasty. A thick crust with chickpea sauce inside and heirloom tomatoes on top. Then, pasta explosion time. It was basically mushroom ravioli. I'm not sure if ours were just sitting there for too long or what, but they didn't really explode for either of us in the regular or vegan version. It was quite busy and I think there was a bit of a mix up with what the 3rd and 4th courses were for us, so that may have been the issue.
Lastly, the vegan fall vegetable fricassee was my favorite. It paired distinctly fall vegetable flavors with Asian seasoning, and made for a warm and hearty combination. I want to attempt to make this at home! The dessert here was also the vegan macaron but with passionfruit sorbet inside. Of the two macaron desserts, I preferred the limoncello.
Of the two experiences, it's hard to pick a favorite. I think for what you get, vegan-wise, La Luce was the winner. Christian agreed for the regular menu as well. We both loved the atmosphere and surroundings in Bull and Bear though. I would go back to either in a heartbeat. In addition to my review here, Christian and I also have a fun video of our experience. We hope you enjoy watching it to see first hand what it's like at each resort's location. Please like and subscribe to see more of our fun Orlando and Disney vlogs!
Here is the rundown of Hilton Bonnet Creek and Waldorf Astoria Orlando Food & Wine Weekends dates and info:
October 16-November 22, 2020
Bull & Bear Chef's Table – Fridays & Saturdays, 6pm – 10pm
Experience an exclusive multiple course Chef's Tasting Menu for $145 (plus tax and gratuity). Suggested
wine pairings are available for $45 additional. Reservations recommended. View Menu.
Taste of La Luce – Fridays & Saturdays, 6pm – 10pm
From the kitchen of La Luce, enjoy an exclusive four-course menu for $55 (plus tax and gratuity).
Suggested wine pairing available for $30 additional. Reservation recommended.
NEW: Vegan Tasting Menus
Available at Bull & Bear and La Luce, Friday and Saturdays.
Sip, Swirl & Savor: A Wine Tasting Experience – Fridays & Saturdays, 5:30pm – 7pm,
La Luce Entrance
Regardless of your wine knowledge, this is a wonderful opportunity to enjoy samples of wine and learn
from an experienced sommelier. Complimentary.
Bonnet Creek Beer Garden – Saturdays, 4:00pm – 5:30pm, Hilton Lobby
Join us for an exclusive tour of Florida's top craft breweries with samples of their award-winning beers.
Complimentary.
Bar Du Chocolate and Champagne Tasting – Saturdays, 6:30pm – 10:30pm, Peacock Alley
A decadent selection of à la carte chocolate treats hand-crafted by Waldorf Astoria Orlando's world-class pastry chefs. (watch our video above for more of this amazing display!)
You can reserve any of the dining experiences at Hilton Orlando Bonnet Creek or Waldorf Astoria Orlando on Open Table. If you are vegan and want to order off the regular menu, I'd recommend letting the restaurant know ahead of time and the talented chefs will be happy to accommodate you! I'd go back just for the vegan pizza any time! 
Have you stayed at either of these properties, or enjoyed their Food and Wine Weekends, or their stellar dining options?
I'd love to hear your thoughts or if you plan to check it out. Let me know in the comments below or drop me a line on social media, I'd love to chat about it! Thanks for reading.
Disclosure: As mentioned, I was hosted by Hilton for this event, but my thoughts and opinions are, as always, my own. 
FOLLOW THE ZANNALAND TEAM ON SOCIAL MEDIA, WATCH OUR VIDEOS, VLOGS AND PODCAST TOO: 
We thank you for your support and for sharing the love!