I decided I'd try something new here in addition to opinion and review posts: a news update with all of the things that have happened in the past week or so, to have everything all in one place. So if you missed anything in Central Florida & Theme Park and Resort News, here you go!
Disney Parks let us in on a well-kept secret – that there will be another Disney 24 hour day in both the Magic Kingdom in Walt Disney World and Disneyland, on May 23 from 6am – May 24 at 6am. They also want you to come dressed up as your favorite character as they celebrate Heroes and Villains and hope guests will "Rock their Disney Side." And, they are also giving away a coast-to-coast trip to the 24 Hour Day:
To enter, just tweet how you plan to "Rock" your Disney Side all season long, tagged with #DisneySideSweepsEntry. If you win, get ready to enjoy a coast-to-coast, 7-day/6-night Disney Parks vacation for 4—with back-to-back stays at Walt Disney World Resort in Florida followed by the Disneyland Resort in California, where you can enjoy the Rock Your Disney Side: 24-Hours event… live and in person! You can find out more, plus the official rules at DisneyParks.com.
In a galaxy far far away, we got some Star Wars Weekends news:
In order to convince more guests to join the Rebellion, a 5th weekend is now being added to Star WarsWeekends 2014. The new event dates are every Friday, Saturday and Sunday from May 16-June 15, 2014. The theme for this year's event is, appropriately, "Join the Rebellion." Official Star Wars Weekends dates are as follows:
Weekend I: May 16 – 18, 2014
Weekend II: May 23 – 25, 2014
Weekend III: May 30 – June 1, 2014
Weekend IV: June 6 – 8, 2014
Weekend V: June 13 – 15, 2014
There will also now be a nightly fireworks display rather than the Hyperspace Hoopla. More info on Star Wars Weekends here.
An all-new runDisney event, the Avengers Half Marathon was announced for Disneyland, November 14-16, 2014. Registration will begin at noon on March 25, so suit up!
Major changes were announced for the Magic Kingdom's hub at Walt Disney World. While I was initially very worried about how this would look (and I'm still not really happy about the former Swan Boat landing looking inaccessible now?) it does look as though this new plan will fit into the existing layout and offer benefits as well. According to the Disney Parks Blog:
We're adding several new elements to the area, including sculpted gardens, additional pathways, expanded restaurant seating and even a special viewing area for fireworks and other performances.
Here's a flyover video of the changes to come:
…
Busch Gardens Tampa Bay was excited to announce the 
Official Opening Date for Falcon's Fury:  May 1, 2014.
 Not sure what Falcon's Fury will look like? Here's a sneak peek:
GULP. In other Busch Gardens news – Guests can take advantage of an unprecedented offer and receive an Adventure Island Fun Card 
FREE
 with the purchase of a Busch Gardens Tampa Fun Card. This new, limited-time offer let's guests enjoy unlimited thrills at 
Busch Gardens 
 and the water-soaked fun of 
Adventure Island
 for $92 for adults and $87 for children (ages 3-9) with no blackout dates.
…
SeaWorld
is offering Residents within a 50-mile radius of Discovery Cove a chance to
win a lawn makeover from the Discovery Cove landscape team
. Qualifying residents can enter through the 
Discovery Cove Facebook
 page by submitting a photo of their front lawn and a short description sharing why they should win the lawn makeover.
The contest runs in three phases and you can find out more at the Discover Cove Facebook link above.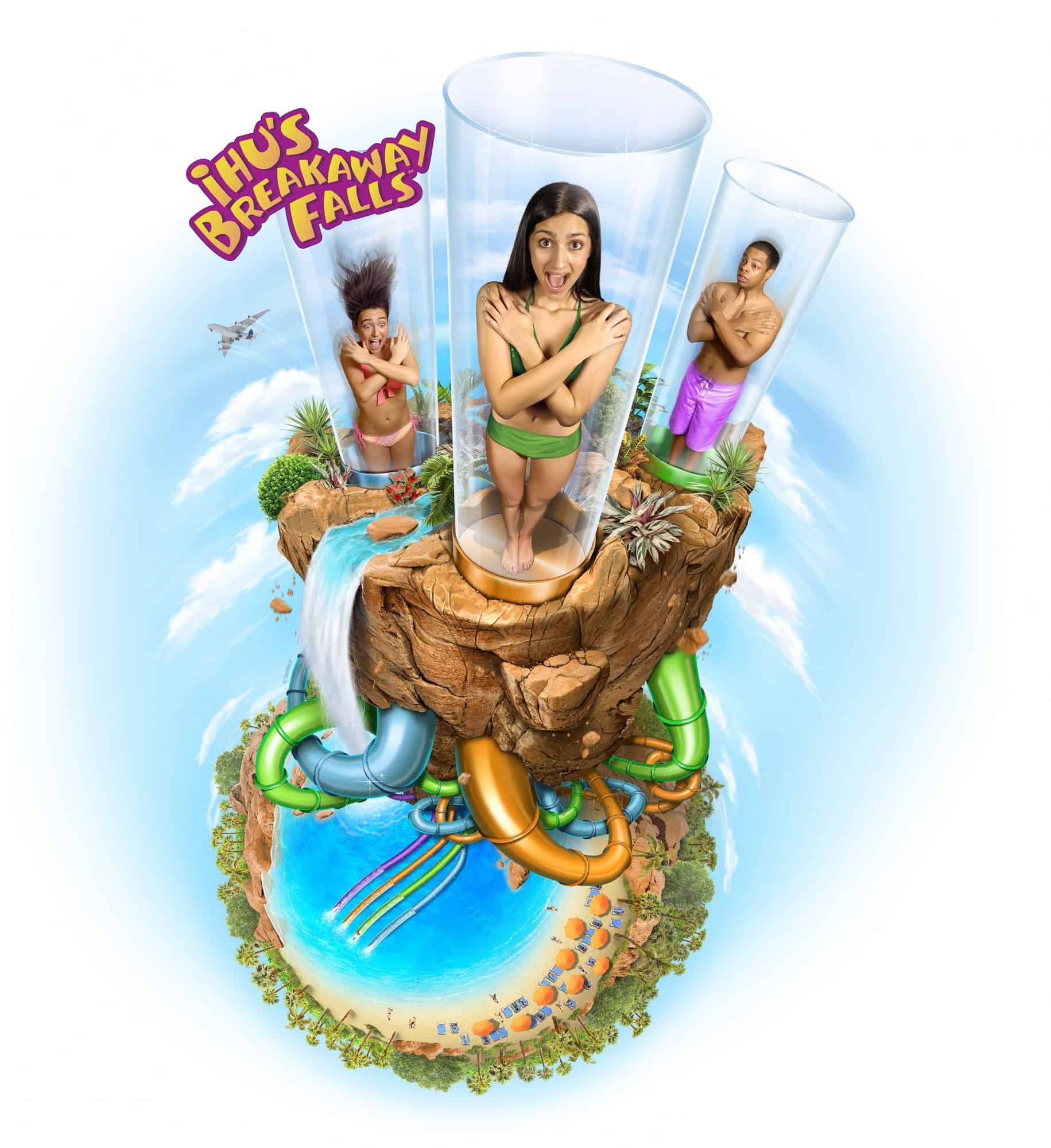 In other
SeaWorld
news: their 
Ihu's Breakaway Falls
 – the tallest, steepest and only multi-drop tower slide of its kind in the southern United States – opens at Aquatica, SeaWorld's Waterpark 
May 9
.
At nearly 80 feet tall, Ihu's Breakaway Falls is where thrill seekers face their fears and each other. After stepping into one of three clear "breakaway boxes," they'll watch each other fall one-by-one as the floor underneath them disappears. They'll never know who's going to breakaway first – and the anticipation of who drops next is part of the wild ride!
At nearly 80 feet tall, Ihu's Breakaway Falls has the tallest and steepest 360-degree spirals in the southern United States.
Those who dare to brave Ihu's Breakaway Falls will experience an almost vertical drop for nearly 40 feet, the steepest in the southern United States.
Ihu's Breakaway Falls is the longest water thrill slide of its kind featuring three "breakaway boxes" and four completely different slide paths. Once the floor disappears, riders will drop 20-24 feet per second.
Both SeaWorld and Busch Gardens are now offering a special $50 Weekday Ticket, on sale for only 50 days, good for a single weekday admission to either park, now through May 5, 2014, including spring break.
…
Finally, in local resort news, the Hyatt Grand Cypress wants you to party like it's 1984 with this special offer:
Now through Dec. 21, 2014 (reservations are subject to availability and must be made in advance) Rate & Offer: $198.40 per night, plus $30 food and beverage credit
Special offer code: RTRO
Note: The food and beverage credit is for use during your to stay to enjoy the resort's award-winning restaurants including Cascade American Bistro, Hemingway's, or the On the Rocks pool bar.
I recently got a chance to stay at the Hyatt Grand Cypress and was really impressed with how much their was to do and how lovely the accommodations were. I'll have a full write-up soon!
…
That's it for the past week – stories to watch for this week are: the premier of the new Festival of Fantasy Parade, which we'll be covering on March 9th when it travels down the parade route at the Magic Kingdom for the first time. Some Legoland Florida news that fans of the old Cypress Gardens park will enjoy. And of course, more news, photos and food reviews as the 21st Epcot International Flower & Garden Festival officially opens on March 5! Thanks for reading and for your support of Zannaland.com